Zhangjiajie: China's first national forest park
People's Daily Online
1559111318000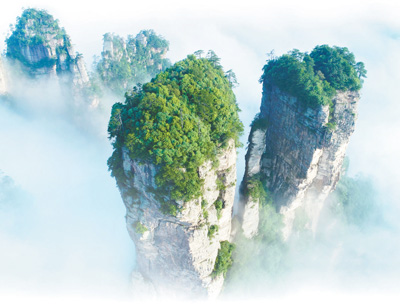 (File photo)
Zhangjiajie National Forest Park, once a state forest farm in central China's Hunan province, is a famous tourist destination and the first state-level forest park in China.
From 1958 to 1982, an afforestation campaign was launched at the forest farm where workers were devoted to reclaiming wasteland and planting trees.
In the early 1980s, the forest coverage in Zhangjiajie reached 95 percent, and the forest growing stock substantially rose to 200,000 cubic meters, laying a foundation for the establishment of a national forest park.
"Zhangjiajie state forest farm was rich in forest resources in the 1970s and the 1980s, attracting many visitors," said Zhang Jie, a former investigator from Zhangjiajie State Forest Park Administration Office.
People around the world got to know more about the beauty of Zhangjiajie around 1979 thanks to media reports, and paintings by Chinese artist Wu Guanzhong. Later on, Zhangjiajie started to develop tourist resources and a tourist economy after 1982 when the central government approved the establishment of the country's first nationals forest park.
Zhang recalled that nearly 10 million yuan worth of state funding went to Zhangjiajie to support its infrastructure for roads, electricity, and mail service and more. In several years, the isolated area had access to 24-hour electricity and asphalt roads.
Ecological protection has been always prioritized in Zhangjiajie no matter when it's a state forest farm or national forest park, Zhang introduced. So far, no forest fires or deforestations have taken place in the forest park.
Now, Zhangjiajie is favored by travelers at home and abroad, attracting more than 4 million visitors in 2018. It's listed as a UNESCO World Heritage Site and a Global Geopark and is among China's first batch of 5A-class tourist attractions.
By February 2019, there have been 897 national forest parks established in China according to People's Daily Online. One third of these state forest parks are open to the public for free.
Current statistics indicate that China's national forest parks received more than 1 billion tourists in 2018, generating revenue around 100 billion yuan ($15.6 billion).