Visiting the tropical paradise of Sanya
Global Times
1520705363000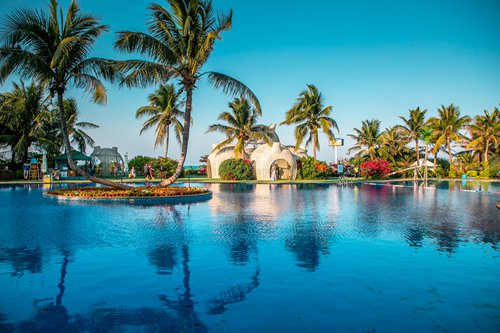 Wuzhizhou Island in Sanya, Hainan Province (Photo: IC)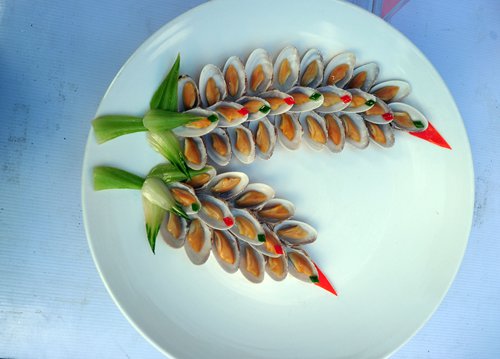 Fresh clams (Photo: IC)

Snowball fights and ice skating are probably some of the best highlights for the winter season. However, with Beijing going practically without any precipitation this season, the city has lacked that winter feel.

Other places, on the contrary, have actually suffered from too much snowfall, especially the southeastern provinces. Taking such unpredictable weather into account, warm sunshine and beautiful beaches may definitely be a welcome sight for many who are sick of this boring winter!

This is where South China's Hainan Island comes in, as this warm tropical location can make all your dreams of getting away from the dreary cold come true.

Heading south

However, you won't be alone in heading to the island as many families decide to beat the winter blues by heading to Sanya, Hainan Island.

"Generally speaking, it's quite convenient to get around Sanya, but the heavy influx of visitors during the Spring Festival usually means dealing with traffic jams," Steven Lei, a tourist enjoying his vacation in Sanya, told the Global Times.

Considering these heavy traffic conditions, it will definitely be a good idea to carefully choose where to go so as to avoid the crowds.

Here are a few sites you can visit that should save you some time.

Haitang Bay, one of the five main bays in Hainan, is famous for its beautiful scenery and high-end hotels. Just 28 kilometers from downtown Sanya, you would be better off renting a car for your journey.

Neighboring Sanya's most popular site, Yalong Bay, Haitang Bay is a much quieter and yet much more beautiful.

Once a port for ships, numerous posts used for tying up boats can still be seen in the shallows. Since the local government doesn't want swimmers to be smashed against these posts by the waves, swimming is prohibited on this beach. However, you can still enjoy yourself by relaxing on the beach, or walking along the shore so the waves can wash over your feet.

"It was very nice and beautiful with the best hotels for the best price. The waves on the beach were quite large so be careful not to go into the water if you cannot handle it," netizen M1ska wrote in a review of the bay on travel site tripadvisor.

If swimming is on top of your "to do list," then Qingshui Bay is the place for you!

The sea is clean and blue, with many rock formations in the shallows which make for great places to explore while snorkeling.

Also, the beach in Qingshui Bay is popular for its particular sound. When walking on the beach, the sound of the sand is soft and sweet, almost like a voice softly singing. This is why the beach is called the "Singing beach," along with two other beaches in Hawaii and along the Australian Gold Coast.

Besides the singing beach, the views in Qingshui Bay are great for shutterbugs, so make sure you bring your favorite camera to capture the memories. If you are lucky enough, you may come across a few couples dressed in wedding gowns and suits as they take their wedding pictures on the beach.

For those who want a more active adventure, surfing, fishing and beach soccer are all good choices. You should be able to rent whatever you need from local facilities!

Seafood feast

Of course getting a good meal is an important part of any vacation.

Since Hainan is an island, seafood is a huge part of local cuisine. Shrimps, oysters, scallops… almost anything you can find in the sea is on offer here for an amazing dinner!

The best and easiest way to treat yourself is to head to a seafood market, which tend to be quite different from the traditional shops or supermarkets you will find in northern China.

Divided into different zones, markets have a clear division when it comes to function and mostly contain a shopping zone and a dining zone. Walking through the market, you will be able to see practically every edible creature that lives in the sea inside the glass cases on display outside the different restaurants and stalls. Just point at whatever you want to try and the waiter will collect your choices together and take them back into the kitchen so the chefs can prepare them for you.

Concerned about waiting too long for your food? No worries! There are plenty of other local snacks to enjoy while you wait. Popular starters include salty fried pancakes, fresh coconut juice, mango ice cream and coconut pudding. Additionally, pretty much any tropical fruit can be found here as well, so go ahead and treat yourself!

And the most exciting part of the meal has yet to come! During dinner time, a small live band usually makes their way through the market, lighting up the atmosphere.

If you want to hear your favorite song, just ask them and for a small fee they will play for you. You can also sing along yourself and become the superstar of the market!

Zheng Hong, a lady from Beijing, seemed satisfied with the seafood she ordered.

"I really enjoyed the oysters and the fish here, " Zheng told the Global Times.

"Everything was very fresh and far cheaper than in Beijing."

Steven Lei, who is from Sichuan, held a different opinion.

"I think the food in Sanya is just so-so, especially at popular tourist sites. The service and quality of the food is lacking considering the price. I prefer going to smaller towns in Hainan like Wenchang or Lingshui for a meal," said Steven. "If you insist on staying only in Sanya, then the Marriot Hotel is a good choice for seafood."

Coconut paradise

Nothing is more exciting than drinking from big fresh coconut through a straw after a few hours of swimming! As the coconut milk soothes your throat and cools you off, you will feel like you are in heaven!

When looking for a coconut to drink, there are two kinds to consider: Green one and yellow ones. Like most fruits, green coconuts are not fully ripe, so the milk is likely not as sweet as a yellow one. However, there are extra benefits for choosing a green coconut -you can also enjoy a slice of the white meat inside. Fresh coconuts are easier to open, so when you buy a green coconut, you can enjoy more than just a drink!