Hong Kong ready to holiday at home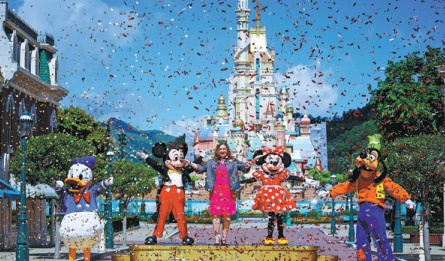 Iconic Disney characters welcome visitors to Hong Kong Disneyland, at its reopening on Thursday.[Photo by Calvin Ng/China Daily]
HONG KONG-Mickey Mouse, Minnie Mouse, Donald Duck and Goofy were among the iconic Disney characters waiting at the gate to welcome visitors when Hong Kong Disneyland reopened on Thursday after being closed for nearly five months due to the COVID-19 pandemic.
To ensure the health and safety of visitors and employees, the theme park has adopted new measures and procedures, such as increased frequency of cleaning and sanitization, and limited attendance.
Visitors are required to make advance reservations online and maintain social distancing in attraction vehicles and other facilities in the park.
"I'm so excited to revisit Disneyland as I've looked forward to it reopening for months," said a regular visitor surnamed Ho who used to frequent the theme park twice a week. To celebrate, Ho and her friend dressed up as Mickey and Minnie Mouse for their visit despite the sweltering heat.
More than 100 families were invited to tour the park on the day it reopened.
Managing Director of Hong Kong Disneyland Resort Stephanie Young expressed her gratitude to the cast members and medical staff who enabled the park to open at this challenging time.
"The health and safety of our guests and cast members continues to be at the forefront of our minds, and our cast members have been working tirelessly to put all the necessary measures in place for guests to enjoy a magical visit," Young said.
Located on Hong Kong's Lantau Island, Hong Kong Disneyland opened in 2005, becoming the first Disney theme park in China.
The Hong Kong Tourism Board launched a "Holiday at Home" campaign on Monday to encourage residents to explore their home place and boost local consumption.
Hong Kong residents are unlikely to travel overseas in the short term as many countries and regions have issued entry restrictions at different levels due to the COVID-19 epidemic, the HKTB said in a statement.
In response to the travel restrictions worldwide, revitalizing the local market is viewed as the first step to revive Hong Kong tourism.
The campaign provides Hong Kong residents with information on local venues and activities to facilitate their in-depth exploration of Hong Kong.
Local hotels, restaurants, attractions, shopping malls and credit card networks offer promotions to boost spending. Residents can also redeem local tours through spending.
"By doing so, we hope to rebuild the city's vibrant atmosphere and give the world a positive impression, so that visitors will feel confident about coming to Hong Kong again," said Pang Yiu-Kai, chairman of HKTB. Once it is possible for visitors from a certain market to travel to Hong Kong, the HKTB will extend to them the travel and local spending information and offers featured in the campaign, together with flight-and-hotel packages, Pang said.