Tourists take to Game of Thrones trail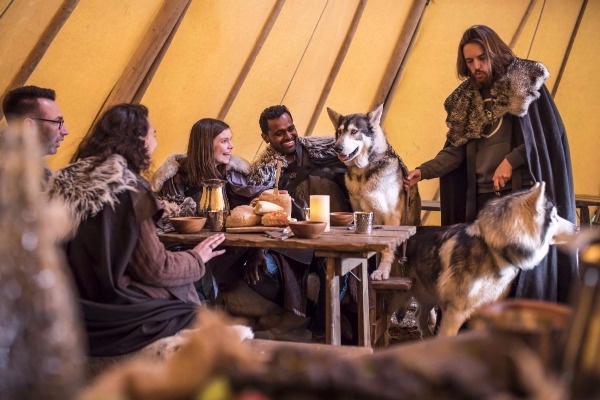 Visitors to Northern Ireland join the Game of Thrones Archery Experience tour package. (Photos: provided to China Daily)
Visitors flock to locations featured in TV blockbuster
When the pilot episode of Game of Thrones was first shot in Northern Ireland, few people could have imagined it would spawn a global hit television series.
A decade later, the fantasy drama has become HBO's most-viewed show, transforming Northern Ireland into a movie destination and boosting its economy.
Richard Williams, chief executive of Northern Ireland Screen, the agency that attracted HBO to the region, said: "The impact of Game of Thrones has been enormous."
That impact includes the redevelopment of the main studio base in Belfast's Titanic Quarter and film and TV-related tourism to Northern Ireland, as well as making a direct contribution to the development of the movie industry, Williams said.
He added that the show's global success was unexpected. "We invested very heavily in the pilot, without even knowing it would go to a series, so little did we know it would go on to be the biggest show in the world that would have a tourism spinoff."
Chinese tourists have been visiting Northern Ireland on the back of the show's popularity. Cao Shi, 34, from Chongqing, is one of them.
"I was amazed by the natural beauty of the Giant's Causeway, an area of interlocking basalt columns, and also the Dark Hedges, an avenue of beech trees. When I immersed myself in the scenery, I couldn't help but recall the plots in Game of Thrones," he said.
Also known as GoT and based on the novels by George R. R. Martin, Game of Thrones is the biggest TV show in the world, and has been broadcast in more than 170 countries and territories. On average, each episode of Season 7 was viewed by some 31 million people, according to Northern Ireland Screen.
The agency said an estimated 251 million pounds ($324 million) in spending on goods and services such as the cast, the crew, hotels, facilities and transportation had been returned to the Northern Ireland economy as a result of scenes in Game of Thrones being filmed in the region, from the pilot episode through to the final Season 8. The last episode of the series aired on Sunday.
Northern Ireland Screen gave the show 15.95 million pounds in production funding from the local government, in addition to UK tax breaks.
Judith Webb, screen tourism officer at Tourism Northern Ireland, said there is a proven relationship between screen content and tourism.
Countries and regions that attract high-quality movie and television productions can benefit from related growth in tourism, as shown by the impact of the Harry Potter and The Lord of the Rings series on locations in the UK and New Zealand, respectively, Webb said.
She added, "GoT has transformed Northern Ireland into a leading international screen tourism destination, attracting many more visitors and fans of the show to explore the stunning landscapes, coastlines and mountains showcased in the series."
Last year, one in six tourists from outside Northern Ireland was attracted to the region by the success of Game of Thrones, boosting the local economy by more than 50 million pounds.
The Belfast Telegraph reported that new research by e-commerce company Criteo showed that the "Game of Thrones effect" has seen tourism bookings double at some filming locations in Northern Ireland.
Strangford, a village in County Down with a population of 450 which lies near to Castle Ward, the location for many of the Winterfell scenes in Game of Thrones, reported a 112 percent rise in tourist bookings early this year, the research found.
The direct advantage of the bulk of the show being produced in Northern Ireland is that it has employed large numbers of local crew members, with almost everyone in the filming locations having some kind of link to the series.
Williams, from Northern Ireland Screen, said, "If you talk to any extended family group in Northern Ireland, they will have some sort of connection.
"Somebody's son, daughter or uncle is an extra. Somebody else is involved in providing facilities. Someone is a driver, someone is able to tell you a story about the cast coming into a local pub or restaurant.
"It's a small place, so when you film something as big as GoT here, you end up with a scenario where everybody has some sort of connection to it."
In addition to Northern Ireland, the show has been filmed in a wide range of other locations, including Croatia, Spain, Iceland and Morocco.
According to the Croatian National Tourist Board, the city of Dubrovnik has seen rising numbers of tourists, particularly from China, after being used as the location for King's Landing in the show. Several scenes were shot at the Walls of Dubrovnik and at Fort Lovrijenac.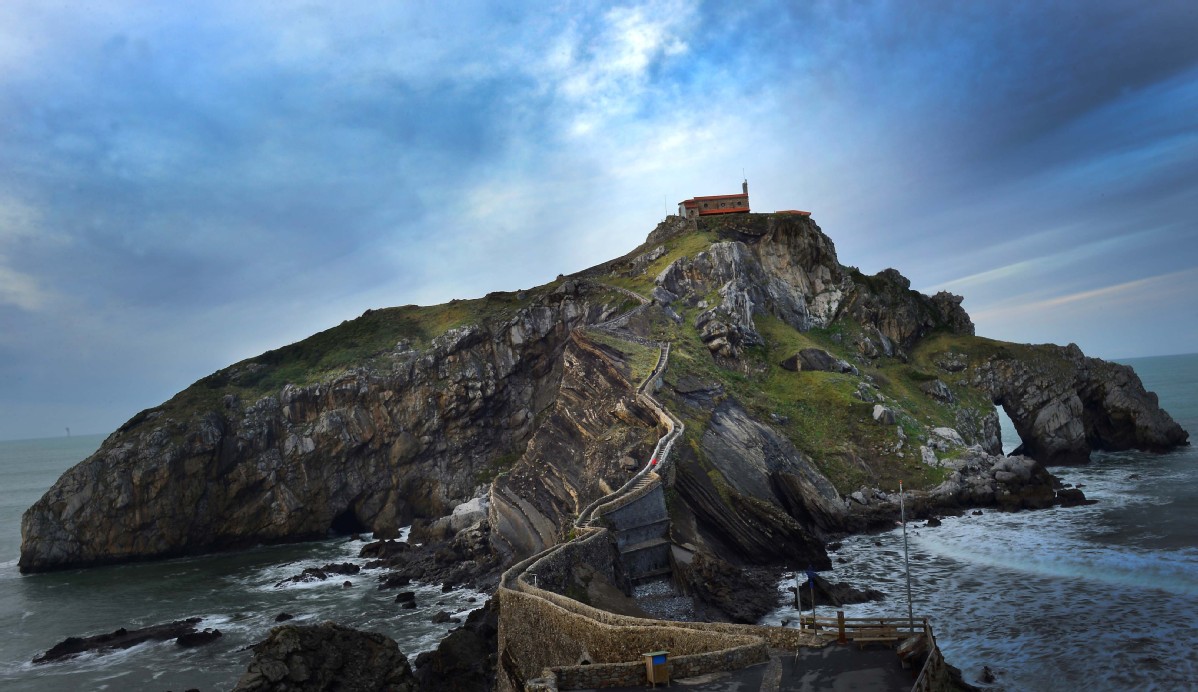 Downhill Beach in Northern Ireland was used as the location for Dragonstone castle.
A spokesman for the board said, "The destinations have capitalized on the success of the show by offering new tourism products, including Game of Thrones tour packages and guided tours, to offer visitors the amazing experience of immersing themselves in a destination that served as a backdrop for GoT."
Some 233,630 Chinese tourists visited Croatia last year, compared with just 6,000 in 2007, and the tourist board has attributed the robust growth partly to the show's influence.
Wolfgang Arlt, director of the China Outbound Tourism Research Institute, said, "Many Chinese are fans of this show, and everything famous and prestigious is interesting for Chinese travelers to visit and to discuss with their friends."
Shi Shan, 30, a business manager from Wenzhou, Zhejiang province, visited Dubrovnik because it was used as a location in Game of Thrones.
"The city appealed to me with its coastal location, reasonable cost of living and beautiful architecture. Although many European cities can match this, the fact that it was also a location for GoT made it a must for me, as I have been following the show since the pilot episode," Shi said.
Chen Lu, 42, was thrilled to visit Klis Fortress in Split, Croatia, a location used in the show for the city of Meereen in Slaver's Bay. She also visited Dubrovnik.
"The show's popularity has been boosting local tourism," said Chen, a stay-at-home mother from Shanghai who traveled to Croatia in August with her German husband and 10-year-old daughter.
"For European tourists, Croatia is a popular destination with its long coastline, as they like to go sailing. But there has been a rise in visitors from Asia and the United States in recent years, and they want to see the locations used for Game of Thrones," she said.
Chen added that a wide range of souvenirs related to the show are available in stores, including mugs, T-shirts and caps. It is also easy to find a local travel agency offering day tours with a GoT theme.
"Our tour guide was very professional. It was a fantastic experience for diehard fans of the show, and I chatted happily about the TV series with three travelers from the US in our group," she said.
The tour guide showed the visitors screenshots from the show to showcase the locations, and also spoke about Dubrovnik's history.
"Many local tour guides were extras in the show. Our guide told us anecdotes about the leading actors and actresses and gave details about the filming of some scenes," Chen said.
"Even if it were not for GoT, Croatia is still worth visiting due to its gorgeous scenery. The show's popularity makes many tourists appreciate the beauty of Dubrovnik's well-preserved old city. The locals are also friendly."
Now that Season 8 has been shown, the show's global popularity is expected to reach new heights, with the Croatian National Tourist Board predicting that interest in Dubrovnik will continue for a number of years.
Arlt, from the China Outbound Tourism Research Institute, said, "To make the success last, they will need to make Game of Thrones something you can experience, such as having some props on display, or putting up signs."
Turespana, the agency that promotes Spanish tourism, posted articles on its Chinese social media account about traveling to locations in Spain used for Game of Thrones, resulting in a high number of clicks among netizens.
"Spain is a popular location for Western movies and television series and has also attracted crews from Asian countries in recent years," said Dario Polo Rodriguez, tourism counselor at the Spanish embassy in Beijing.
"I think films and television shows play crucial roles in promoting destinations. I'm glad that more and more Spanish destinations are now known and loved by tourists due to the popularity of these products," he said.
He cited Osuna as an example. The small town in Seville province gained a following at home and abroad when its ancient bullring was used as a location in Season 5 of Game of Thrones in 2014.
The town has benefited greatly from the tourism boom and has also built a museum dedicated to the show.
"As a country with an ancient civilization, Spain offers splendid landscapes and well-preserved scenic spots and historical sites, ranging from Roman remains, ancient castles, monasteries, palaces and Arabic architecture," he said.
Sveinn K. Einarsson, first secretary at the Icelandic embassy in Beijing, said Iceland had experienced a boom in tourists from China in recent years, with the number almost doubling annually.
"The increase is not a direct result of Iceland being a location for Game of Thrones, but this has surely given it a boost," he said.
"Many visitors to Iceland come to the country with the sole purpose of seeing the landscape that is so familiar to them from GoT."
He said Iceland has benefited greatly from being the location for many well-known TV shows and movies, adding that the country has such a unique landscape that people really want to visit it after seeing it on screen.
The Icelandic government has a policy for attracting studios to film in the country, with 25 percent of all production costs being reimbursed. As a result, movies such as Star Wars: The Force Awakens and Batman Begins were shot in Iceland.
"This is one of the best advertisements Iceland has as a tourism destination," Einarsson said.