Chinese airlines report 70 pct drop in business, warning worst isn't over yet
Global Times
1587234630000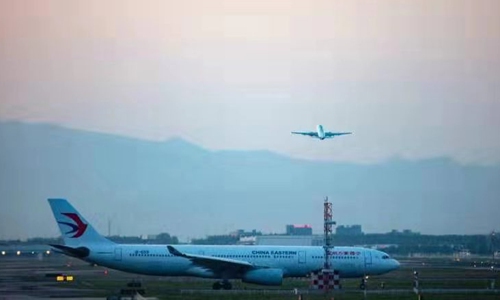 An airplane from China Eastern Airlines at the Beijing Daxing International Airport. (Photo: Global Times)
The top three Chinese airlines - China Southern, China Eastern, and Air China - all reported staggering over 70 percent year-on-year slump in passenger turnover in March as the COVID-19 pandemic continues to spread globally.
The three airlines warned that due to the severe impact of the deadly virus on the civil aviation transport industry, their operating performance in the first quarter will suffer a heavy blow.
While China Eastern and China Southern estimated major losses in the first quarter, China Southern warned of lingering fallout from the virus in the first half of the year, thepaper.cn reported.
Despite revenue slightly picking up from February, the three major airlines have seen a massive fall in a slew of indicators in March, according to data released on Friday.
Air China's business revenue in the month was 5.06 billion, down 73.5 percent year-on-year. China Eastern's revenue was 3.74 billion, down 79.11 percent year-on-year, and China Southern's revenue stood at 6.31 billion, down 72.33 percent.
The average passenger loads of the three major airlines in the first quarter are disappointing too, with Air China reporting 56.8 percent, down 23.9 percentage points year-on-year. The passenger loads of China Eastern was 55.78 percent, down 27.01 percentage points year-on-year and the passenger loads for China Southern was 58.16 percent, down 24.99 percentage points year-on-year.
Bearing the brunt of the pandemic, the industry is facing rising challenges in the near term. The International Air Transport Association (IATA) pointed out airline passenger revenues are set to plunge 55 percent - a loss of $314 billion - in 2020 due to the pandemic, according to its official site.
China Southern said since late January, the spread of the pandemic across the world has led to a sharp decline in aviation demand. As the pandemic situation, internationally, remains grim, Chinese airline companies are now actively exploring ways to offset their losses.
China Eastern said the company is trying to get more policy supports and secure access to liquidity while controlling its expenditure and operational costs. Air China said the company has tried to offset the virus impact by adopting a series of measures to bring down costs, the report said.