Tibet making ticket reservations more efficient
Potala Palace, a UNESCO World Heritage Site, opened its online ticket reservation service on Sunday to help manage the number of visits during peak tourism season, the palace's management office said.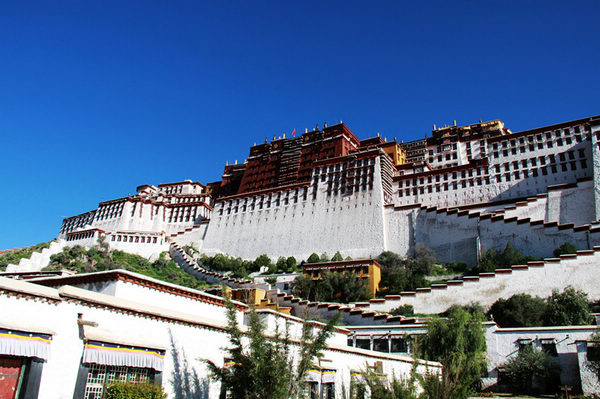 A view of Potala Palace, Aug 23, 2011. (Photo: chinadaily.com.cn)
Visitors to the palace in Lhasa, capital of the Tibet autonomous region, are now required to make reservations on its website or at a ticket window to ensure entry to the site.
Visitors can reserve tickets one day in advance at ticket windows while online reservations are available up to seven days in advance, the office said.
Each visitor can reserve a maximum of five tickets online.
The reservation window is open daily from 8 am until tickets for the following day are sold out.
Xiaoyu, a tourist from Shandong province, said this would be his first time touring Lhasa, and he was excited about visiting Potala Palace. "I prefer buying tickets online, as lining up under the hot sun is not easy. Online reservations are efficient and fast," he said.
Tian Kuigang, a sales manager at a local travel agency, said the ticket reservation system helps avoid overcrowding at popular sites.
"During the peak season, it's necessary. Otherwise, all the tourists will be crowded together at ticket windows," Tian said.
The palace was added to the UNESCO World Heritage List in 1994.
Another major tourist attraction in the region, Jokhang Temple, has also begun on-site ticket reservation services, with reservations taken daily between 3 pm and 7 pm.
Architectural preservation is a concern, and the ticket reservation periods are timed so as to prevent overcrowding and stress on structures, Tibet Daily reported.
The region's peak tourism period is from May to October. In off-peak periods, the region's tourism authorities began offering bargains on hotels, flights and tickets to scenic spots in February 2018 as a way of attracting more tourists.
The region saw more than 13 million visitors in the first half of 2019, up 20 percent year-on-year, according to the region's tourism development department.
The region raked in 14.93 billion yuan ($2.17 billion) in tourism revenue in the same period, up 19.8 percent year-on-year, according to the department.