Meat the real star of the big barbecue flavor at Home Plate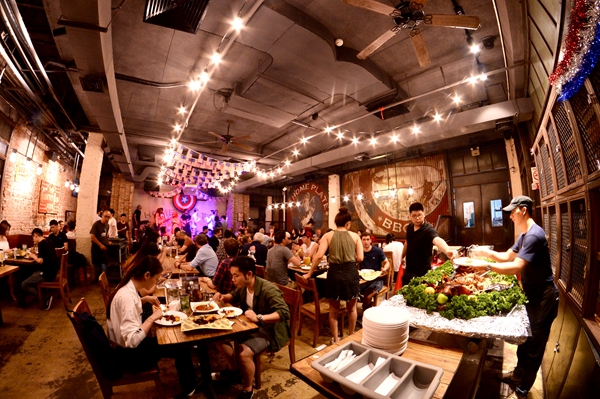 Home Plate restaurant offers Chinese diners the authentic flavors of American barbecue. (Photo: China Daily)

Ten years ago, Adam Murry and Liu Rongrong started a delivery service for Murry's slowly barbecued brisket and pork shoulder, which he cooked with a small smoker in the courtyard of his community in Beijing.
The couple's dream was to bring Murry's home flavor, American barbecue, to the Chinese capital.
A year later that dream became a reality as he began assuaging the appetite of his displaced countrymen-and Beijing locals-with that big American flavor at his first Home Plate restaurant.
Two weeks ago, to celebrate Thanksgiving, Murry and Liu laid on a buffet feast for more than 200 diners in the Sanlitun branch of the eatery-one of three in the country, two of which are located in Beijing-serving smoked turkey and a whole hog, which weighed about 100 kilograms and took 24 hours to roast in a customized oven.
"Around 15 kilograms of fat and oil are roasted out. Other than the head and feet which are too dry after the long cooking process, the whole hog was eaten up," says chef Wang Shengnan, who has worked with Murry for nearly a decade.
The styles and flavors of American barbecue vary from region to region, stretching from the Carolinas, Georgia and Florida in the east, moving westward through Kansas City and down to the vast state of Texas-which has its own, widely varied barbecue landscape.
At Home Plate, Murry is forming a posse of his favorite barbecue elements so that visitors can embark on a taste expedition across the American south.
Ribs, which can be barbecued in different styles, are the shining star of this epic journey.
Kansas City ribs are a sweet choice, as these succulent spareribs are dipped in the Home Plate signature rib rub and smoked until they are just about to give in, when they are covered in sweet, smoky barbecue sauce to add that Kansas flavor.
Memphis ribs will have customers walking in Memphis in just one bite-the baby back ribs are tossed in some magic spices and Murry gives them the Memphis treatment by sprinkling the finished rack with that signature rib rub to add a greater depth of flavor.
If they're feeling the cowboy vibe, diners can lasso themselves some Texas-style ribs.
The chefs start with spareribs and cover them with a blend of spices. After being smoked for several hours, the ribs are treated with the restaurant's homemade hot pepper jelly, giving them a nice mellow pepper flavor with a subtle sweetness and smokiness.
Staying in the Lone Star State, beef brisket is a Texan staple. At Home Plate it's slowly barbecued for 12 hours. "Beef is the toughest meat to cook, as you need to control the balance of the temperature and the tenderness. You know it's just right when you touch the beef and the surface starts shaking like jelly," Wang explains.
Boudin sausage is a popular dish found across the Gulf Coast of Louisiana and East Texas. According to Murry, for their salute to the rice and meat-stuffed sausage, pork casings are filled with rice, vegetables and a selection of their roasting and barbecue meat.
Among all of the regions visited on this smoky, culinary adventure, no fire pit can burn as hot as the rivalry between the Carolinas. Diners can pick which side of the line they straddle when they dig into the pulled pork-a shoulder cut barbecued for several hours over apple wood until it gets so tender that it falls off the bone with minimal encouragement.
Pairing this perfectly prepared piggy with a vinegar barbecue sauce would be a nod to the North Carolina tradition, while slathering it with a mustard barbecue sauce is a doff of the cap to the southern neighbors.
As well as the classic barbecue trail, which includes all of the above, with the addition of sausage, rib tips and a half chicken, Home Plate recently launched its "newfangled BBQ trail", which features some of their more contemporary and locally-influenced creations-burnt ends, beef pastrami, Chengdu sausage, pork belly, barbecue duck and Texas ribs.
According to Murry, a burnt end is a twice-seasoned, twice-cooked and sauced piece of brisket "that is beautifully tender, a little sweet, a little salty, a little crispy-but all flavor".