African nations urged to push energy transition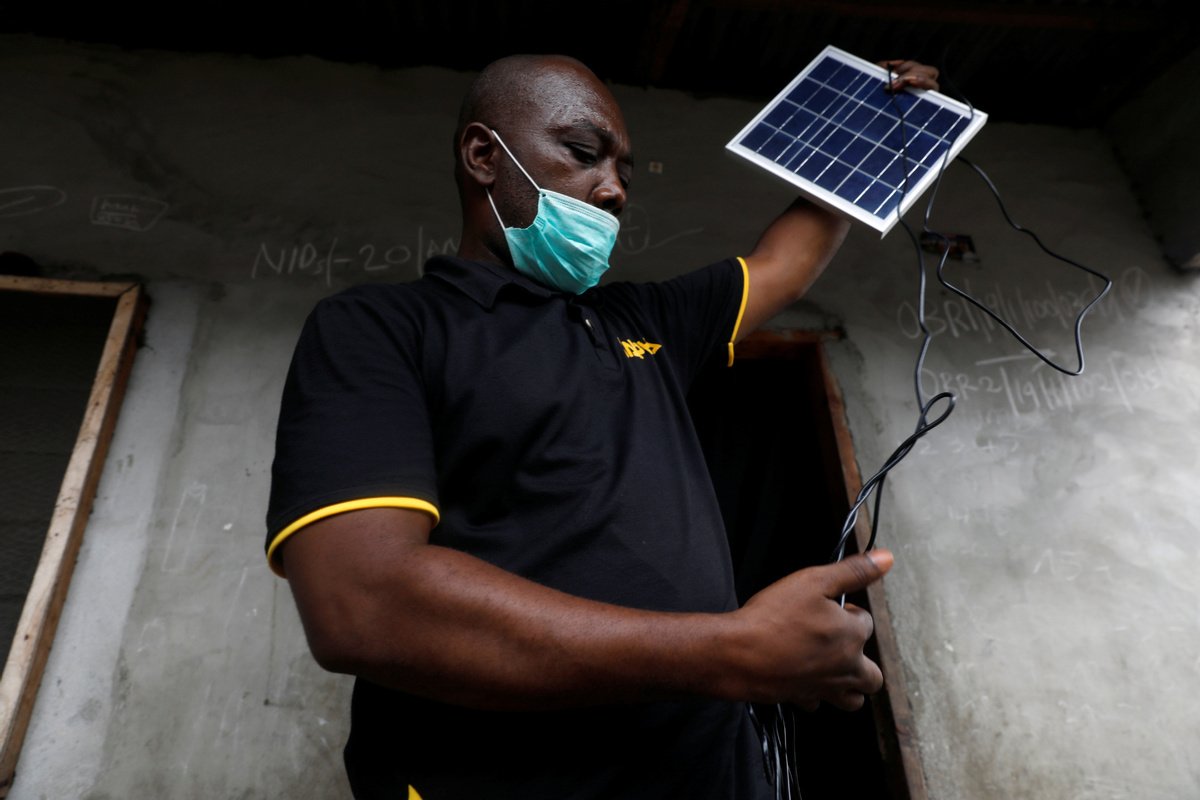 An employee from an energy company unboxes a solar panel for home installation in Sagbo-Kodji community, in Lagos, Nigeria, on April 25, 2020. (Photo: Agencies)
As countries continue to rebuild from the coronavirus pandemic, Sustainable Energy for All, an international organization working to ensure access to sustainable energy worldwide, has highlighted key policy measures that African governments should adopt to ensure a successful energy transition.
In releasing its "Recover Better With Sustainable Energy Guide for African Countries" on Tuesday, the organization said governments "should create a supportive business environment that ensures investments are driven as fast as possible, including significantly reducing red tape, reducing the number of permits required and time it takes to get permits/waivers (if available) for renewable energy and clean cooking equipment and appliances".
The guide also calls for governments to "set robust policies and empower national institutions to drive development", the organization said in a news release.
They should "establish or empower institutions such as regulators and rural electrification agencies to ensure the right frameworks are in place to successfully drive the development of renewables, increased electrification and access to clean cooking", according to the news release.
It also said that since the price of oil is the lowest it has been in 18 years, governments should use the opportunity to eliminate fossil fuel subsidies, and refrain from reintroducing such subsidies when the price of fossil fuels rises again.
In addition, it says that although "the natural tendency for countries will be to cut the cost of electricity...this should be avoided. The reality is that electricity is largely consumed by wealthier residentials or by industrial/commercial clients. Governments should allow cost-reflective tariffs that allow utilities to perform better", as well as increase investments in energy access and clean energy.
The organization also called for investing in data, introducing a moratorium on new coal-fired power, and investing in energy efficiency.
It said that by acting on the measures in the guide, countries across Africa "will benefit from increased GDP, affordable energy provision and improved agriculture, gender and health outcomes".
Such efforts can also "help put the global economy on a trajectory in line with the Paris Agreement and the (United Nations') Sustainable Development Goals", the news release said.
Speaking during the launch of the guide, Nigerian Vice-President Yemi Osinbajo said the novel coronavirus pandemic has presented a unique opportunity to accelerate transition to clean, affordable, reliable and renewable energy offered by the sun.
"Nigeria is committed to the full utilization of this abundant solar energy source. The government has already removed fossil fuel subsidies and included 5 million solar connections in our post-coronavirus economic sustainability plan-first steps to new jobs and a cleaner, healthier environment," Osinbajo said.
"We commend Sustainable Energy for All for producing this practical 'Recover Better' guide that will help African governments close the energy access gap and deliver economic growth for the benefit of our people."
Amina Mohammed, deputy secretary-general of the United Nations, said access to sustainable energy is pivotal to achieving the UN's Sustainable Development Goals and the Paris Agreement on climate change.
"As we work to recover better from the impacts of the coronavirus, African countries have the opportunity to drive faster progress on the energy transition with efficient, renewable energy that protects the most vulnerable, delivers sustainable growth and supports climate action," Mohammed said.
According to Sustainable Energy for All, 565 million people in Africa still lack access to electricity, and 900 million lack clean cooking solutions.
Despite Africa being full of promise and a growing powerhouse, progress has been stifled due to a lack of sufficient, reliable and affordable energy, the organization said.