Turkish government blames 'food terrorism' for rising prices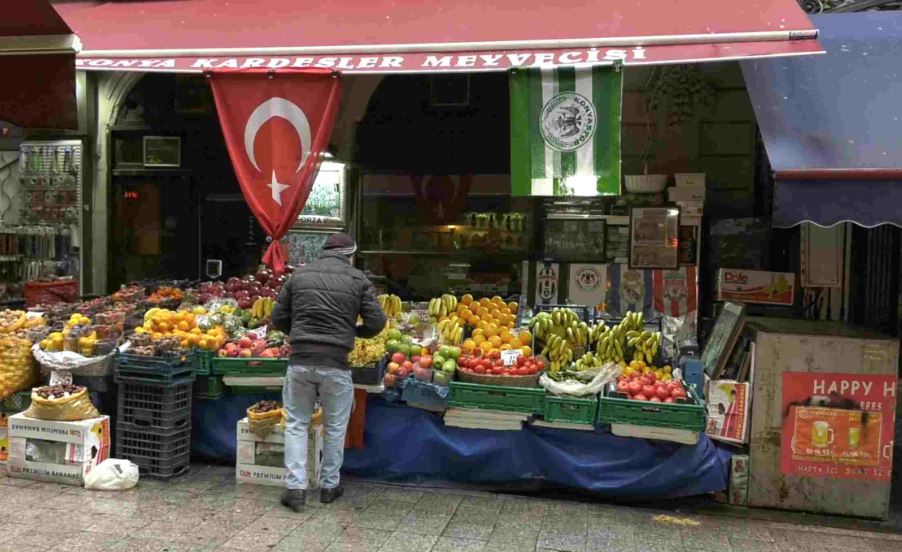 (Photo: CGTN)

Turkey's latest inflation figures hit its citizens where it hurts – in the kitchen. The Turkish Statistical Institute put the annual inflation rate at 20.35 percent in January, but the highest annual increase was in food prices – up by nearly 31 percent.
In an effort to battle inflation, the Turkish government has launched an initiative to support people struggling with food prices. Municipalities in Istanbul and the capital Ankara have opened dozens of vegetable stalls that sell products half the price of retailers.
Most citizens welcomed the move, despite long lines and limits on how much each person can buy. Many who are shopping at these stalls say they have been affected by price hikes in supermarkets.
One Turkish woman in Istanbul wearing a headscarf, who didn't want to give her name, emphasized that her family has been struggling and haven't been able to buy enough food lately. She has been coming to the vegetable stalls daily since they opened on February 11. Some products such as onions and potatoes sell out even before noon.
Retailers have been increasing their prices as inflation figures rise but some have argued they had to, stating that the government does not have the same costs they do such as employee wages, taxes and rent. Turkish President Recep Tayyip Erdogan has blamed price-gouging by middlemen – calling their actions a form of "terrorism" – and has vowed his government will "finish off" those guilty the same way it does terrorists. Following recent store inspections, the trade ministry fined 88 companies a total of 2 million Turkish Liras – about $380,000.
Erdogan has also promised to expand the products to include other food such as lentils as well as cleaning products. The stalls have so far been opened in about 50 locations in the country's two big cities.
But not everyone is impressed with the government's actions; some critics see the move as politically motivated – coming ahead of municipal elections set for March 31. Political economist Ozan Sakar explains that "the opposition says this is an investment for elections; the Trade Ministry said they would close the stalls in two and a half months which means a month after local elections, of course, this creates questions in one's mind."
Sakar also points out that there are worries beyond food in the latest economic data. Sakar states that there is a serious decline in the consumer confidence index as well, which is in line with a decline in large kitchen appliances and car sales.
Positive growth in the Turkish economy had been a big plus for the ruling Justice and Development Party over the last decade. But with inflation on the rise – and citizens feeling the pinch – it will be critical to see whether this new discomfort will be reflected in their votes cast this spring