2 Palestinians killed in Israeli artillery attack in Gaza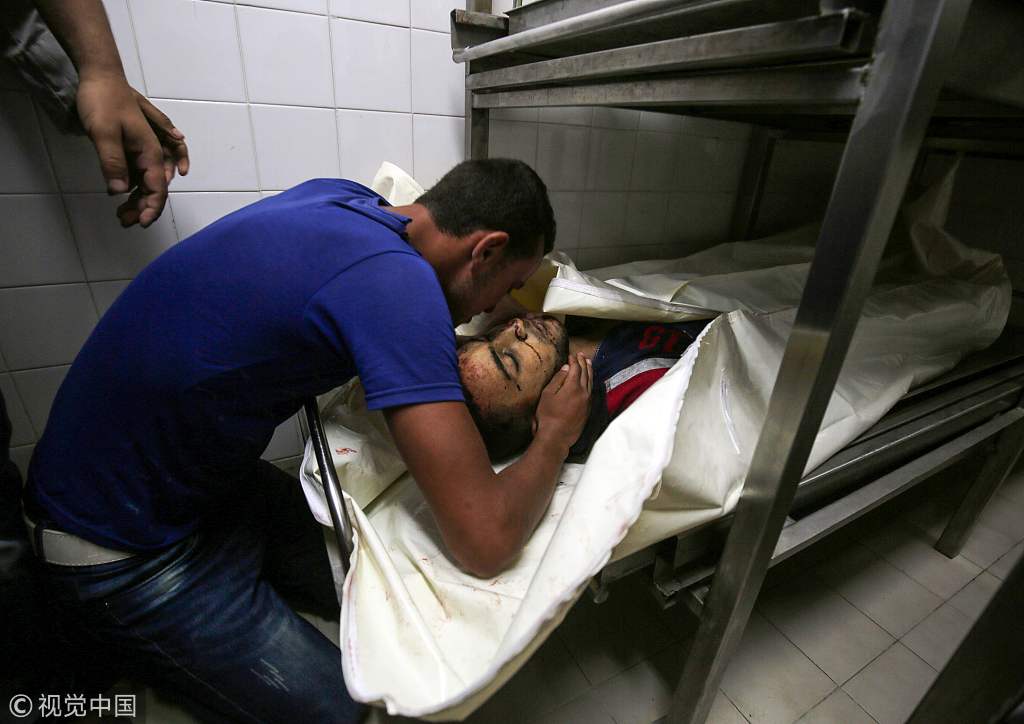 A youth kisses the forehead of his friend Hussein al-Amour, a 25-year-old Palestinian member of the Islamic Jihad movement whose body lays in a morgue in Khan Yunis in the southern Gaza Strip, on May 27, 2018. (Photo:VCG)
JERUSALEM, May 27 (Xinhua) -- An Israeli tank fired at a military observation post in the Gaza Strip, killing at least two people on Sunday, Israeli and Palestinian sources said.
The Israeli military said in a statement that a tank targeted a military observation post in the southern Gaza Strip. The fire was a response to an explosive device placed on Saturday near the fence separating between the besieged Palestinian enclave and Israel.
The device was detonated, the army said, adding that no injuries to Israeli soldiers were reported.
Israeli media identified the victims as militants with the Islamic Jihad, a Palestinian Islamist group.
Palestinian media reported that the artillery attack killed at least two people and injured another.
On Saturday night, Israeli fighter jets struck a compound belonging to Hamas, the Islamist movement that runs Gaza, saying the attack was a response to an infiltration attempt of four Palestinian earlier on Saturday.
The incidents were part of an escalation in the area and weekly protests against the crippling 12-year blockade, the inauguration of the new U.S. embassy in Jerusalem, and the Israeli occupation.
At least 110 Palestinian have been killed by Israeli fire since the protests started on March 30 and thousands more were injured.