UK's high-speed rail link could threaten wildlife
China Daily Global
1579160697000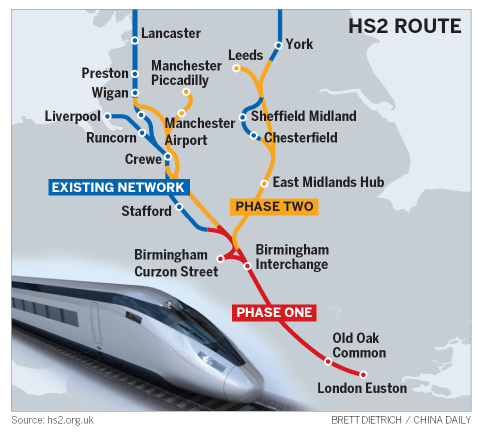 The United Kingdom's planned high-speed rail link between London and the nation's north may not only speed up commutes but also the decline of rare and endangered plants and animals, according to a new report.
The Wildlife Trusts claims the 88-billion-pound ($114 billion) link, which is known as HS2, could destroy "huge swathes" of habitat, including 108 ancient woodlands.
The group, an umbrella organization for 46 smaller trusts that jointly manage 2,300 UK nature reserves, claims HS2 could damage hundreds of reserves and sites of special scientific interest and says the project, which is in mothballs because of cost overruns, must be rethought if it is restarted.
Nikki Williams, the Wildlife Trusts' director of campaigns and policy, told the BBC: "HS2 will destroy precious carbon-capturing habitats if it's allowed to continue in its current form. It will damage the very ecosystems that provide a natural solution to the climate emergency."
And she said the project's current provisions for habitat protection are "amateurish".
"The figures are grim and the reality is worse," she said.
HS2 Ltd, the company spearheading the project, insists the route will respect the environment and, in fact, create a green corridor. It says 9 square kilometers of new woodlands will be created between Birmingham and London that will comprise 7 million trees and shrubs. HS2 Ltd says it will relocate vulnerable animals away from construction sites into newly-created habitats.
But the Wildlife Trusts claims the mitigation work is inadequate.
Its report, based on information from 14 wildlife trusts impacted by the route, claims rare creatures, including the dingy skipper butterfly, could be wiped out in some areas, while barn owls, white-clawed crayfish, and other animals could be greatly impacted.
The Wildlife Trusts claims its review is the most comprehensive to date on the environmental cost of the HS2 project.
Hilary McGrady, director general of the National Trust, told the Press Association: "As Europe's largest project of its kind, HS2 Ltd has a vital responsibility to lead by example and get this right by delivering a net gain for nature. We recognize that designing the railway is a long process but plans for HS2 must not end up cutting corners at the expense of the environment."
Last week, revised estimates of the project's cost predicted it could end up with a price tag of more than 107 billion pounds.
Despite the project's champions claiming it will encourage less reliance on cars, trucks, and planes, some environmental groups, including Extinction Rebellion, have opposed it because of its impact on the environment.