S.Korea to downgrade social-distancing guidelines to lowest level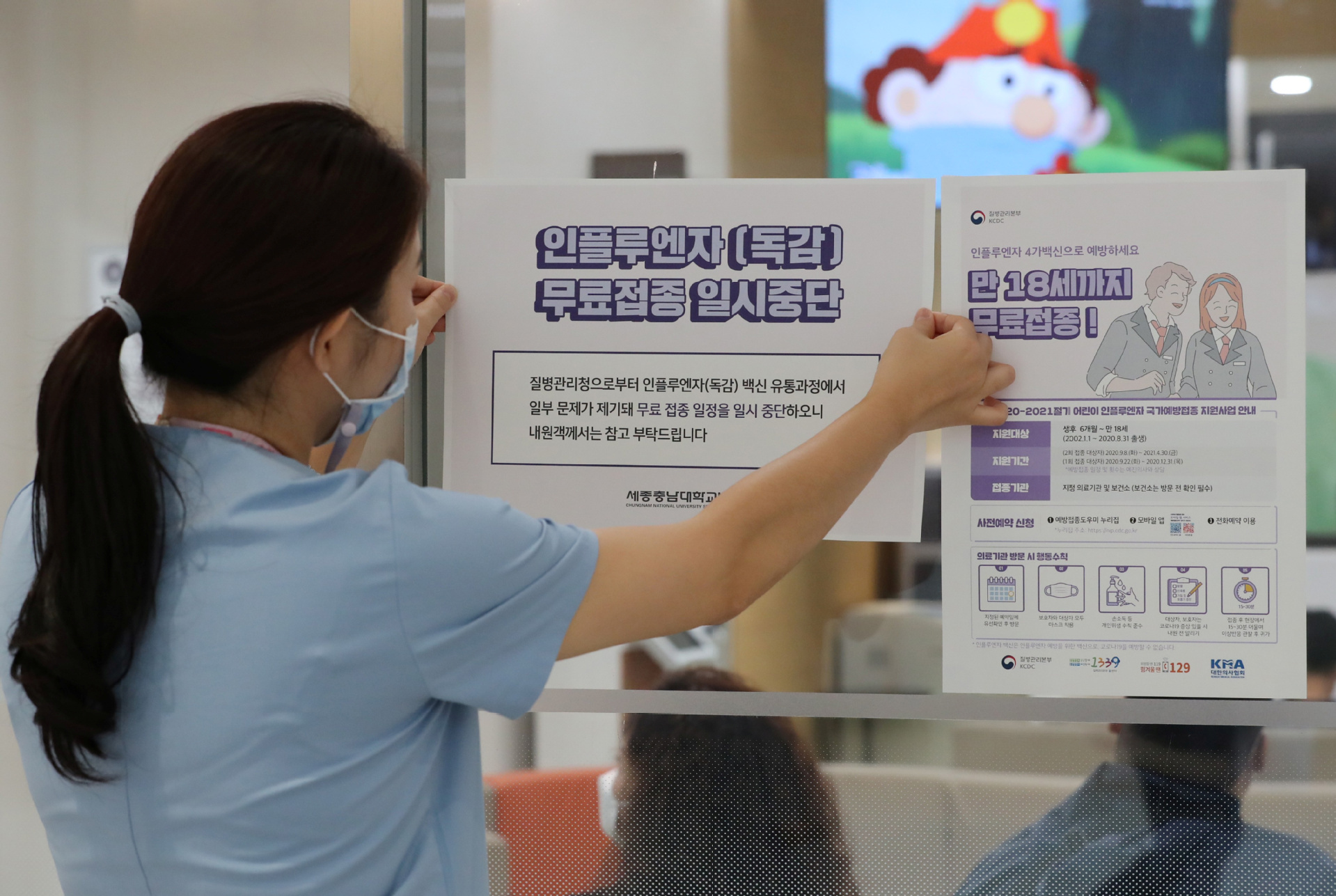 A health worker attaches a notice for suspension of influenza vaccination programs on an entrance of a hospital in Sejong, South Korea, September 22, 2020. [Photo/Agencies]
SEOUL - South Korea on Sunday decided to lower its three-tier social-distancing guidelines to the lowest level as the daily COVID-19 cases stayed relatively low in recent days, according to local media reports.
South Korean Prime Minister Chung Sye-kyun told a meeting to tackle the COVID-19 pandemic that the virus spread has recently been contained given that the daily average number of COVID-19 cases hovered below 60 for the past two weeks.
Chung said the government decided to lower the social-distancing guidelines to Level 1 as the prolonged tightening of quarantine measures had a negative effect on the economy as well as people who may have a sense of fatigue.
The prime minister, however, noted that the government will make "precision" quarantine efforts at crowded facilities by keeping in place necessary measures of the Level 2 social-distancing campaign in the Seoul metropolitan area.
The country tightened its social-distancing guidelines since the number of COVID-19 cases surged in triple figures owing to small cluster infections traceable to church services and a massive rally in central Seoul on Aug. 15.
Under the Level 2 guidelines, the indoor gatherings of over 50 people and the outdoor events of over 100 people are banned, while public and high-risk private facilities are prohibited from doing businesses.
In the latest tally, South Korea reported 58 more cases of the COVID-19 for the past 24 hours, raising the combined number of infections to 24,606.
The daily caseload stayed below 100 for the fourth consecutive day, but the double-digit growth continued due to small cluster infections in Seoul and its surrounding Gyeonggi province.
Of the new cases, 19 were Seoul residents and 18 were people residing in Gyeonggi province.