DPRK, US in talks over remains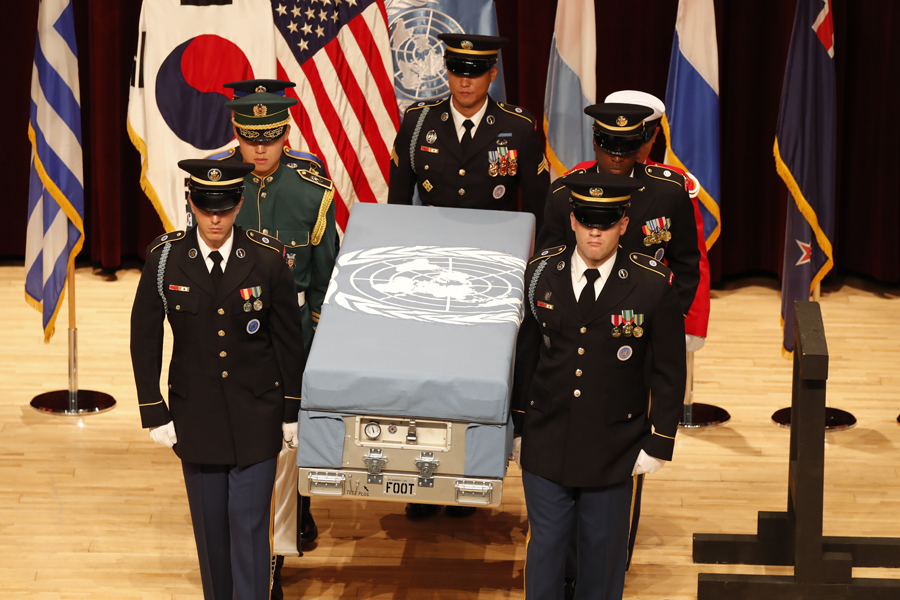 Honor guards carry caskets containing the remains of soldiers killed in the DPRK during the Korean War, during a repatriation ceremony at the Seoul National Cemetery on Friday. [Photo/Agencies]
SEOUL-The Democratic People's Republic of Korea and the United States held talks on Sunday to discuss the repatriation of remains of US soldiers killed during the Korean War, Yonhap news agency said citing unnamed sources.
The delegations, led by senior military officers, were believed to discuss when and how to repatriate remains of US soldiers killed on the DPRK side during the Korean War that ended with an armistice, not a peace treaty.
Pyongyang and Washington originally planned to hold the talks on Thursday, but they were delayed by the DPRK because it needed more time to prepare.
It marked the first such military talks between the UN Command, led by a US general, and the DPRK since March 2009.
US President Donald Trump and DPRK top leader Kim Jong-un reached an agreement on the repatriation of the remains during their summit on June 12 in Singapore.
The latest talks began at the border truce village of Panmunjom, the Republic of Korea's Yonhap news agency said.
"We understand that the North (DPRK)-US talks on repatriation of the remains are under way," it quoted an unnamed official as saying.
TV news footage showed vehicles with US army plates and believed to be carrying US officials heading to the heavily fortified border.
Dozens of wooden coffins to carry the US remains have reportedly been brought to the ROK side of the border in recent weeks.
The Pentagon has said DPRK officials have indicated in the past they have the remains of as many as 200 US troops. But a US military official familiar with the matter said last month it was not clear what the DPRK might hand over.
The White House has hailed the summit between Kim and Trump in Singapore as a major breakthrough toward denuclearization in exchange for easing of sanctions and other help with economic development.
US Secretary of State Mike Pompeo visited Pyongyang earlier this month to flesh out details of the denuclearization deal signed by Kim and Trump and met with Kim's key aide.
He insisted the talks between the sides were making progress, but the DPRK later berated him over his "unilateral and gangster-like" demands.
Trump on Thursday signaled optimism, unveiling a letter from Kim in which the top leader hailed the "start of a meaningful journey" and tweeting "Great progress being made!"
Xinhua-AFP