New US unemployment filings fell for the first time since April
China Daily Global
1594356811000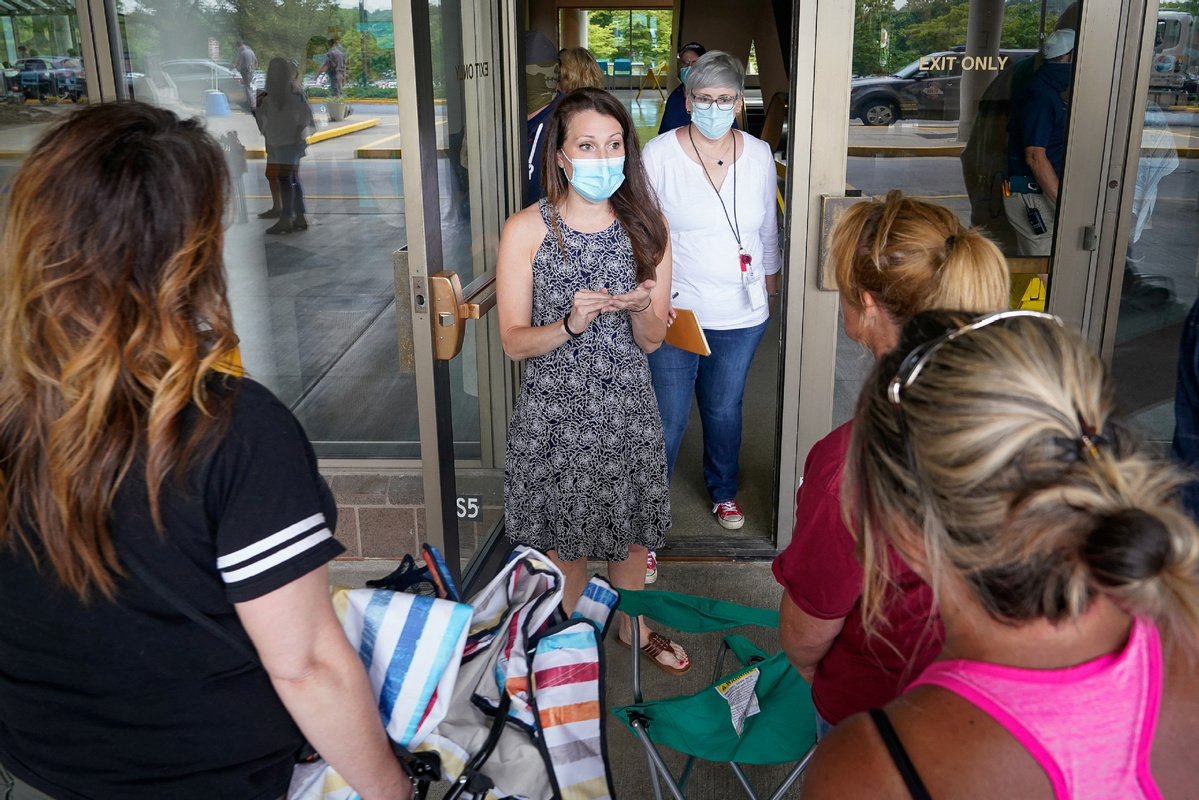 A state employee speaks with people outside of a Kentucky Career Center where hundreds gathered hoping to find assistance with their unemployment claim in Frankfort, Kentucky, US, June 18, 2020. (Photo: Agencies)
First-time applications for unemployment benefits fell last week, and the number of workers receiving payments declined to the lowest level since April, the US Labor Department reported Thursday.
The continued decline in initial jobless claims suggests the labor market continues to recover and hasn't been harmed by an uptick in coronavirus cases in several states – at least not yet.
The number of new claims totaled 1.31 million, 5.47 percent below the 1.39 million expected by economists surveyed by Dow Jones.
The economy lost 21 million jobs in March and April, the Labor Department reported.
The latest numbers extend the weekly declines from the peak of 6.9 million new claims filed in mid-March. Nevertheless, the current total was still the highest level reported before this year, which was 695,000 initial jobless claims filed in 1982.
"New claims have dropped despite the uneven nature of COVID-19 restrictions and the outbreak itself,'' Mark Hamrick, Bankrate's senior economic analyst, said in a research note.
"Even so, with more bankruptcies and job cuts announced in the retail sector, for example, the economy remains at significant risk in the weeks and months ahead. As the COVID-19 outbreak has recently intensified in some states, hopes for an accelerated sustained and successful re-opening of the economy have hit roadblocks. This raises concern about the economy's rebound."
The four-week moving average of new claims, which evens out any volatility in the weekly totals, declined 14,000 to 1.43 million, the Labor Department said.
Continuing claims declined 698,000 to 18.06 million, the lowest level since the week ended April 18.
However, the data may not provide a complete view of the labor market because the workweek was shortened by the Fourth of July holiday.
The latest jobs report marked the 15th consecutive week that initial claims totaled more than 1 million, or well above pre-pandemic levels. Unemployment was close to a record low in February before the government-ordered shutdown intended to curb spread of the coronavirus.
But uncertainty continues to roil the job market. The 4.8 million workers added to private payrolls in June may represent the peak during the recovery. United Airlines announced that it may lay off as many as 36,000 workers beginning Oct 1.
An additional 1 million workers filed for Pandemic Unemployment Assistance, a federal program created to help freelancers and the self-employed who wouldn't otherwise qualify for unemployment payments.
The extra $600 in unemployment benefits through the Coronavirus Aid, Relief, and Economic Security Act (CARES) is scheduled to expire at the end of this month.
The White House and Congress are working on an extension, but the details haven't been worked out. Democrats say the additional money is needed to help people meet expenses, but Republicans counter that the benefit is a disincentive to return to work and therefore might slow the recovery.