After China protests, Canada and US assure 'apolitical' judicial process for Huawei CFO
Canada and the US assured a fair and "apolitical" judicial process for Huawei CFO Meng Wanzhou after the foreign ministers and defense chiefs of the two countries met in the US capital late on Friday amid Beijing's sustained protest against the Chinese telecom executive's "wrongful" arrest by Canadian authorities.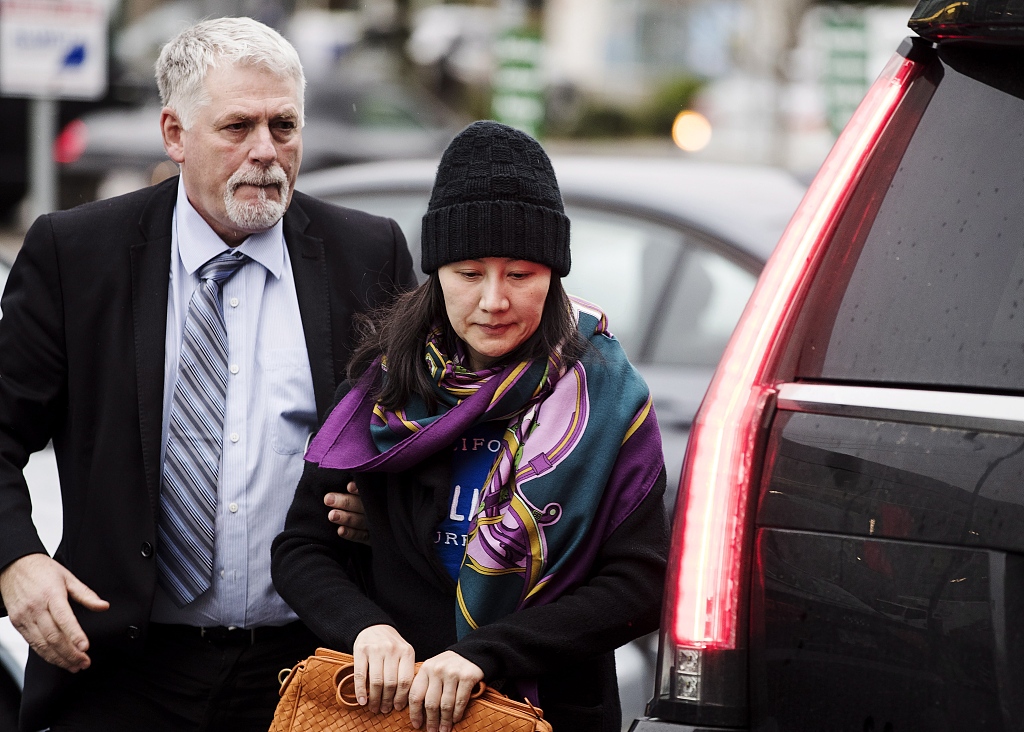 Huawei chief financial officer Meng Wanzhou, arrives at a parole office with a security guard in Vancouver on Wednesday, December 12, 2018. (Photo: VCG)
"We all agree that the most important thing we can do is to uphold the rule of law, ensure that Ms. Meng's right to due process is respected and that the current judicial process in Canada remains apolitical," Canadian Foreign Minister Chrystia Freeland said addressing a joint press conference after the US-Canada 2+2 ministerial meeting.

Meng was arrested in Vancouver on December 1 on a request from the US, which is seeking her extradition over allegations that her company conducted business with Iran in violation of US sanctions. Meng and Huawei have denied any wrongdoing and are fighting a legal battle in Canada.

Freeland said that Canadian authorities were acting "scrupulously" in the case and repeatedly assured that Canada "is a rule-of-law country" that responded appropriately to an extradition request.

"In Canada, there has been to this point no political interference in this issue at all," she said.

The US Secretary of State Mike Pompeo concurred with Freeland saying Washington was also "respecting the rule of law each step along the way" as it seeks Meng to be extradited to the US.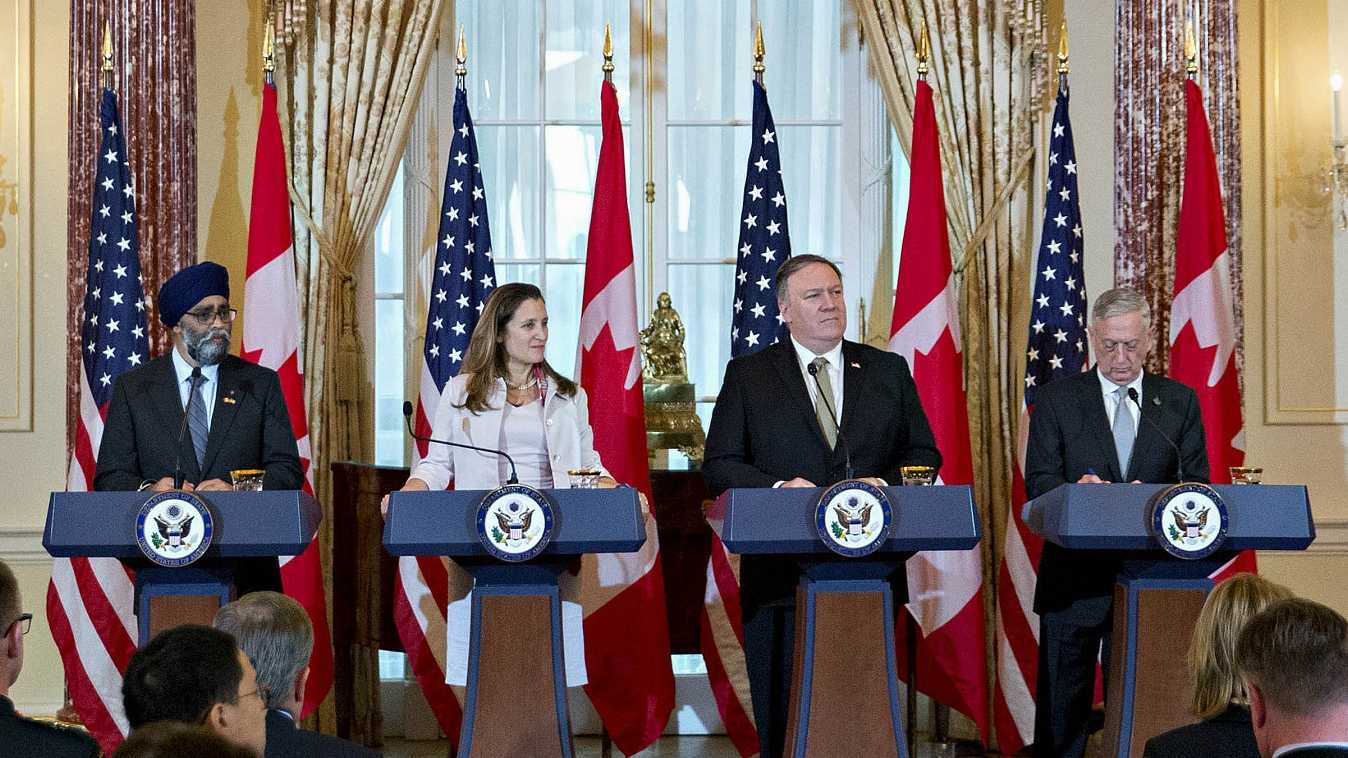 From left: Canada's Defense Minister Harjit Sajjan, Canada's Foreign Minister Chrystia Freeland, US Secretary of State Mike Pompeo, and US Secretary of Defense Jim Mattis at a news conference during a US-Canada 2+2 ministerial meeting at the State Department in Washington, DC, US, December 14, 2018. (Photo: VCG)
Beijing has strongly protested against Meng's arrest calling it "wrongful" and demanded her immediate release with China's Vice Foreign Minister Le Yucheng warning Canada of "severe consequences" if it didn't deal with the issue properly.

"Regarding the wrongful detention of Ms. Meng Wanzhou, the Chinese side has been asking the Canadian government to immediately correct its mistake and release her," China's Foreign Ministry Spokesperson Lu Kang reiterated at a press conference in Beijing on Friday.

Last weekend, Le summoned the Canadian Ambassador John McCallum and the US Ambassador Terry Branstad to lodge solemn representations and strongly protest Meng's arrest.

Both Canada and the US meanwhile also appealed to Beijing to release two Canadian men who were held earlier this week by Chinese authorities on suspicion of "engaging in activities that endangered China's national security", as confirmed by the Chinese Foreign Ministry on Thursday.

"On December 10, the Beijing State Security Bureau and the State Security Bureau of Dandong City, Liaoning Province have respectively taken compulsory measures on Canadian citizens Michael Kovrig and Michael Spavor… on suspicion of engaging in activities that harm China's national security. These cases are still under investigation," Lu said.

According to news reports, Kovrig is a Mandarin-speaking former Canadian diplomat who works for the International Crisis Group (ICG) and Spavor is a China-based consultant who arranges visits for foreigners to the Democratic People's Republic of Korea (DPRK).

Freeland called the release of the two men "a huge priority" for Canada.

Maintaining that the investigations against the Canadian nationals are separate from Meng's arrest, China assured that the legitimate rights of the Canadians are guaranteed.

"These are two (different) matters," Lu reiterated on Friday. "With regard to the two Canadian citizens you mentioned on whom compulsory measures have been taken in China in accordance with laws, I can tell you that China and Canada maintain normal consular communication," he said while responding to a question on the matter.

"Like I said yesterday, their legal rights and interests have been safeguarded," Lu stressed.

Canada's Foreign Ministry later said that its ambassador, McCallum, was granted consular access to Kovrig and is seeking access to Spavor. Speaking to The Canadian Press, Canadian Prime Minister Justin Trudeau predicted that access would take place "shortly."