Putin seeks to reassure Russians after cases soar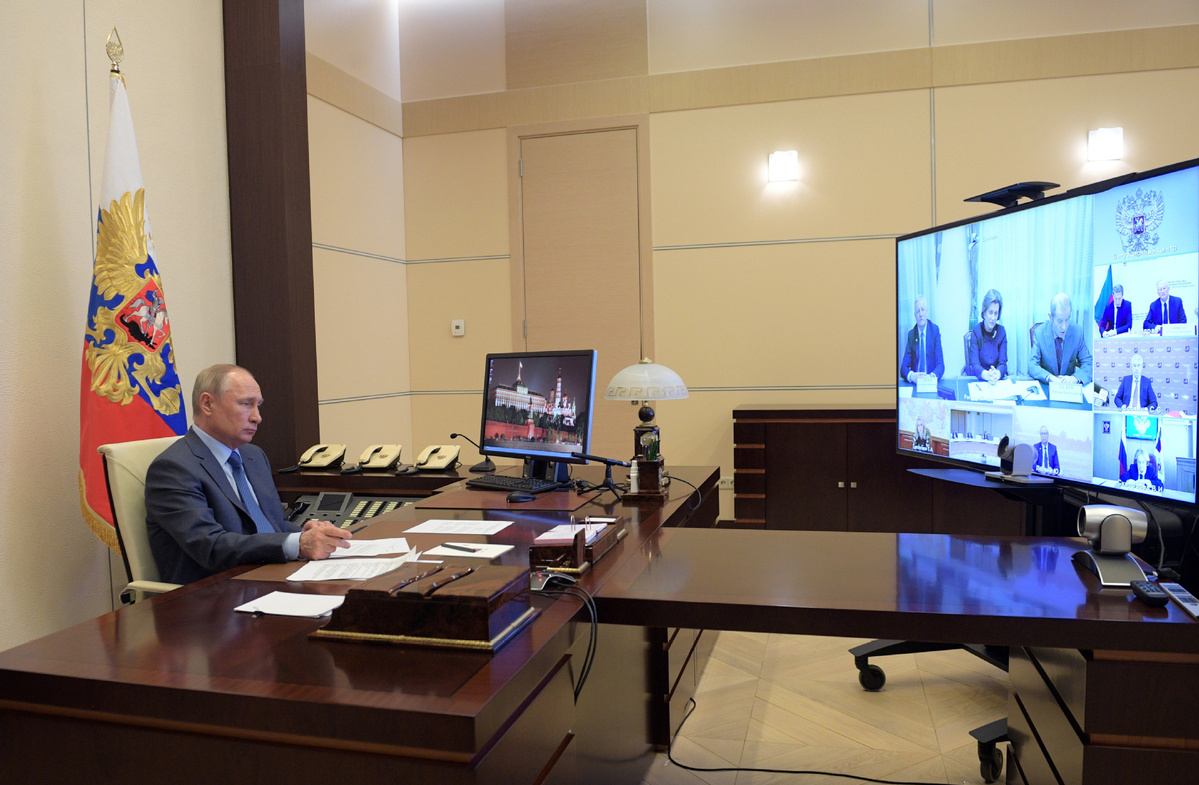 Russian President Vladimir Putin chairs a meeting via a video link amid the coronavirus disease (COVID-19) outbreak, at the Novo-Ogaryovo state residence outside Moscow, Russia on April 20, 2020. (Photo: Agencies)
Russian President Vladimir Putin said the government has the coronavirus outbreak under full control, despite a sharp upsurge in the number of cases reported over the weekend.
On Sunday alone, the number of cases jumped by 6,060, in the largest single-day rise seen in Russia.
According to data from the Russian anti-coronavirus crisis center, the increase on Monday remained high, at 4,268 cases, taking the total to 47,121, with 405 deaths. Some 3,446 patients have recovered.
"The situation with the novel coronavirus spread in Russia is under full control, and all levels of authorities are carrying out a concerted effort," Putin said.
"All levels of authorities are working in harmony, in an organized way, and responsibly."
Putin made the remarks in a national address via video in which he offered his best wishes to Christians on the Orthodox Easter, saying the religious festival would strengthen Russians' hope and faith.
Authorities and clerics had urged Christians to stay at home over the holiday weekend for their own safety, though a senior cleric asked police to be lenient on those who still tried to make it to church.
In and around Moscow, where most of Russia's cases are concentrated, churches held services behind closed doors, though they remained open in many other regions of Russia, the Moscow Times reported.
Putin, who looked relaxed as he sat in front of a fireplace at his out-of-town Moscow residence, said Russia has all the necessary resources and reserves to protect people and support the economy amid the coronavirus' spread.
He said the government is carefully analyzing other countries' experiences, and is actively cooperating with their governments to better understand their positions.
Trust in government
"We see risks and we know what needs to be done in case any development in the situation arises, and we will do what is necessary," said Putin, calling on the people to trust their government. The authorities have been working actively to combat the coronavirus, he said.
"The situation is under full control. All of our society is united in front of the common threat," he said.
Kremlin spokesman Dmitry Peskov said Putin may take additional steps to combat COVID-19.
Peskov said the government's efforts require a balancing act, as "the health of citizens is a priority, while there is also need to prevent the economy from suffocating when it finds itself in a dire crisis due to these circumstances".
Peskov said there was hope that the number of cases might begin to plateau, after a relentless rise.