ISIL releases 6 hostages in Syria's Sweida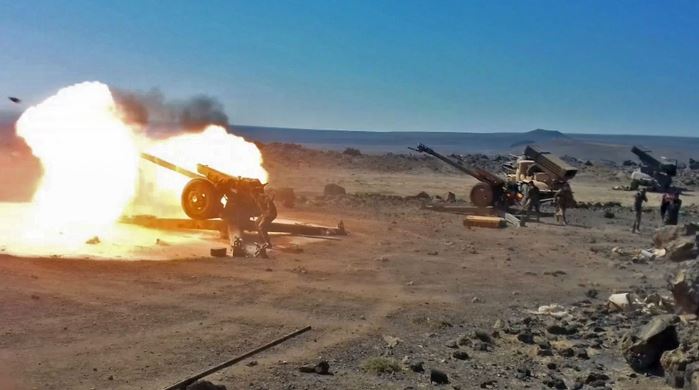 Syrian government artillery guns fire during bombardment against the ISIL positions along the frontline in the Safa hills, in the southern province of Sweida. (Photo: VCG)
ISIL released six hostages taken in the southern province of Sweida, Syrian Arab News Agency (SANA) reported on Saturday.
The released hostages include two women and four children who had been captured by ISIL militants during an offensive on July 25.
Altogether 30 people were taken hostages at the time, three of whom had died in captivity.
Citing the governor of Sweida, Amer al-Ashi, SANA said the release of the first batch of hostages came as a result of the tight siege imposed by the Syrian Army on ISIL militants in the Tulol al-Safa hills in the eastern countryside of Sweida.
He noted that the rest will be set free soon.
Meanwhile, the Syrian Observatory for Human Rights said the release comes due to a deal reached recently with the backing of Russia.
The Britain-based watchdog group said the Syrian Army has brought in reinforcements to the surroundings of the Tulol al-Safa as a pressure on ISIL to start implementing the deal.
The observatory said that 60 women from government jails are to be released in exchange for the Sweida hostages, as these women appear to be relatives of ISIL fighters.
ISIL also demanded the release of their relatives from the US-backed Syrian Democratic Forces (SDF) in northeastern Syria.
Calm prevails Tulol al-Safa, where ISIL militants are besieged, said the observatory. It added that if ISIL fails to release the rest of the hostages, the army will continue the assault on Tulol al-Safa.