Fires respite opens up chance for evacuations in Australia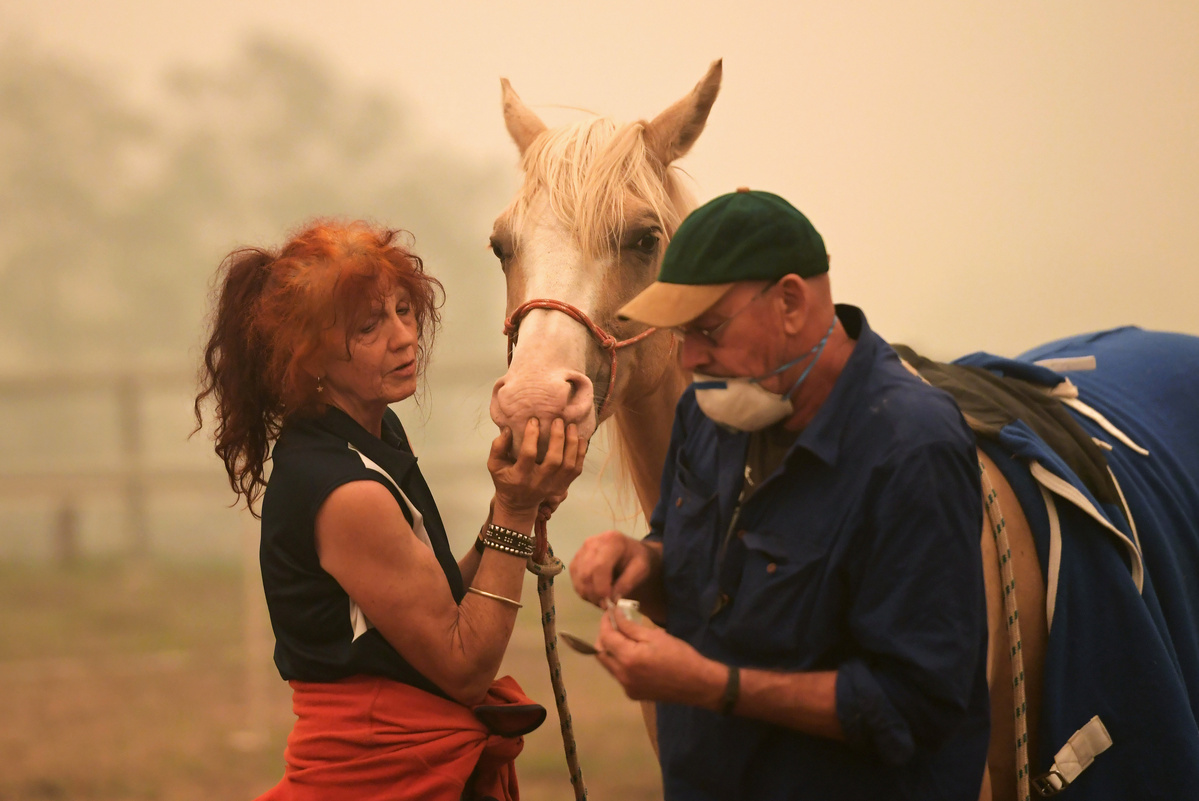 An injured horse is given painkillers in a paddock at the evacuation center in Cobargo, as bushfires continue in New South Wales, Australia, on Sunday. (Photo: China Daily)
SYDNEY-Australian officials used a respite on Monday from fierce bushfires that have killed 25 people across the country's southeast to race to reopen blocked roads and evacuate people who have been trapped for days.
Police on Monday confirmed the death of a 71-year-old man on the south coast of New South Wales state who was reported missing on Dec 31, bringing the total death toll to 25.
A second day of light rain and cool winds brought some relief from heatwave-fueled blazes that ripped through New South Wales and Victoria states over the weekend, but officials warned the hazardous weather conditions were expected to return later in the week.
Authorities redoubled their efforts on Monday to provide supplies and repatriate thousands of people who have been trapped by fire lines in coastal towns for several days.
"This morning it is all about recovery, making sure people who have been displaced have somewhere safe (to go) and it is making sure we have resources to build up the presence on the ground to clean up the roads, clean up where the rubble exists," New South Wales Premier Gladys Berejiklian said.
Australian Prime Minister Scott Morrison announced on Monday funding of A$2 billion ($1.4 billion) over two years toward the recovery effort in addition to the tens of millions of dollars that have already been committed.
"What we are focusing on here is the human cost and the rebuilding cost for people's lives," he said.
Fire officials said that while the rain had brought some relief, it still posed challenges.
"With the more benign weather conditions it presents some wonderful relief for everybody, the firefighters, the emergency services personnel, but also the communities affected by these fires," said Shane Fitzsimmons, the commissioner of the New South Wales Rural Fire Service. "But it also presents some real challenges when it comes to implementing tactical and strategic back-burns and other techniques to try and bring these fires under control."
In Batemans Bay on the New South Wales' south coast, power was expected to remain out for several more days. Further south in Bermagui, food and fuel were running out, the Australian Broadcasting Corp reported.
Thousands of vacationers and locals have been stranded on beaches at the height of the summer holiday season, taking shelter from out-of-control fires.
More than a thousand people were evacuated by two naval ships on Friday from the town of Mallacoota in Victoria state, while others have been evacuated by helicopter from towns where roads have been cut off.
The bushfires have also attracted attention from all over the world. A global appeal to help Australian firefighters tackling the catastrophic bushfires raised more than A$25 million on Monday. Comedian Celeste Barber used her international social media fame to launch a Facebook fundraiser for firefighters that had surpassed its target in just three days with donations from all over the globe.
US pop star Pink said she would donate $500,000 to the firefighters, a donation matched by Australian actress Nicole Kidman.
World No 1 tennis player Ashleigh Barty pledged to hand over all her winnings from this week's Brisbane International tournament-potentially $250,000-to the Red Cross.