Canada sanctions 17 Saudis linked to Khashoggi murder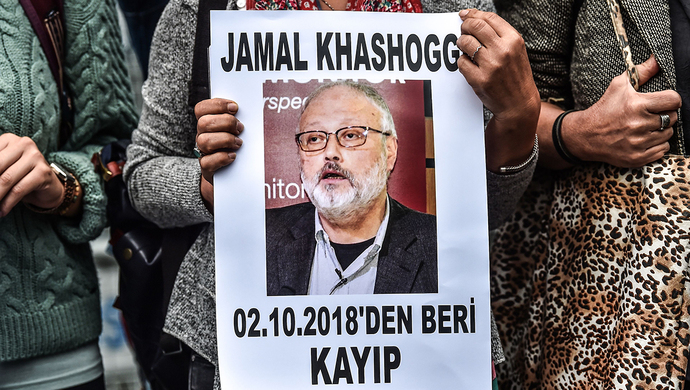 (Photo: Xinhua)

OTTAWA, Nov. 29 (Xinhua) -- Canada on Thursday announced sanctions targeting 17 Saudi nationals linked to the murder of Saudi journalist Jamal Khashoggi.
In an initial written statement, Canadian Foreign Affairs Minister Chrystia Freeland said Khashoggi's killing was "abhorrent and represents an unconscionable attack on the freedom of expression of all individuals" and the sanctions were aimed at people "responsible for or complicit in" Khashoggi's death.
The 17 individuals will not be able to enter Canada and will have any assets they may have in the country frozen.
US intelligence officials have said that the murder was carried out by agents of the Saudi government and ordered by Crown Prince Mohammed bin Salman.
Freeland said Canada had a responsibility to react, calling Khashoggi's murder "vile" and "premeditated," adding that to date, Saudi Arabia's explanation lacks consistency and credibility.
"We continue to call for a credible and independent international investigation. This case is not closed. Those responsible for Mr. Khashoggi's death must be held to account and must face justice," she said.
Freeland said Canada is currently reviewing its sale of light armored vehicles to Saudi Arabia, and as that review is ongoing, no new arms permits are being issued.
She said that Canadian security officials have been in direct contact with Turkey regarding its investigation, information has been shared, and that the director of the Canadian Security Intelligence Service has been to Turkey.
"We believe that in naming people and in saying in the view of the government of Canada that someone is responsible for something so serious and so odious, it's very important to gather all the facts. It's very important to act and to speak only on the basis of real certainty," said the Canadian minister.
Khashoggi has been missing since he entered the Saudi consulate in Istanbul on Oct. 2. The Saudi authorities said Khashoggi died in a "brawl" in its consulate.
After releasing the results of its initial investigation, the Saudi Public Prosecution announced that 18 Saudis were arrested for their alleged connections with the killing.
The US Treasury imposed sanctions on 17 individuals over their alleged roles in the killing of Khashoggi last week, following US State Department's decision in late October to revoke 21 Saudi suspects' visas.