Egypt sees daily record of 1,536 COVID-19 infections, tally nears 25,000
People's Daily
1590975163000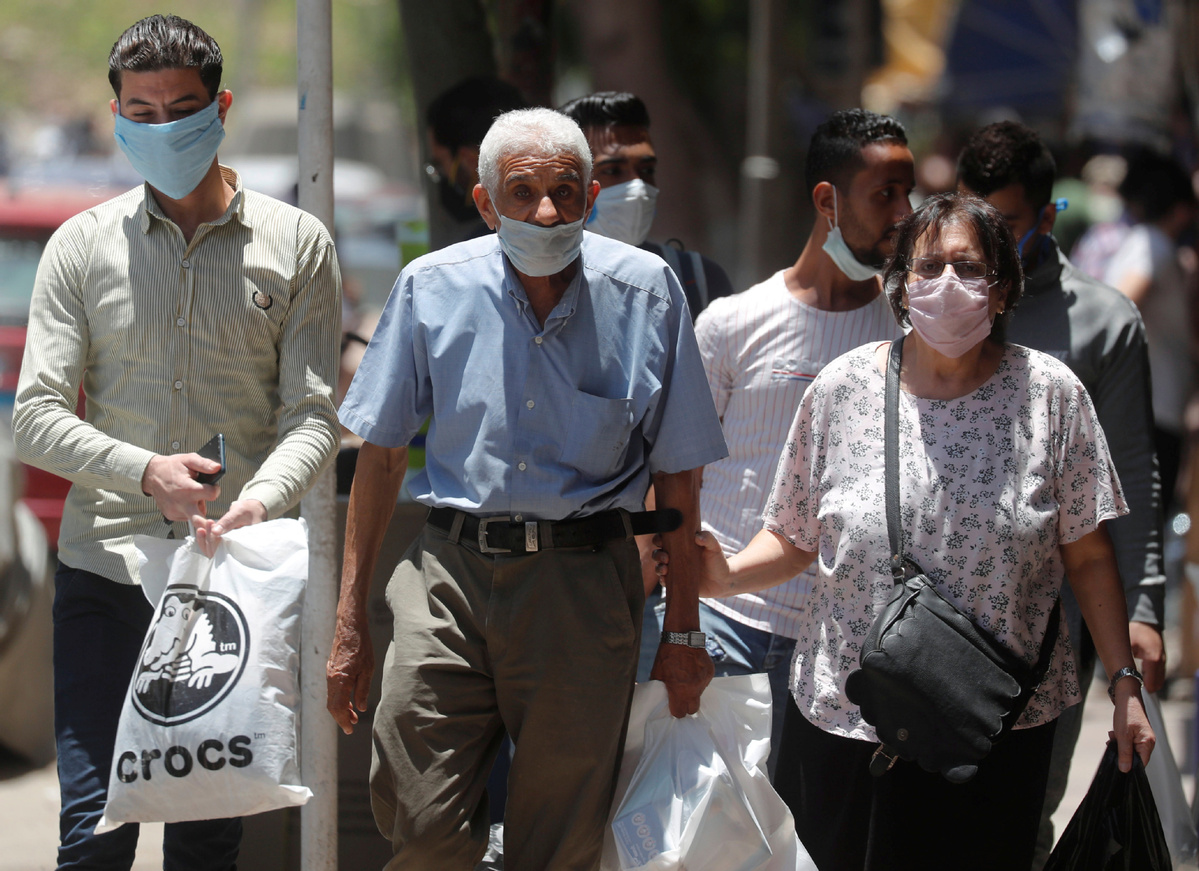 People wearing face masks to prevent the spread of the coronavirus disease (COVID-19) walk in downtown Cairo, after Egypt's government made wearing masks mandatory in public places and public transport, in Cairo, Egypt May 31, 2020. (Photo: Agencies)
CAIRO -- Egypt reported on Sunday a new record of 1,536 COVID-19 daily infections, raising the total number of cases registered in the country to 24,985, the Egyptian Health Ministry said.
It is the fourth consecutive day for Egypt's COVID-19 daily infections to surpass 1,000.
Meanwhile, the most populous Arab country saw the highest-single day fatalities as 46 patients died from the novel coronavirus on Sunday, bringing the death toll to 959, the ministry's spokesman Khaled Megahed said in a statement.
The country also witnessed a record of daily recoveries as 344 patients were cured and discharged from hospitals, increasing the total recoveries to 6,037, according to the statement.
"All the cases registered as positive for the virus receive medical care at isolation and quarantine hospitals in accordance with the guidelines of the World Health Organization," Megahed reiterated.
Egypt announced its first confirmed COVID-19 infection on Feb. 14 and the first death from the pandemic on March 8.
Since March 25, the Egyptian government has been imposing a constantly renewed nighttime curfew, of which hours varied between nine and 13 based on the situation, to curb the spread of the virus.
Earlier on Sunday, the government announced reducing the curfew from 10 hours to nine hours, following a meeting led by Prime Minister Mostafa Madbouly.
The government has already started gradual reopening of services and offices suspended since mid-March amid a "coexistence plan" to maintain anti-coronavirus precautionary measures while resuming services, businesses and economic activities.
It has also allowed reopening of dozens of hotels for local tourists after they have been inspected and given "hygiene safety" certificates from a government special committee.
Egypt and China join hands in fighting the COVID-19 pandemic through exchanging medical aid and expertise to curb the spread of the deadly respiratory disease.
In early February, Egypt was among the first nations to provide aid to China in its fight against the coronavirus outbreak.
China, after having largely controlled the pandemic, returned favor by sending three batches of medical aid to Egypt, the latest of which was delivered in mid-May.
Since mid-April, Chinese doctors have held three video conferences with Egyptian counterparts to share their experiences in the prevention and treatment of the novel coronavirus.