Zimbabwe applies to rejoin Commonwealth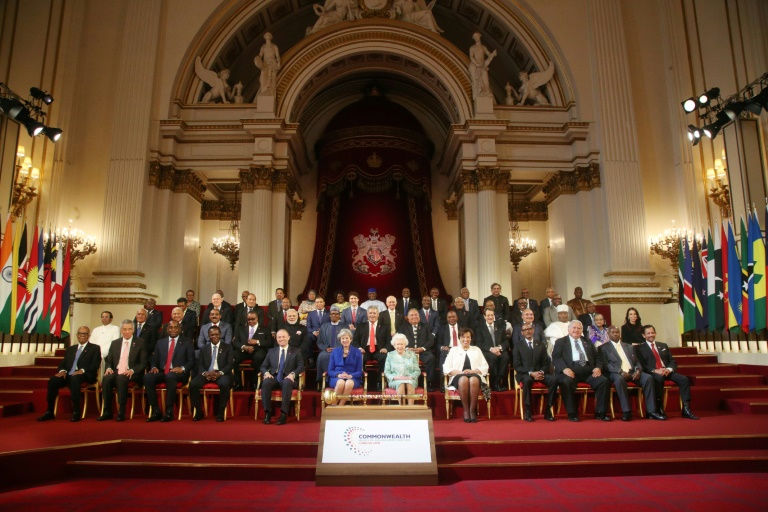 The Commonwealth meets in a summit every two years -- the last time was in April, where leaders gathered at Buckingham Palace for a 'family portrait' alongside Queen Elizabeth II (Photo: AFP)
Zimbabwe has applied to rejoin the Commonwealth, the group said Monday, marking a major step in the country's international re-engagement after Robert Mugabe was ousted last year.
Mugabe angrily pulled Zimbabwe out of the bloc of former British colonies in 2003 after its membership was suspended over violent and graft-ridden elections the previous year.
The Commonwealth said it had received a letter dated May 15 from Zimbabwean President Emmerson Mnangagwa applying to re-join.
Member countries "very much look forward to Zimbabwe's return when the conditions are right," said Secretary-General Patricia Scotland in a statement from London.
"Zimbabwe's eventual return to the Commonwealth, following a successful membership application, would be a momentous occasion."
Scotland confirmed that the Commonwealth would send observers to elections due in July or August, the first polls since Mugabe was ousted in November after a brief military takeover.
Mugabe was replaced by his former deputy Mnangagwa, a veteran ruling ZANU-PF party loyalist who was backed by senior military officers.
Mnangagwa has vowed to hold fair and free elections, and has pledged to revive the moribund economy by repairing international ties and attracting foreign investment.
Scotland called for "a credible, peaceful and inclusive (election) that restores citizens' confidence, trust and hope in the development and democratic trajectory of their country."
Britain said last month that it would strongly support Zimbabwe returning to the Commonwealth.
Zimbabwe had fractured relations with the West under Mugabe, who had held power since independence from Britain in 1980.
The government in Harare was not immediately available to comment.
If readmitted, Zimbabwe will become the fifth country to re-join the voluntary association of mostly former territories of the British empire, after Gambia, South Africa, Pakistan and Fiji.
The Gambia re-joined the Commonwealth in February this year after the impoverished west African nation was in 2013 suddently pulled out of the bloc by ex-president Yahya Jammeh.
The other countries to have quit the organisation are Ireland, which left in 1949 and the Maldives which exited in 2016.
The Commonwealth brings together 53 countries representing 2.4 billion people, under a charter pledging commitment to democracy, human rights and rule of law.
The last country to join was Rwanda, in 2009.
The organisation also holds an Olympics-style multi-sport event every four years, most recently in Australia's Gold Coast in April.
Zimbabwe left the Commonwealth at the height of violent land seizures, when white farmers were evicted in favour of landless black people in a policy that wrecked the agriculture sector and triggered national economic collapse.