With hugs, leaders of rivals Ethiopia, Eritrea finally meet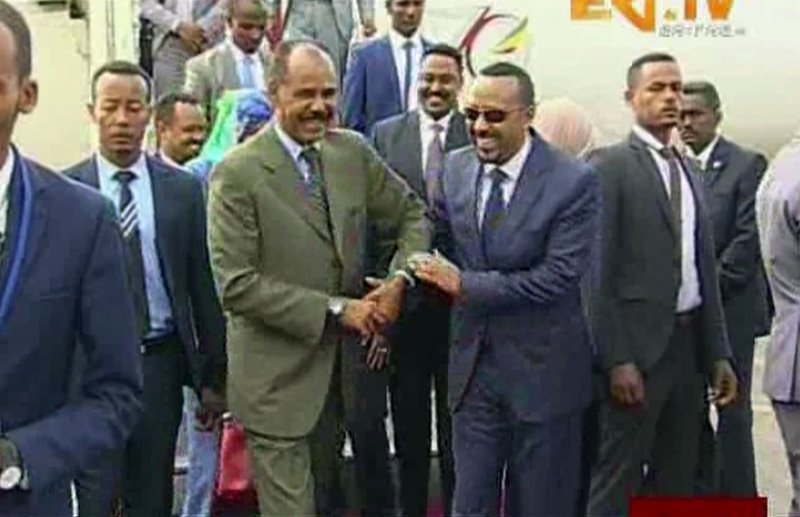 (Photo: AP)
With laughter and hugs, the leaders of longtime adversaries Ethiopia and Eritrea met for the first time in nearly two decades Sunday amid a rapid and dramatic diplomatic thaw aimed at ending one of Africa's longest-running conflicts.
Ethiopia's reformist new Prime Minister Abiy Ahmed arrived in Eritrea's capital and a live broadcast by Eritrean state television showed President Isaias Afwerki greeting him at the airport in scenes unthinkable just months ago.
"A brotherly embrace," Eritrea's information minister said on Twitter, sharing photos .
Crowds danced and sang for the leaders, and Asmara's streets were hung with Ethiopian and Eritrean flags. Abiy and Afwerki traveled across the capital in a large motorcade as people wearing T-shirts with the images of the leaders cheered. The leaders then met one-on-one, with a smiling Abiy leaning toward Afwerki under a wall hung with their portraits.
Also Sunday, telephone connections were established between the neighboring Horn of Africa countries.
"For the first time after two decades, a direct international telephone connection between Ethiopia and Eritrea is restored today," tweeted Fitsum Arega, the chief of staff for Ethiopia's prime minister.
The visit of Ethiopia's prime minister to Asmara comes a month after Abiy surprised people by fully accepting a peace deal that ended a two-year border war between the two East African nations that killed tens of thousands. Ethiopia and Eritrea have not had diplomatic ties since the war began in 1998, with Abiy himself fighting in a town that remains contested today, and the countries have skirmished since then.
Abiy's chief of staff, Fitsum Arega, said on Twitter that the visit aims to "further deepen efforts to bring about lasting peace." He shared photos of the leaders' meeting and said Abiy, 42, was "very warmly received" by the 72-year-old Afwerki.
"Our two nations share a history and bond like no other," he said. "We can now overcome two decades of mistrust and move in a new direction."
Ethiopia's foreign ministry called the visit "part of efforts to normalize relations with Eritrea" and said Abiy was expected to talk with Eritrea's leadership about "how to mend fences."
One Eritrean diplomat, the ambassador to Japan Estifanos Afeworki, said on Twitter that "no leader has received such a warm welcome like today in Asmara in the history of Eritrea."
Ethiopians expressed a welcome shock at the meeting, which was shown live by Ethiopia's state TV.
"Historic ... the beginning of the end. The glass ceiling has been broken," one resident, Shewit Wudassie, wrote on Facebook. Another Facebook user, Djphat Su, wrote: "Am I dreaming or what?"
The decision to fully accept the peace deal was the biggest and most surprising reform yet announced by Ethiopia's prime minister, who took office in April and quickly set off a wave of reforms, freeing journalists and opposition figures from prison, opening up the state-run economy and unblocking hundreds of websites after years of anti-government protests demanding more freedoms.
Eritrea's Afwerki days after the announcement noted "positive signals" from Ethiopia and sent the first official delegation in two decades to "gauge current developments directly and in depth" to plan future steps. Ethiopia used the visit to announce that the flagship Ethiopian Airlines would soon begin flights to Eritrea, and already Abiy has expressed interest in landlocked Ethiopia having access to Eritrean ports.
While Ethiopia is Africa's second most populous nation, with more than 100 million people, and one of the world's fastest-growing economies, tiny Eritrea, with 5 million people, is one of the world's most closed-off nations, ruled by Afwerki since gaining independence from Ethiopia in 1993 after years of rebel warfare. But the two countries share close cultural ties.
Eritrea has become a major source of migrants fleeing toward Europe, Israel and African nations in recent years as human rights groups criticize its harsh military conscription laws. Observers of the diplomatic thaw have asked whether peace with Ethiopia would lead Eritrea to loosen up and drop its long defensive stance.
"Reconciliation would deprive President Isaias of an excuse for maintaining his country in a permanent state of military readiness" that has blocked Eritrea from developing any form of democracy, said Martin Plaut, author of "Understanding Eritrea" and a senior research fellow with the Institute of Commonwealth Studies at the University of London.
Abiy's move broke a long stalemate between Afwerki and the long-dominant Tigrayan party in Ethiopia's ruling coalition. "Abiy represents the majority of Ethiopians rather than the Tigrayan ethnic group" and is not beholden to it, Plaut said, adding that Afwerki accepted the peace gesture "since it allowed him to portray it as a triumph over his Tigrayan rivals."
Not everyone has welcomed Ethiopia's embrace of the peace deal, with some residents in the northern Tigray region bordering Eritrea holding protests.