Africa must link environmental causes with politics, economy, religion
chinadaily.com.cn
1565527385000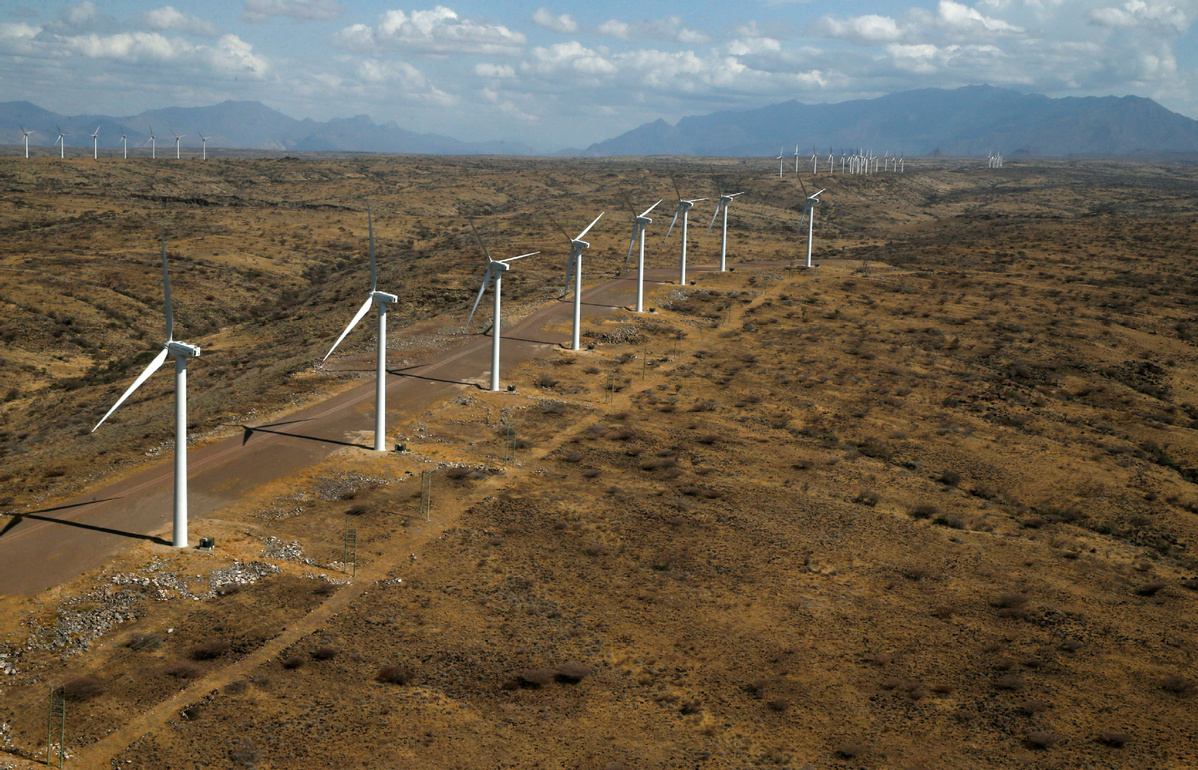 An aerial view of power-generating wind turbines at the Lake Turkana Wind Power project (LTWP) in Loiyangalani district, Marsabit county, northern Kenya, Sept 4, 2018. (Photo: Agencies)
In order to effectively address environmental challenges threatening the continent, African environmentalists have expressed need for consolidation of environment with economy, politics and religion.
They admitted that despite the fact that Africa has enormous natural resource wealth, it's extremely vulnerable to the impacts of environmental degradation, including climate change, and that collective responsibility can successfully provide a lasting solution.
Josephat Shete of Jesuit Hakimani Cetre, a research, formation and social action institute, said politicians are very influential in the African setting, hence they can effectively spearhead environmental conservation matters.
"If politicians can articulate the importance of environmental conservation, practical results can be realized," he said.
Shete said linking environmental conservation with economy would motivate participation of many people especially rural residents.
"There are people who can't afford a meal a day. It would be so hard to convince such a person to conserve the environment, unless there is a way they can benefit economically from it," he said.
He challenged youth and rural residents to engage in tree planting which in addition to conserving environment would provide them with livelihood.
He cited a group of youth in central part of Kenya, who are growing commercial trees, conserving environment at the same time earning a living.
The youth are growing eucalyptus, one of the tree species widely planted by farmers in Kenya because it's fast growing, multipurpose and has a ready market.
According to Kenya Forestry Research Institutes, eucalyptus meant for production of rails and fuelwood can be harvested from three years; poles and pulp from six to eight years; transmission poles from 10 to 12 years; timber from 15 to 20 years; and plywood from 20 to 25 years.
On linking environment with religion, environmentalists have the opinion that spiritual beliefs and religions define cultural values, social inclusion, political engagement and economic prosperity.
Spiritual leaders at all levels are thus critical to the success of the global solidarity for an ethical, moral and spiritual commitment to protect the environment. They can specifically, display their sustainable behaviors, serving as role models for their followers and the public.
Cardinal Peter Turkson, prefect of the Dicastery for Promoting Integral Human Development, said religion plays a very important role in promoting care and respect for the environment.
"Faith in God leads us to know Him in his creation, which is the fruit of his love for us, and it calls us to look after and protect nature. It is thus necessary that religions promote a true education, at all levels, which will help to spread a responsible and receptive attitude to the need to care for our world," he said.
In addition to religion, economy and politics, the environmentalist termed education and awareness creation as an important aspect in environmental conservation.
Agatha Kariuki, from Catholic University of East Africa, is of the view that the government should incorporate environmental conservation into the curriculum.
"Environmental conservation should be taught as a subject from primary, secondary to university level. This way children from the young age will understand the importance of environmental protection and practice the same," she said.
Innocent Wefon, a clergy at Mill Hill Missionaries in Cameroon, said most of the rural residents across Africa have very little knowledge on environmental conservation, making it hard to push the agenda.
He said there should be programs to enlighten the villagers on the importance of environmental protection.
Alphone Muia, an environmentalist, said the public should be encouraged to replace consumption with sacrifice, greed with generosity and wastefulness with the spirit of caring.
George Thuku, the child safeguarding officer at AMECEA Pastoral Department, said Africa should redefine an economic model that is purely African. A model that strikes a balance between overreliance on the natural resources, while making use of the available resources.
"We need also to position Africa to be able to intellectually participate and influence environmental conservation discussions at a global level. No matter how good we are at protecting our environment, environmental issues are global concerns and whatever happens miles away from Africa affects us," he said.
Thuku said Africa should also develop policies that are Africans and reflect the realities of the continent's context and culture.