Greek pensioners to be spared further cuts in 2019: PM
Greece will spare its elderly further pensions cuts in its 2019 budget, Prime Minister Alexis Tsipras said Saturday, after receiving European Commission approval on the issue.
"The European Commission yesterday approved the 2019 Greek budget without new pensions cuts after eight years of austerity," Tsipras said.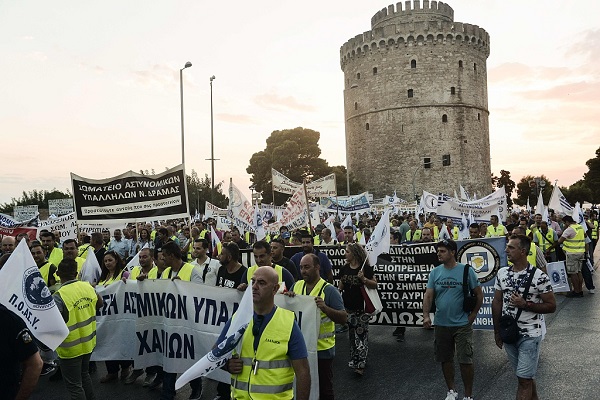 Members of the Greek security forces march during a demonstration in the northern city of Thessaloniki on September 7, 2018. The unions representing police officers, firefighters, coast guards and port police workers demonstrated against the government plans regarding their pension funds and budget cuts during the annual Thessaloniki International Trade Fair. (Photo: VCG)
Greece is looking forward to its first budget in a decade that does not subject the country to a bailout, having exited austerity in August.
Tsipras had predicted in September that pensions cuts would not prove necessary as he sought to hammer out a budget that would satisfy international lenders.
Athens unveiled a larger primary budget surplus than expected in June and then urged creditors to drop demands for further pension cuts in the belief that such a measure would only hamper growth.
The Commission accepted as Greece looks solidly placed to reach the target of a primary surplus of 3.5 percent of GDP next year and through to 2022 -- excepting debt servicing costs.
Saturday also saw Tsipras sworn in as foreign minister after Wednesday's resignation of Nikos Kotzias.
Kotzias quit after a cabinet clash with Defence Minister Panos Kammenos, who opposes the Macedonia deal but is nevertheless a crucial coalition partner for the Tsipras government.