Turkey's Erdogan to name cabinet as signals action on economy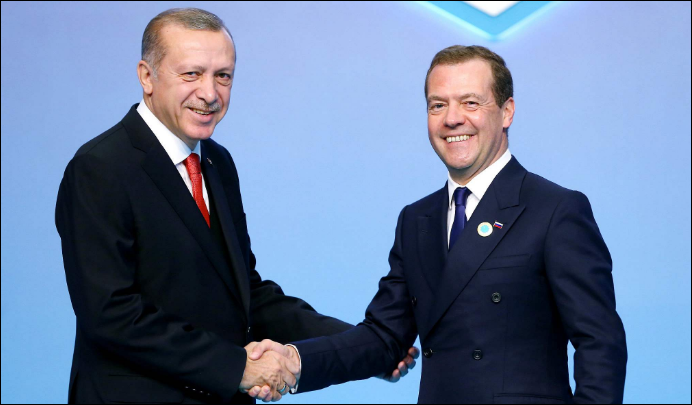 Turkish President Tayyip Erdogan (L) welcomes Russian Prime Minister Dmitry Medvedev during the 25th anniversary summit of the Organization of the Black Sea Economic Cooperation (BSEC) in Istanbul, Turkey, May 22, 2017.(Photo: VCG)
Turkey's President Tayyip Erdogan said on Saturday he would name the cabinet he has selected on Monday, as he renewed a promise to tackle what he called the "structural problems" of the country's economy.
Moving to reinforce his authority in his first parliamentary speech since being re-elected on June 24, he said Turkey would enter a new era when he takes the presidential oath on Monday.
Russian Prime Minister Dmitry Medvedev is to lead the Russian delegation at the inauguration of Erdogan in Turkey on Monday, the Russian government said in a statement on Saturday.
Erdogan emerged triumphant from his biggest electoral challenge in 15 years, giving him the sweeping executive powers he has long sought and extending his grip on the nation of 81 million until at least 2023.
"As the first president of the new executive presidential system, I will announce the cabinet at 9 pm on Monday... God willing, we will hold our first cabinet meeting on Friday," he told deputies of his AK Party.
Under the changes, the post of prime minister will be scrapped, and Erdogan will select his own cabinet and regulate ministries and remove civil servants, all without parliamentary approval.
Erdogan said on Friday he would appoint ministers from outside parliament.
In Saturday's speech, he also said he would tackle high interest rates and inflation and a wide current account deficit.
"We will take our country much further by solving (these) structural problems of our economy," he said.
A self-confessed enemy of high interest rates, Erdogan said during campaigning for last month's ballot that he would exercise greater control over monetary policy once re-elected.
That fanned investors' concerns about the independence of the country's central bank, which has been struggling to combat double-digit inflation and a plummeting lira currency.
Erdogan took 52.5 percent of the vote in the presidential election. His AK Party took 42.5 percent of the parliamentary vote and its nationalist allies beat expectations with 11.1 percent, giving their alliance a legislative majority.
"With the power granted to us by the new presidential system, we will be getting quicker and stronger results," Erdogan said.
New members of the Turkish parliament are scheduled to take their oaths of office on Saturday in the new 600-seat assembly.