At least nine dead after police fire on protesters seeking closure of Indian copper smelter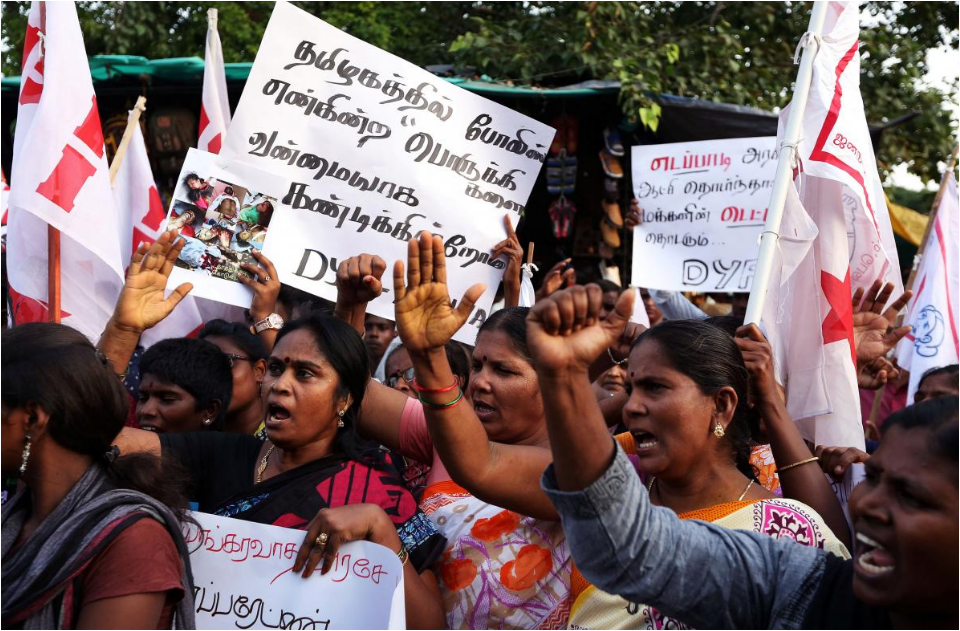 Women shout slogans during a protest against the government and police forces after at least nine people were killed when police fired at protesters calling for the closure of a Vedanta Resources-controlled copper smelter in Thootukudi, in southern Indian state of Tamil Nadu, in Chennai, India, May 22, 2018. (Photo: Reuters)
At least nine were killed on Tuesday after police fired at protesters calling for the closure of a Vedanta Resources-controlled copper smelter in southern India, a senior police official told Reuters.
Residents of the port city of Thootukudi in Tamil Nadu state and environmentalists have been demonstrating against one of India's biggest copper plants for more than three months, alleging it is a major source of pollution and a risk to fisheries.
The latest protest turned violent as a crowd waving black flags stormed the district government headquarters and an apartment block for Vedanta employees, a company official said, declining to be named for fear of being targeted.
Protesters set vehicles on fire and threw stones at police, prompting the police to open fire. "Nine people have been confirmed dead," said police official Kapil Kumar Saratkar.
The head of national opposition party Congress, Rahul Gandhi, slammed the authorities for use of deadly force.
"The gunning down by the police of 9 people in ...Tamil Nadu, is a brutal example of state sponsored terrorism. These citizens were murdered for protesting against injustice. My thoughts & prayers are with the families of these martyrs and the injured," Gandhi said in a tweet.
Local TV showed police trying to disperse the crowd with tear gas and water cannons. Smoke rose from several parts of the sleepy port city near the tip of the Indian peninsula.
State Minister D. Jayakumar in a televised address on Tuesday said police have fired on protesters and that it was "unavoidable".
PLAN TO DOUBLE OUTPUT
The plant, which can produce 400,000 tonnes of copper a year, has been shut for more than 50 days and will remain closed until at least June 6 because the local pollution regulator will not allow it to operate due to alleged non-compliance with environmental rules.
Environmental activists and some local politicians want the government to shut the plant down permanently.
"The inaction of the government has led to the people's protests, and police resorting to firing to control it. Action should be taken to shut down the plant immediately to address this issue," M.K. Stalin, leader of the main opposition group in Tamil Nadu, Dravida Munnetra Kazhagam, said in a Facebook post.
Vedanta says the protests are based on "false allegations" and that it plans to double capacity at the smelter to 800,000 tonnes per year.
"We would like to restart the plant as soon as possible, in a peaceful manner," P Ramnath, chief executive of Vedanta Ltd's copper business told Reuters.
The plant was shut for more than two months in 2013 by an Indian environmental court after residents complained about emissions.