Analysts differ on whether journalist's disappearance will roil Turkish-Saudi ties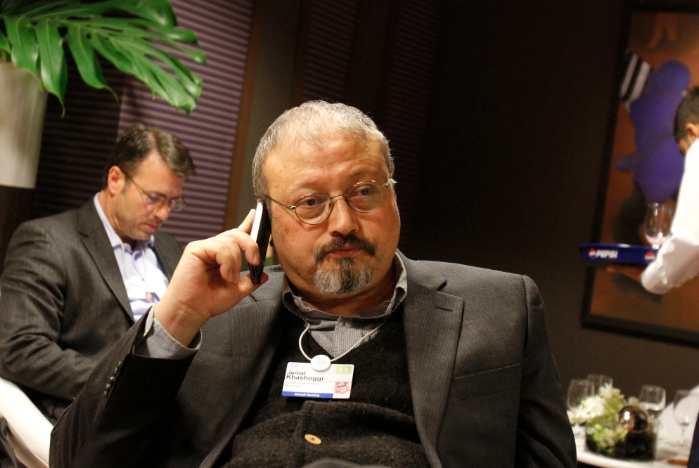 The Saudi journalist Jamal Khashoggi at the World Economic Forum in Davos, Switzerland in 2011. (Photo: AP)
ISTANBUL, Oct. 12 (Xinhua) -- As Turkey and Saudi Arabia prepare to establish a joint commission to investigate the disappearance of a Saudi journalist after entering the Saudi consulate in Istanbul, analysts are divided on whether the issue would turn into a crisis in bilateral ties.
"It's highly probable the issue would escalate into a crisis," Murat Bilhan, deputy chairman of the Istanbul-based Turkish Asian Center for Strategic Studies, told Xinhua.
Saudi journalist Jamal Khashoggi, a political dissident, disappeared during a visit to the Saudi consulate in Istanbul on Oct. 2. According to anonymous Turkish officials who spoke to the media, Khashoggi was killed inside the mission by a team of Saudi agents who had arrived in Istanbul earlier the same day.
"If it becomes certain that Khashoggi was killed, this incident would cause a major damage in bilateral ties," stated Bilhan, a former ambassador.
"It's not possible for Turkey to tolerate a murder committed on its soil," he added.
The Saudi journalist went to the consulate to get papers needed for marrying his Turkish fiancee.
Saudi officials, who have denied all charges, said Khashoggi left the consulate soon after his arrival. Hatice Cengiz, his fiancee who was waiting outside the mission, said he never showed up again.
Turkish President Recep Tayyip Erdogan said on Thursday that Ankara could not remain silent on the issue.
Expressing concern for the life of the Saudi journalist, Erdogan also made it clear that he did not find the Saudi claim convincing that the consulate's security cameras were not recording that day.
"It's not much likely the issue will escalate into a crisis between the two countries," Hasan Koni, a professor of public international law at Istanbul Kultur University, told Xinhua.
In Koni's view, Ankara would have already declared Mohammad al-Otaibi, the Saudi consul general in Istanbul, persona non grata if it really intended to escalate the issue into a crisis.
Turkey's presidential spokesman Ibrahim Kalin said on Thursday evening that Ankara and Riyadh agreed, upon Saudi proposal, to establish a joint working group to look into the disappearance of Khashoggi.
"For the sake of its interests, Turkey may not wish to damage its ties with Riyadh," argued Koni.
Istanbul prosecutors will carry on with its investigation about the incident at the same time.
The Republican People's Party, the main opposition in Turkey, has called on the government to review its ties with Riyadh and declare the Saudi diplomats personae non gratae.
President Erdogan responded by saying the main opposition should mind its own business, underlining that whatever should be done will be done.
For Sinan Ulgen, who chairs the Istanbul-based Centre for Economics and Foreign Policy Studies, the formation of the joint working team is a step that would help both sides gain time to avoid tension in ties.
He underlined, however, that it would be unavoidable for the incident to have diplomatic consequences if it turns out that the Saudi journalist was really murdered.
"It's still probable the issue may evolve into a diplomatic crisis between the two countries," Ulgen told Xinhua.
Ankara-Riyadh ties have already been strained since Turkey sent troops to Qatar last year in a show of solidarity against a blockade imposed on Doha by a Saudi-led bloc of Arab countries.
Turkey, however, was careful not to directly target Riyadh during that crisis, instead describing it as an older brother among the Gulf countries which should work toward a peaceful settlement of the disputes.
According to media reports, Riyadh has been offering support to Kurdish militia in Syria which Turkey sees as a major security threat. Until now Ankara has not openly criticized the kingdom for its support to the militia.
The fact that Saudi Arabia chose Turkey to carry out such an operation against Khashoggi indicates that Riyadh is not afraid of Ankara's reactions, remarked Ulgen, a former diplomat.
"(Saudi) Crown Prince (Mohammed bin) Salman must be thinking that he would not be left alone in the international arena," said Ulgen.
Based on media reports, many believe it is almost certain that the Saudi journalist was killed shortly after his entry into the consulate.
"We know when Jamal was killed, in which room he was killed and where the body was taken to be dismembered," an unnamed Turkish source "with direct knowledge of the investigation" was quoted as saying on Wednesday by middleeasteye.net, a news portal.
Koni raised, however, the possibility of the Saudi journalist being abducted by the Saudis, as reported by some local media outlets in the past week.
"This would be just typical of Saudi Arabia," he explained, saying Riyadh had kidnapped dissidents abroad in the past who were allowed to reappear only after being kept under detention for a year or so.