AstraZeneca reports 76% vaccine efficacy
China Daily Global
1616728905000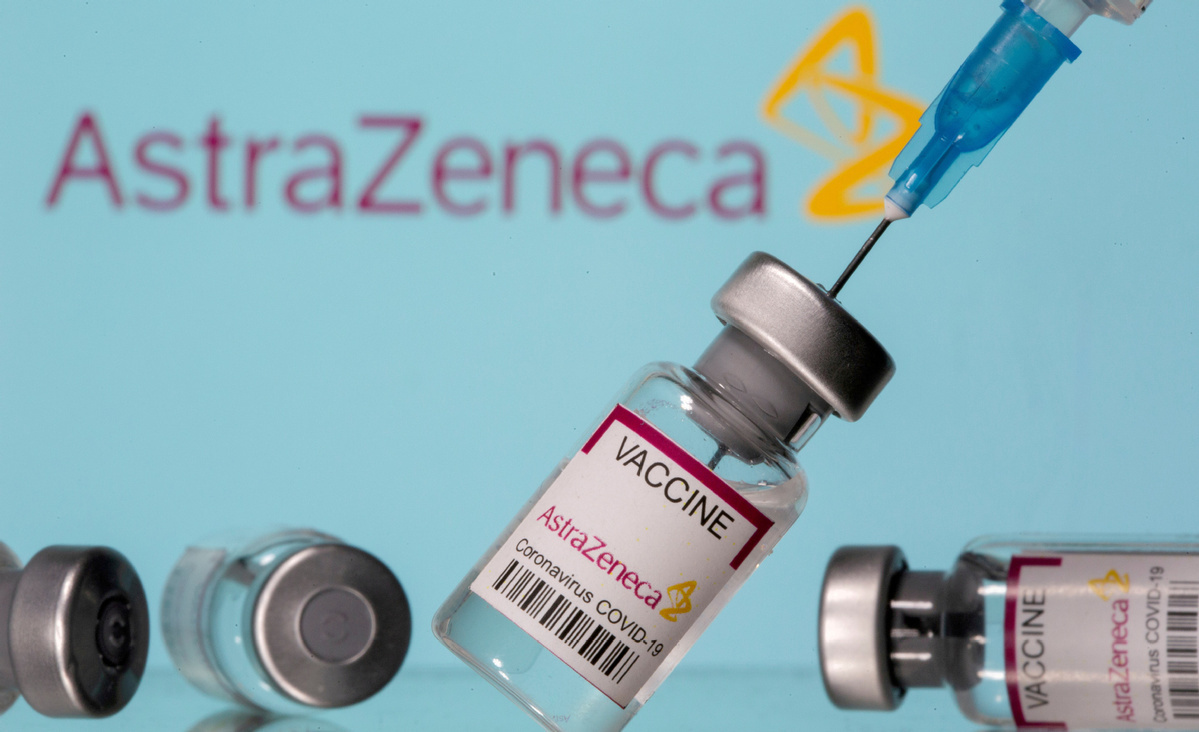 AstraZeneca's latest trial data has affirmed the effectiveness of its COVID-19 vaccine and was largely in line with what the company had earlier reported Monday.
In a statement released late Wednesday, the drugmaker said its vaccine was 76 percent effective against symptomatic COVID-19 and 100 percent effective against severe or critical disease and hospitalization.
In preliminary findings reported Monday, the UK company said its vaccine was 79 percent effective against symptomatic COVID-19 based on an interim look at 141 cases among volunteers before Feb 17. The estimated efficacy in people over 65 rose slightly, from 80 percent to 85 percent.
The updated analysis was based on an analysis of 190 cases of symptomatic COVID-19 in the trial, 49 more cases than the Monday analysis, which reduced vaccine efficacy by 3 percent.
On Tuesday, the government's Data and Safety Monitoring Board (DSMB), an independent safety board that oversees the study, issued an unusual public statement saying that the study data from AstraZeneca's US trial were out of date.
The company has said it plans to apply for emergency authorization from the Food and Drug Administration (FDA) by mid-April. The latest results still place AstraZeneca well above the FDA's bar for authorizing a coronavirus vaccine — 50 percent efficacy — for both adults overall and the elderly in particular, according to politico.com.
More than a dozen European countries temporarily suspended the AstraZeneca vaccine last week after reports of a handful of blood clots. Most of the countries have resumed giving the shots after an investigation declared the vaccine was safe and effective and was not linked with a rise in the overall risk of blood clots.
As of Thursday, at least 85.5 million people have received one or both doses of a coronavirus vaccine in the United States, and 14 percent of Americans are fully vaccinated, according to the data from the Centers for Disease Control and Prevention (CDC). COVID-19 has been attributed to the deaths of more than 546,000 people in the country.
Total US coronavirus cases neared the 30 million mark Thursday as new infections continued to rise in a majority of states despite an escalating vaccination campaign.
Cases in 30 out of 50 states are rising compared with the previous week. Nationwide, cases rose by 4 percent over the past week with states such as Michigan, Colorado and Connecticut all reporting spikes of more than 30 percent, according to data analyzed by The Washington Post.
US President Joe Biden announced Thursday at a news conference that his administration will invest nearly $10 billion to expand access to coronavirus vaccines and aims for 200 million shots administered by the end of his first 100 days in office, doubling his original goal.