US public schools draft post-COVID-19 reopening plans
China Daily Global
1594356754000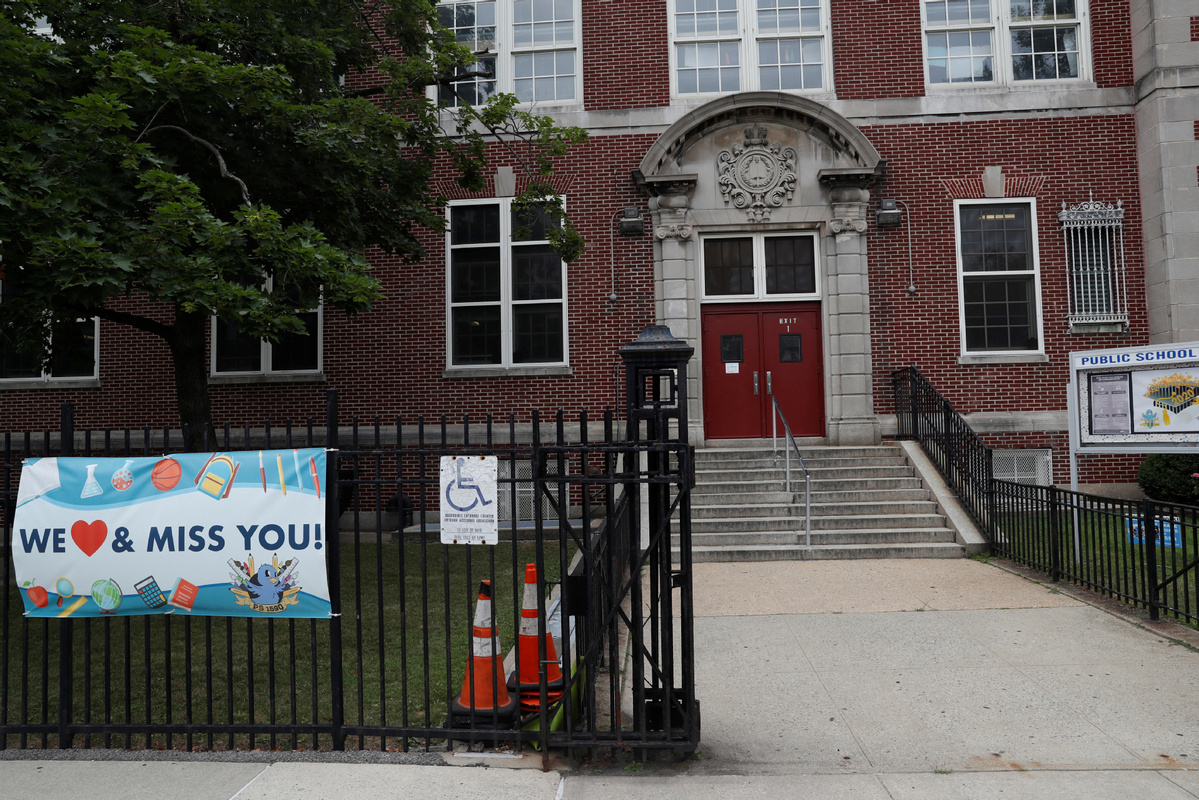 The entrance to Public School 159 is seen in the Queens borough of New York City, New York, US, July 8, 2020. (Photo: Agencies)
American public school systems are deciding how — and even if — they can reopen safely in the fall, with those planning to resume classes unveiling a hybrid model of teaching in-person and online to keep students safe from the novel coronavirus pandemic.
President Donald Trump and Vice-President Mike Pence are pushing schools to fully reopen in the fall. On Wednesday, Trump criticized guidance issued by the Centers for Disease Control and Prevention (CDC) for being "very tough and expensive".
Trump has threatened to cut off funding for school districts that don't open, and Pence said that new CDC guidance would be issued next week.
However, Dr Robert Redfield, director of the CDC, told ABC's Good Morning America on Thursday, "Documents, yes. New guidelines, no."
Redfield continued: "Our guidelines are our guidelines, but we are going to provide additional reference documents to basically aid communities in trying to open K-through-12s. It's not a revision of the guidelines."
Lily Eskelsen García, a sixth-grade teacher from Utah and president of the National Education Association tweeted: "The White House pressure campaign to reopen schools presents a false choice between the health of students and the health of economy. It's appallingly reckless."
State and local officials control US education policy. How each school district reopens will depend largely on its size, density and number of COVID-19 cases.
In New York, Governor Andrew Cuomo criticized Trump for pressuring state officials to act. "School reopenings are a state decision. Period," Cuomo said. "That is the law, and that is the way we're going to proceed. It's not up to the president of the United States."
New York Mayor Bill de Blasio said Wednesday that public schools wouldn't fully reopen in September and that classroom attendance would be for one to three days a week to stem the spread of COVID-19.
The mayor's plan means there will be only a dozen people in a classroom at a time, including the teachers. Before schools were closed, New York's classrooms might have up to 30 children in them.
A New York City Department of Education survey of 400,000 parents found that about 75 percent of families want to send their children back to school.
US Education Secretary Betsy DeVos on Tuesday criticized states like New York that plan to offer in-person instruction only a few days a week.
But Ryan Baker, a professor of education at the University of Pennsylvania, told China Daily: "We were already making a big move toward this (teaching remotely) … I think that it will keep on going up in usage."
In California, the Los Angeles Unified School District, the second-largest school district in the nation with more than 600,000 students, is set to reopen Aug 18.
Austin Beutner, the district's superintendent said: "It's reasonable to assume that instruction will include an online component for most students."
In Seattle, students will return to public schools in-person once or twice a week in the fall if King County has entered the fourth phase of Washington Governor Jay Inslee's reopening plan. If it's still in the second or third phase, students will be given a hybrid option.
A mother of two from Bellevue, a Seattle suburb, who didn't want to be named, told China Daily: "I just don't feel comfortable to send my kids back to school when the number of COVID-19 cases continues to rise. But I have to say it is really a challenge even for a stay-at-home mom like me. There is a lot of responsibilities and pressures."