Dubai traffic authority presents self-driving taxi at tech fair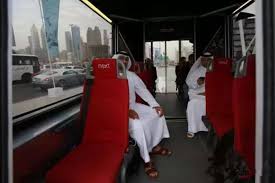 (Photo: Xinhua)
DUBAI, Oct. 14 (Xinhua) -- The Dubai Roads and Transport Authority (RTA) on Sunday presented the region's first self-driving taxi at the ongoing five-day Gitex Technology Week, the biggest IT fair in the Middle East.
RTA said in a statement that the technology underscores RTA's commitment to enhance the Dubai government's strategy to convert 25 percent of total journeys in Dubai into auto transit by 2030.
The prototype, a Mercedes car, is packed with sensors on top and sides of the car to avoid a crash. The self-driving taxi will be first come into services in the Dubai free zone Silicon Oasis.
The taxi can remotely scan and figure out the surroundings, such as light signals and the four sides of the track through a GPS system, said RTA.
It can monitor any object that may have the potential of triggering a collision.
The vehicle can drive at a speed of up to 35 km per hour and can accommodate four passengers including a standby driver in the cabin. Enditem