Democratic House victory augurs ill for White House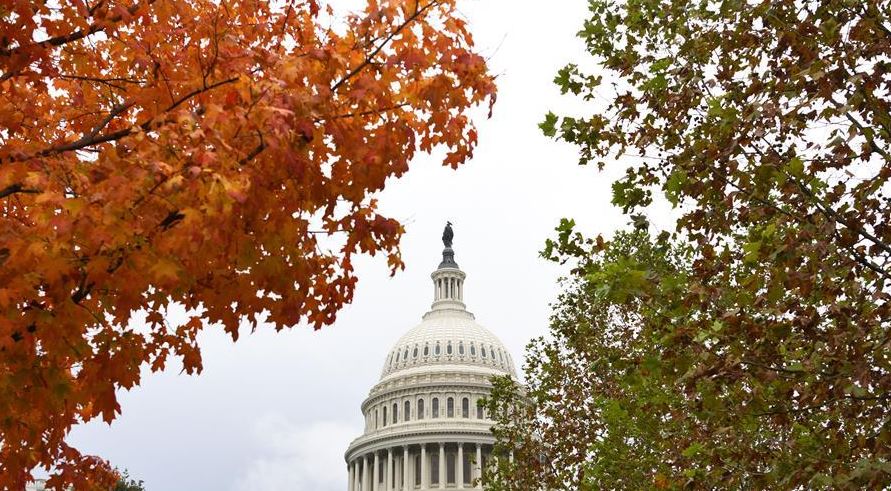 The US Capitol is seen in Washington DC Nov. 6, 2018. The US Republican Party on Tuesday managed to maintain a Senate majority in the midterm elections, while the Democrats wrestled the House majority from the Republicans, according to projections of multiple news outlets. (Photo: Xinhua)
DENVER, the United States, Nov. 7 (Xinhua) -- With the elevation of a number of liberal Democrats from the US West in Tuesday's pivotal midterm elections, the White House could face a rocky road in the coming two years.
PERSONNEL CHANGE IN CALIFORNIA
Political insiders told Xinhua on Wednesday that with the US House of Representatives shifting to Democratic control, California alone will place a number of politicians into key powerful Congressional leadership positions.
"(US) Senator Diane Feinstein will probably become chairman of the Senate Judiciary Committee or the Senate Intelligence Committee, and Congressman Adam Schiff will replace Devon Nunez as chairman of the House Intelligence Committee investigating Trump," said San Francisco-based political analyst Glenn Nemhauser.
The president's biggest future foe is another Californian -- the expected new speaker of the US House of Representatives, San Francisco's Nancy Pelosi, also the Democratic leader of the House since 2011.
US President Donald Trump called Pelosi on Tuesday night to congratulate her on Democratic control of the House and tweeted that he was confident he would "work with the Democrats."
"If he thinks the Democrats will forget his political grandstanding and games, then he must be delusional," said former Washington policy analyst David Richardson.
But the president's most pressing problem with the House shift will be that the new chairman of the House Ways and Means Committee will request an examination of Trump's federal tax returns, something the president has refused to disclose.
The likely incoming chairman, Massachusetts Democrat Richard Neal, has said he will go after Trump's filings with the Internal Revenue Service.
UNEXPECTED "BLUE" STORMS WESTERN STATES
"Since Reagan, urban areas have been blue and rural areas have been red. The suburbs have been purple. Last night they became much bluer," Richardson said, pointing to a number of unexpected Democratic victories.
In Colorado on Tuesday, Democratic first-term candidate Jason Crow defeated longtime Republican representative Mike Coffman who has represented Colorado's suburban 6th District since 2009.
In his concession speech, Coffman said, "I knew that my only hope of winning was to localize the race, and that if the race was nationalized, it would become a referendum on the president," he said. "In this race, it was a referendum on the president."
Crow, running on a traditional Democratic platform, beat the Republican by 10 points, and Colorado's new governor, Jared Polis, promised to fight for universal healthcare and renewable energy standards, both stances in diametric opposition to Washington's actions.
The president endorsed Polis' opponent, Republican State Treasurer Walker Stapleton, who embraced the administration's antipathy toward so-called sanctuary cities that don't closely cooperate with federal immigration authorities.
"Colorado is a swing state that went for (Democratic presidential candidate Hilary) Clinton in 2016 and has seen a massive influx of millennials, and these people want no part of Trump's agenda," said University of Colorado graduate student Walter Newton.
And across the West, unexpected Democratic victories showed a mounting resistance toward policies issued from the White House.
In US Senate races, Jacky Rosen beat Republican Dean Heller in Nevada, and Montana Democrat Jon Tester, a target of Trump condemnation, also defeated his Republican opponent, Matt Rosendale.
In Arizona, another state flooded by millennials in the past decade, as of Wednesday night, the Senate race was too close to call, with Republican Martha McSally leading Democrat Kyrsten Sinema by a razor thin 49.4-48.4 margin.
"Arizona is traditionally red, and this election saw (Republican Senator Jeff) Flake's seat up for grabs - Sinema's strong showing shows a Democratic shift, regardless of whether she pulls it off," Phoenix restauranteur Franklin Cardona said Wednesday.
WOMEN'S POWER
Across the country, staunchly liberal women's groups were celebrating a record number of women elected to Congress in 2018.
"This election is a major victory for women, people of color, LGBTQ people and anyone in this country who cares about access to reproductive healthcare," said Deirdre Schifeling, executive director of Planned Parenthood Votes, the political arm of Planned Parenthood, the women's healthcare nonprofit group.
"These results show women have had enough," she said in a press conference.
Democrats took control of the House after voters turned out in record numbers. Although Republicans retained control of the Senate, with a Democratic House majority, Congress no longer has the votes to defund Planned Parenthood, said Dana Singiser, vice president of public policy and government affairs at Planned Parenthood Action Fund in a statement.
"Nationally, I'd have to call the results mixed," said Oregon professor Stewart King, a former US State Department official. "Although Democrats got about 10 million more votes than Republicans."