United says it may lay off 36,000 employees
China Daily Global
1594358932000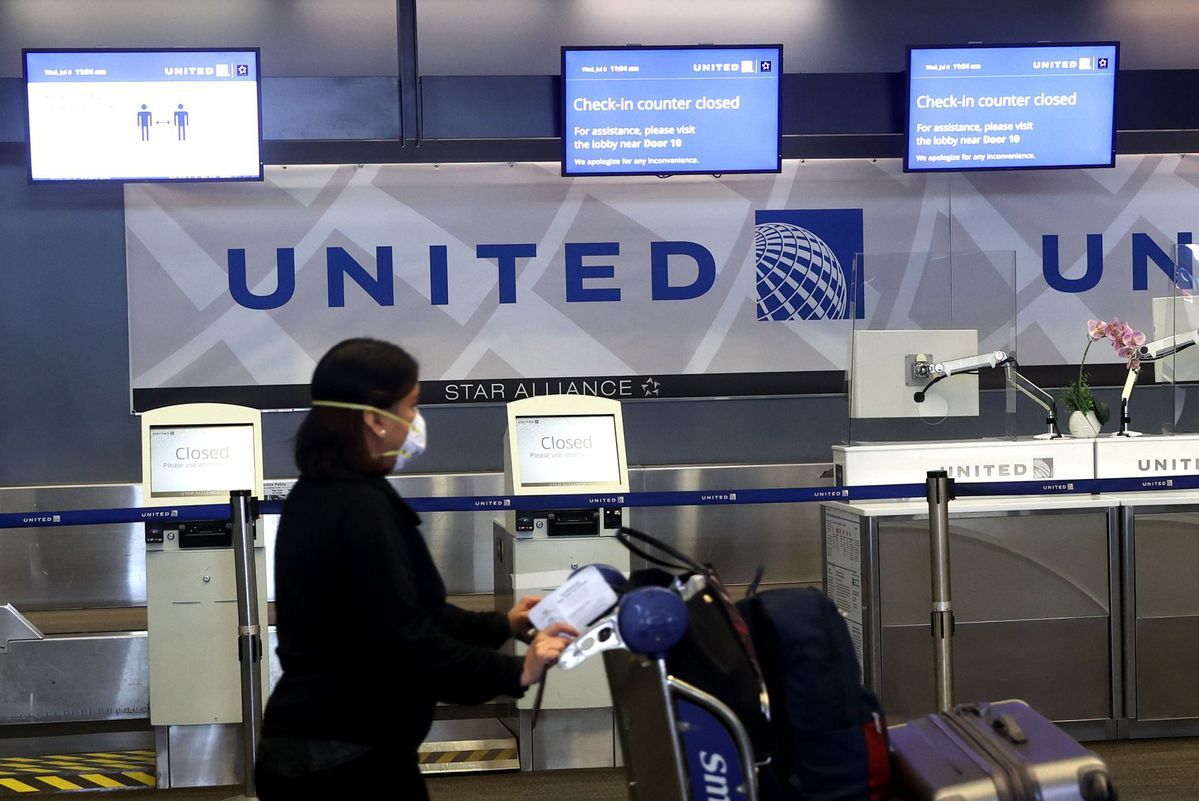 A United Airlines passenger pushes a luggage cart past closed check-in kiosks at San Francisco International Airport on July 8, 2020 in San Francisco, California. (Photo: Agencies)
United Airlines has warned its employees for months that mass layoffs would be necessary if air travel, which plunged during the current coronavirus pandemic, didn't rebound.
Traffic has ticked up but remains low. In response, the Chicago-based carrier said Wednesday that as many as 36,000 employees, or about 45 percent of its US staff and more than a third of its entire workforce of 95,000, could face layoffs starting Oct 1.
The hardest hit would be flight attendants, gate agents and airport customer service representatives, who account for about 26,000 of the 36,000 facing layoffs.
The airline said it also could lay off as many as 2,250 pilots. The balance would come from administrative and office personnel.
"The reality is that United simply cannot continue at our current payroll level past October 1 in an environment where travel demand is so depressed," the airline said in a statement. "Involuntary furloughs come as a last resort, after months of company-wide cost-cutting and capital-raising."
On July 8, the federal Transportation Security Administration (TSA) screened more than 632,000 passengers at 450 US airports compared with over 2.5 million for the same day a year ago, a decline of 75 percent.
United received a $3.5 billion federal grant and a $1.5 billion loan to keep employees on the payroll as part of a program to stabilize employment during the COVID-19 pandemic. Under the provisions of the program, airlines can't furlough workers until Oct 1.
United said it plans to nearly triple its number of flights in August compared with June by adding nearly 25,000 domestic and international trips.
Beginning this month, United resumed twice weekly flights between San Francisco and Shanghai.
But the additional flights aren't enough to avoid layoffs. United told employees that "it's increasingly likely that travel demand will not return to normal until there is a widely available treatment or vaccine".
Sara Nelson, president of the Association of Flight Attendants-CWA, said United had accurately assessed the outlook for air travel but called the pending layoffs a "gut punch".
"This crisis dwarfs all others in aviation history and there's no end in sight," she said in a statement. "Demand was just barely climbing back to 20 percent of last year and even those minimal gains evaporated over the last week due to surging COVID-19 cases across the country."
She called for a six-month extension of the government's Payroll Protection Plan for the airline industry, but United said it couldn't count on additional help from Washington and, therefore, issued the layoff warning notices as required by law.