Syrian army retakes main border crossing with Jordan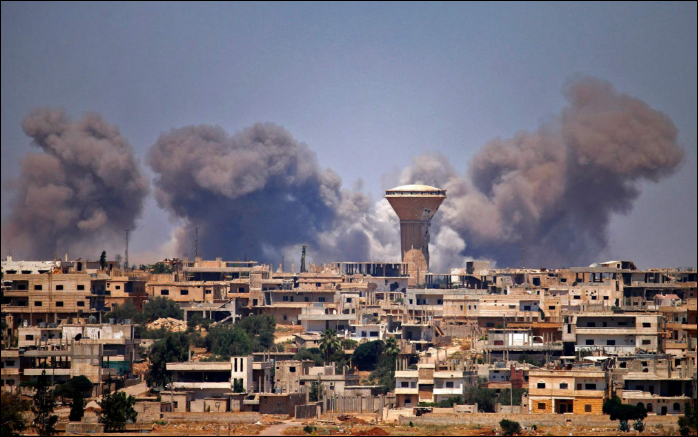 July 5, 2018: Smoke rises above rebel-held areas of the city of Daraa during reported airstrikes by Syrian regime forces.(Photo: VCG)
Syrian government forces recaptured control of Nasib border crossing with Jordan on Friday, restoring sovereignty over the key region after Russia concluded a surrender agreement with rebels in the area.
According to activists, the Syrian army raised national flag over the vital border crossing, in which it lost to the rebels three years ago.
Meanwhile, state news agency SANA said a deal was reached on Friday between the Syrian army and the rebels to settle the situation in Daraa, where battles have been continuing since June 19.
The deal, which is mediated by Russia, will start with a cease-fire, while the rebels in Daraa will hand over heavy and medium weapons in all the towns and cities, SANA added.
Russia would guarantee the safe return of civilians who fled the government offensive in the biggest exodus of the war, with more than 320,000 people uprooted, said Rebel sources.
The deteriorating situation in war-torn Syria has aroused deep concern at UN, as most of the displaced people are living in makeshift campsites without adequate shelter, food or water.
The UN Security Council on Thursday failed to agree on any solution to the situation in southwest Syria during emergency closed-door consultations after Secretary-General Antonio Guterres issued a statement to appeal for an "immediate suspension of the hostilities."
Amid the progress of the army, either through military action or reconciliations, the United Nations Higher Commission for Refugees (UNHCR) on Thursday urged Jordan to open the border for those fleeing Syrians in Daraa, but Jordan refused.
As the birthplace of the Syrian war that erupted in 2011, Daraa is both symbolically and militarily significant for the Syrian army because the rebels have been using the Jordanian border to bring in arms and fighters throughout the Syrian war.