Turkish media: Saudi consul leaves country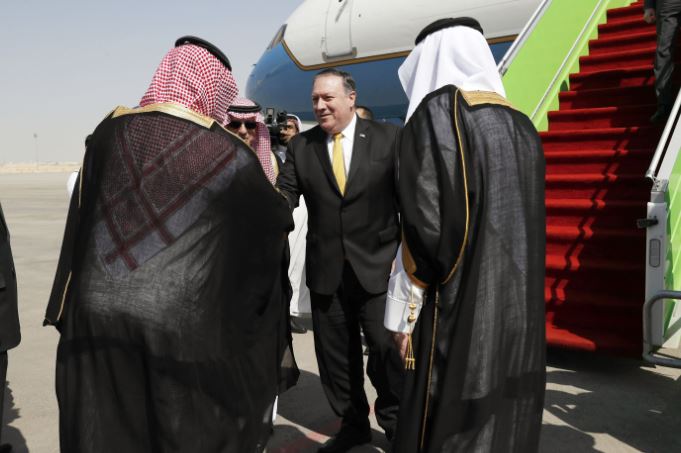 US Secretary of State Mike Pompeo, center, is greeted by Saudi Foreign Minister Adel al-Jubeir, Riyadh, Saudi Arabia, Tuesday October 16, 2018 (Phtoto: AP)

Turkey's state-run news agency says the Saudi consul to Istanbul has left for Saudi Arabia, hours after Turkey said his official residence would be searched in connection with a Saudi writer's disappearance.
The Anadolu news agency reported Tuesday that Consul Mohammed al-Otaibi flew out of the country on a 2 pm flight.
Saudi Arabia had no immediate comment on his departure.
The Turkish Foreign Ministry says police will search his official residence and vehicles belonging to the consulate. Authorities have offered no timeframe for those searches.
Turkish forensic teams finished a search of the Saudi Consulate early Tuesday, two weeks after Saudi writer Jamal Khashoggi vanished. Turkish officials fear Saudi agents killed him in the consulate and disposed of his body.
Saudi Arabia previously called the allegation "baseless," but US media reports suggest the Saudis may acknowledge Khashoggi was killed there, perhaps as part of a botched interrogation.
5:00 pm

US Sen. Lindsey Graham says he believes Saudi Crown Prince Mohammed bin Salman had a US-based journalist "murdered" in the Saudi consulate in Turkey and has "tainted" his country as a result.
The influential Republican and ally of President Donald Trump says the crown prince "has got to go." Graham says he will not return to Saudi Arabia while the prince is in power.
Graham says he has been the "biggest defender" of the kingdom, but that he now plans to "sanction the hell out of Saudi Arabia."
The senator spoke Tuesday on "Fox & Friends." He cited published reports that Prince Mohammed had approved an interrogation or rendition of Khashoggi back to Saudi Arabia, and that an intelligence official who was a friend of the crown prince had killed the journalist.
Khashoggi vanished after entering the Saudi Consulate in Istanbul on Oct. 2.
Turkey has said it fears Khashoggi was killed by a Saudi hit team. Saudi Arabia has denied that, but published reports have said the kingdom may be preparing to acknowledge killing the journalist during an interrogation gone wrong.
7:20 am
US Secretary of State Mike Pompeo is on his way to Saudi Arabia to speak to its king over the disappearance and alleged slaying of Saudi writer Jamal Khashoggi.
Pompeo was in the air when a Turkish police forensics team wrapped up its hourslong search of the Saudi Consulate in Istanbul early Tuesday morning.
Khashoggi vanished on a visit to the consulate two weeks ago. Turkish officials fear he was killed and dismembered. Saudi Arabia has called those allegations "baseless," but has been unable to explain what happened to him.
Reports overnight by US media suggest Saudi Arabia soon may concede Khashoggi was killed at the consulate in an interrogation.