A prince or princess: Facts about Harry and Meghan's baby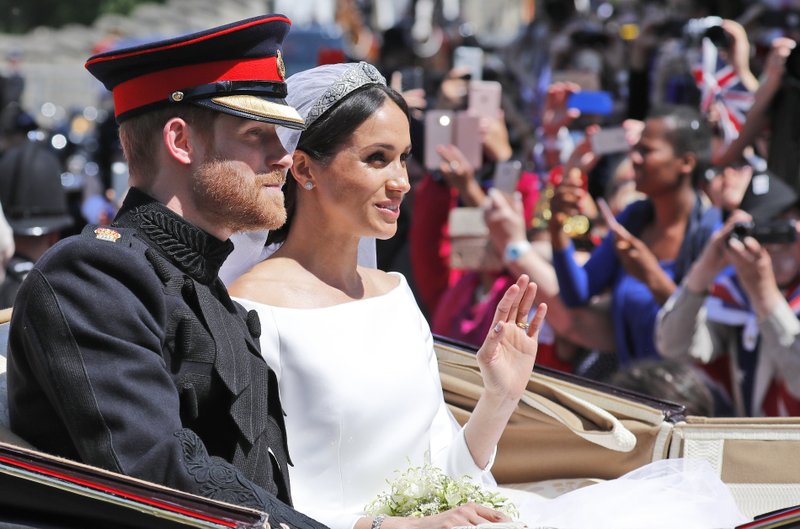 In this file photo dated Saturday, May 19, 2018, Britain's Prince Harry and his bride Meghan Markle, ride in a carriage after their wedding ceremony at St. George's Chapel in Windsor Castle in Windsor, near London, England. (File photo: AP/Frank Augstein)
Kensington Palace said Monday that Prince Harry and his wife Meghan, duchess of Sussex, are expecting their first child to be born in the spring of 2019. Here are answers to some questions about the baby-to-be.
WILL THE BABY EVER BE KING OR QUEEN?
It is very unlikely. Harry and Meghan's first child will be seventh in the line of succession for the throne when it is born next spring. The baby will be behind its grandfather, Prince Charles; its uncle, Prince William; its cousins, William's three children: George, Charlotte and five-month-old Prince Louis; and the baby's father, Prince Harry.
WILL THE BABY BE A PRINCE OR PRINCESS?
The baby will not automatically become a prince or princess, although it is possible that could happen if Queen Elizabeth II chooses to intervene.
Titles were limited by King George V in 1917 in a way that would exclude Harry's children unless the queen takes action. The baby will also not be entitled to the HRH designation, meaning "His royal highness" or "Her royal highness."
The children and grandchildren of the queen are made princes and princesses — that's why Harry has that title — but this doesn't apply to great-grandchildren.
The only exception, as expressed by the king in 1917, is for "the eldest living son of the eldest son of the Prince of Wales" — in this case, that would be Prince George, the first child born to William and Kate, the duchess of Cambridge.
The queen can intervene if she chooses to, as she did in the case of William's other children, but it is unclear if she will do so in Harry's case because his children will be farther from the line of succession.
WHAT WOULD BE THE BABY'S TITLE BE?
If it's a boy, he would likely be known as the earl of Dumbarton. A girl would likely be known as Lady Mountbatten-Windsor, with her first name inserted after lady. Since the baby is unlikely to become monarch, Harry and Meghan will have a fair amount of leeway when choosing the child's first name without having to worry too much about royal tradition.
WHAT CITIZENSHIP WILL THE BABY HAVE?
The baby will have British citizenship due to its father. Harry and Meghan would also be able to apply for US citizenship for the baby because Meghan is an American who lived in the US long enough for her child to qualify. It will be up to them to decide if they want to do so.
It might be awkward for a British royal to also seek a US passport, but the two countries are close allies and there is so much goodwill for Meghan that such a move might not be controversial.
Meghan herself is in the process of obtaining British citizenship. She has not said if she plans to give up her US passport when she becomes British, but British law does not require her to do so.