Five things to know about the US-Russia nuclear treaty plan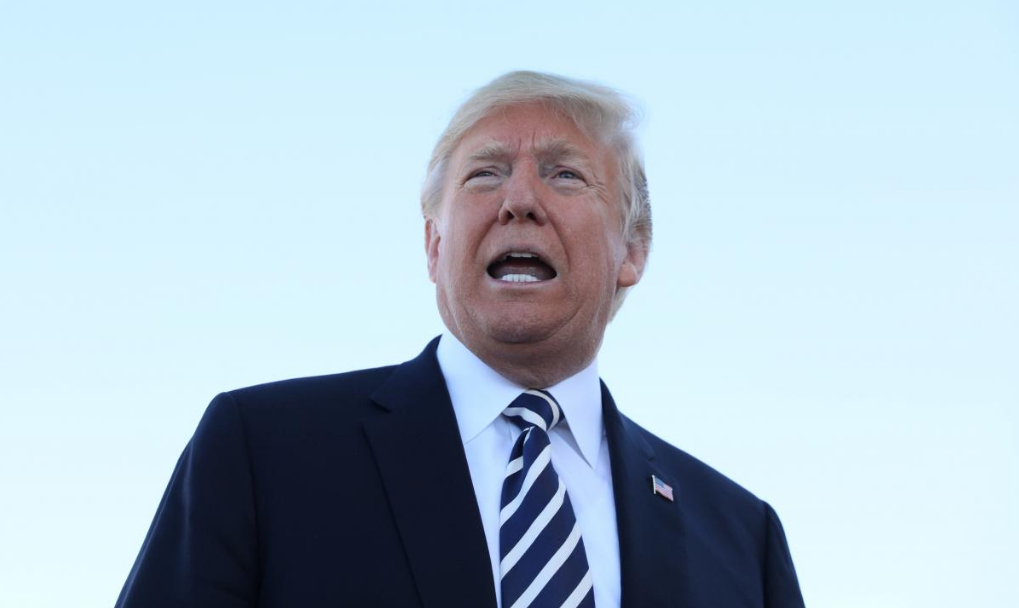 US President Donald Trump speaks with reporters before departure from Elko Regional Airport in Elko, Nevada, US, October 20, 2018. (Photo: CGTN / Reuters )
Former Soviet leader Mikhail Gorbachev, who signed the Intermediate-Range Nuclear Forces (INF) Treaty with then US president Ronald Reagan, said President Donald Trump's decision to exit the nuclear arms pact is a mistake and would undermine efforts of disarmament.
Earlier on Saturday, Trump accused Russia of not honoring the agreement and threatened to pull out.
"Russia has not, unfortunately, honored the agreement so we're going to terminate the agreement and we're going to pull out," Trump told reporters on Saturday after a rally in Nevada.
Gorbachev, now 87, said it would be a mistake for Washington to quit the treaty, and it would undermine work he and US counterparts did to end the Cold War arms race.
"Do they really not understand in Washington what this could lead to?" Interfax news agency reported on Sunday.
What's the INF Treaty?
The Intermediate-Range Nuclear Forces Treaty was signed by then US president Ronald Reagan and former Soviet Union leader Mikhail Gorbachev in 1987, in a bid to halt the proliferation of nuclear and conventional missiles.
It required the United States and the Soviet Union to eliminate all of their nuclear and conventional ground-launched ballistic and cruise missiles with ranges of 500 to 5,500 kilometers.
The INF Treaty marked the first time the two Cold War superpowers agreed to reduce their nuclear arsenals, eliminate an entire category of nuclear weapons, and utilize extensive on-site inspections for verification.
As a result, the US and the Soviet Union destroyed a total of 2,692 short and medium-range missiles by the treaty's implemented deadline – June 1, 1991. It also led to an end to a dangerous standoff between US Pershing and cruise missiles and Soviet SS-20 missiles in Europe.
Has Russia breached the treaty?
Reports said Trump's National Security Adviser John Bolton, a longstanding opponent of the arms control treaty, was pushing for US withdrawal.
The US says Moscow has been violating the treaty with the development of a new cruise missile, and has deployed a ground-launched system that could allow it to launch a nuclear strike on Europe at short notice.
Russia has consistently denied any such violation.
Russia: There will be retaliation
Meanwhile, Moscow has hit back saying Trump's decision is "blackmail" and warned of retaliation.
Russia's Deputy Foreign Ministry Sergei Ryabkov said: "We condemn the continuing attempts to achieve Russia's concessions through blackmail, moreover in such an issue that has importance for international security and security in the nuclear weapons sphere [and] for maintaining strategic stability."
It was Washington and not Moscow that was failing to comply with the treaty, Ryabkov told Russia media on Sunday, adding that the US exit of the arms pact would lead to "military-technical" retaliation from Russia.
"We would rather things did not get that far," he said. But if the US withdrew, Russia would have no choice but to retaliate, including taking unspecified measures of a "military-technical nature," he warned.
What does Europe say?
There have been mixed reactions among US allies in Europe.
Germany has warned of the consequences of withdrawal while urging Russia to clarify doubts about its compliance with the treaty. A government spokesperson said Germany regrets the announced withdrawal and the INF Treaty is an important element of arms control, which serves European interests especially. "The consequences of the US decision will now have to be discussed by all NATO partners."
German Foreign Minister Heiko Maas also said that the treaty had been a pillar of Europe's security architecture for 30 years. "We now urge the United States to consider the possible consequences" of quitting the pact, Maas said on Sunday.
UK's Defense Secretary Gavin Williamson, in comments reported by the Financial Times, partially backed Trump. He said: Our close and long-term ally of course is the United States and we will absolutely resolute with the United States in hammering home a clear message that Russia needs to respect the treaty obligation that it signed." But he also said the UK certainly wants to see this treaty continue to stand.
What happens next?
Putin will seek an explanation of why Washington plans to pull out of the treaty when he meets Bolton in Moscow this week, a Kremlin spokesperson said.
Russia has insisted on a "no first use" policy on nuclear weapons. In a recent public remark in Sochi, Putin said: "We have no concept of a pre-emptive strike. We expect to be struck by nuclear weapons but we will not use them first."
On the US side, the withdrawal from the treaty has yet to be agreed on by the entire Trump administration, US State Department as well as the Pentagon. A meeting on Monday at the White House to discuss the withdrawal proposal has been postponed.
The INF Treaty faces a deadline imposed by the Congress early next year. An amendment in the 2019 defense spending bill requires Trump to tell the Senate by January 15 whether Russia is in "material breach" of the treaty and whether the INF remains legally binding on the US.