Singapore companies help meet testing challenge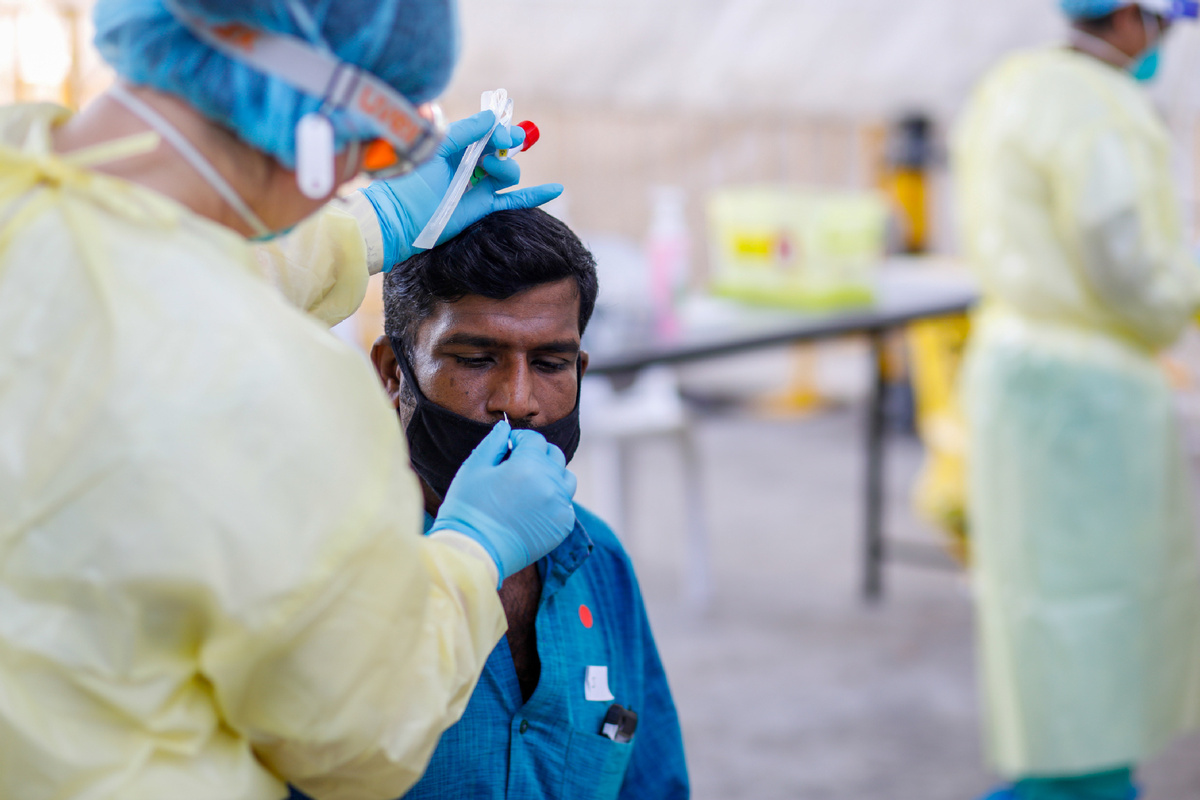 Swab tests are conducted at STLodge migrant workers' dormitory during the coronavirus disease (COVID-19) outbreak in Singapore, in this April 15, 2020 photo obtained via social media. (Photo: Agencies)
As Singapore braces for a sharp rise in new COVID-19 cases, researchers and companies are rising to meet the demand for test kits.
"Curbing the tide of the current COVID-19 pandemic lies in the ability of countries to rapidly test their entire populations," said Kuok Meng Han, founder and managing director of Camtech from Singapore.
Mass testing has contributed to curbing of the coronavirus spread in China and South Korea, for example, by quickly identifying and isolating those with the virus, analysts said. Testing is also vital in calculating accurate infection and survival rates-data that is critical for getting public safety measures right.
Kuok said this approach is essential as testing is the only way to identify people who are asymptomatic and carriers of the virus.
With mass testing stressed, Singapore reported 1,426 new cases on Monday, taking its total infections to 7,984. Authorities say most of the new cases were linked to foreign workers, who account for over a million of Singapore's workforce.
Stuart Tangye, a professor in the faculty of medicine at the University of Sydney agreed that there is an urgent need for testing kits. "The demand for testing capacity globally is huge," he said.
Around the world, companies are urgently increasing production of test kits to meet the demand.
Two kinds of test kits
The two Singapore companies producing the kits are Camtech Diagnostics, the research and development arm of Singapore-based tech company Camtech Holdings, and JN Medsys, a biotech company also based in Singapore.
In a joint announcement the companies said they received provisional authorization from Singapore's Health Sciences Authority, or HSA, for two kinds of kits-a rapid test kit which produces results in 10 minutes, and a nucleic acid test kit which takes two hours to produce results, but has yielded 95 percent accuracy in identifying the virus.
Having a provisional authorization from HSA allows the companies to supply their test kits to health care institutions, private hospitals, medical clinics and clinical laboratories in Singapore.
In addition to HSA's provisional license, JN Medsys has also obtained approval for its test kit from the Food and Drug Administration of the Philippines. It is also in the process of getting approval from the US Food and Drug Administration.
The announcement added that JN Medsys kits have been clinically validated in Singapore and abroad, including China.
Kuok said "rapid testing is critical for hospitals and labs to effectively test patients while being affordable", as people may unknowingly transfer the virus, and it cannot be eliminated in its totality without testing.
Testing ranges from accurate lab-based methods to rapid point-of-care tests. The Camtech Diagnostics' Covid-19 Rapid Test kit, providing results within 10 minutes without specialized equipment or lab-trained personnel, "makes it a quick and easy tool for assisting in the screening and identification of asymptomatic carriers during this COVID-19 outbreak," the company said. But the test should not be used for "confirmatory testing" or as a sole basis of diagnosis, the statement added.
Johnson Ng, JN Medsys chief executive officer, said: "The key challenge to identifying the current strain of coronavirus is quickly identifying who among the general population has it.
"While the virus has an incubation period of 14 days, there are still a lot of people who, while not sick themselves, are carriers of the virus."