Italy PM 'confident' Rome can avoid EU sanctions over budget
Italian Prime Minister Giuseppe Conte said he was "confident" Rome could avoid unprecedented EU sanctions over its big-spending budget, rejected by Brussels, following talks with European Commission head Jean-Claude Juncker.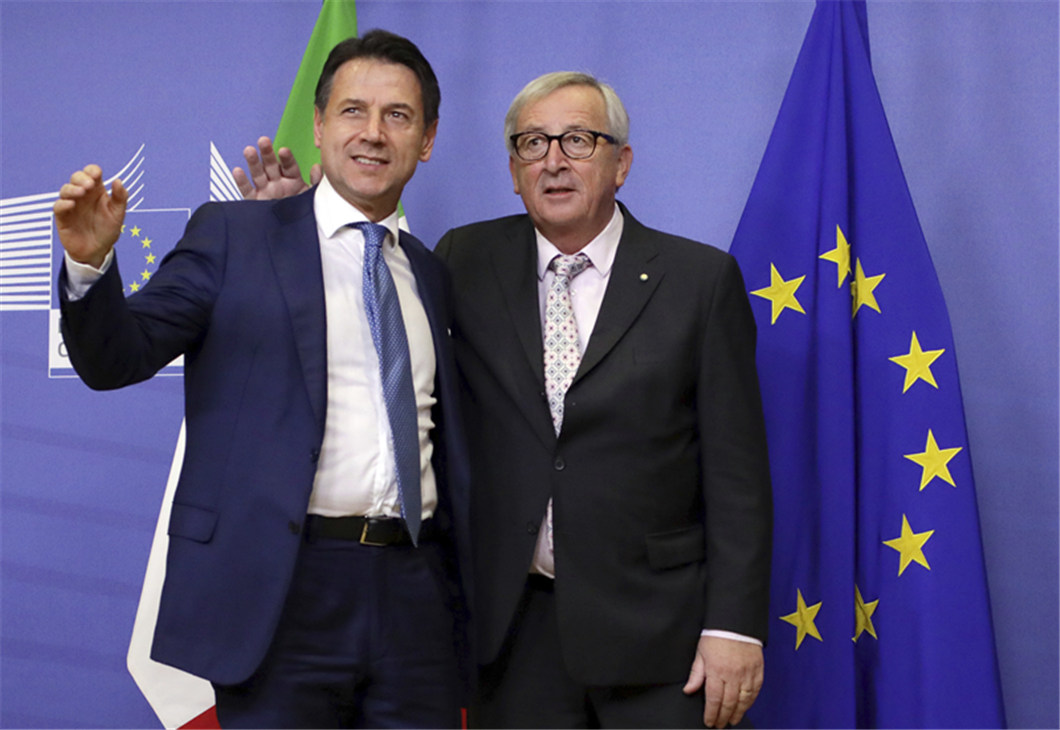 European Commission President Jean-Claude Juncker, right, greets Italian Prime Minister Giuseppe Conte at EU headquarters in Brussels, Saturday, Nov. 24, 2018. (Photo: AP)
Rome's coalition government insists its 2019 budget will help kickstart growth in the eurozone's third largest economy and reduce debt, but the EU says the country risks "sleepwalking into instability" and increasing its already massive debt burden.
After dinner on Saturday in Brussels with Juncker, Conte told Italian television: "I am confident that dialogue can avoid an infringement procedure."
The EU's rejection of the budget on Wednesday was widely expected after it had sent it back to Rome for reconsideration in a historic first for the bloc.
Italy refused to back down, setting the stage for Wednesday's final opinion that deplored "a marked backtracking" on past reforms.
Conte, who was accompanied for the working dinner by Finance Minister Giovanni Tria, said: "It was not a conclusive meeting but a meeting which reaffirmed, with mutual respect, the opening of a dialogue that we must preserve in everyone's interests."
He insisted that his government -- made up of Matteo Salvini's League and Luigi Di Maio's anti-establishment Five Star Movement (M5S) -- does not intend to reverse course on the budget.
He said earlier this week: "If it is in the interest of Italians, we are not willing to give up anything."
The EU says the budget, which includes a basic monthly income for the unemployed and a pension boost, will not deliver the growth promised while increased spending will only increase Italy's debt.
Italy wants to run a public deficit of 2.4 percent of gross domestic product in 2019 -- three times the target of the government's centre-left predecessor -- and one of 2.1 percent in 2020.
Brussels forecasts Italy's deficit will hit 2.9 percent of GDP in 2019 and 3.1 percent in 2020 -- breaching the EU's 3.0 percent limit.
EU member states now have to decide whether to allow the commission to trigger the excessive deficit procedure, a lengthy process that could lead to fines.
Ultimately, Brussels can inflict a sanction of up to 0.2 percent of Italy's GDP under the EDP regime.