Hezbollah, allies score major gains in Lebanon election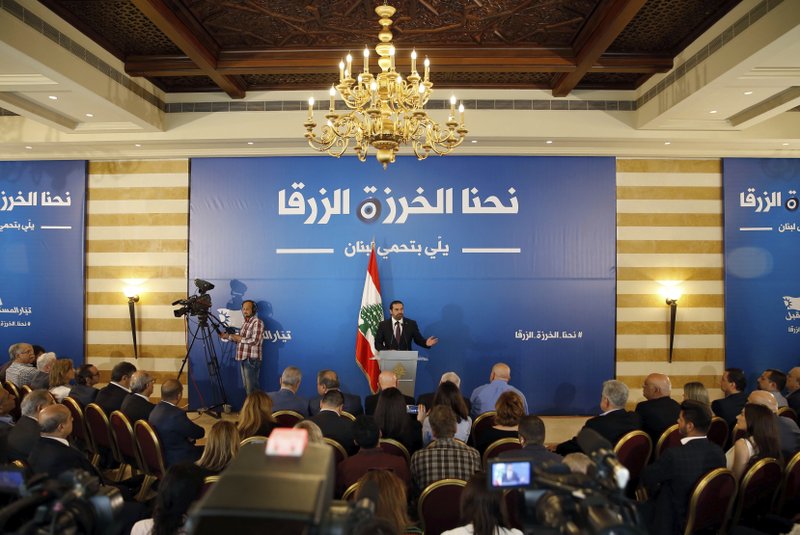 (Photo: AP)
The leader of Lebanon's Iranian-backed Hezbollah group declared "mission accomplished" Monday after scoring major gains in parliamentary elections, as the main Western-backed faction headed by Prime Minister Saad Hariri lost a third of its seats.
The results of Sunday's election further bolster Iran's allies in Lebanon and neighboring Syria at a time when Tehran faces growing Israeli threats and the prospect of the United States pulling out of a landmark nuclear deal negotiated with world powers.
They also underline the growing clout of the group in Lebanon where it dominates politically and militarily.
Hariri acknowledged the losses at a news conference in Beirut on Monday, but said "it's not the end of the world." The international community, he said, should look at the results in a "positive way" because they reflect democracy in Lebanon. He blamed his losses on a new election law and a performance by his political party "that wasn't up to the standards."
"My hand is extended to every Lebanese who participated in the elections to preserve stability and create jobs," Hariri said in a televised statement. He said he would continue to work closely with President Michel Aoun, who is allied with the rival, Hezbollah-led bloc.
The official count, announced by Interior Minister Nouhad Machnouk at a news conference, shows that Hariri, a Sunni politician with close ties to Saudi Arabia, has lost at least five seats in Beirut, once considered his party's stronghold.
Hariri told reporters that his Future Movement won 21 seats in Sunday's vote, a decline of 11 from the last election, in 2009. Hariri would still have the largest Sunni bloc in parliament, facilitating his return as prime minister to form the next government.
Hezbollah and its political allies gained at least 43 seats, giving another boost to Iran's allies in Lebanon and Syria, where Tehran's influence has grown in recent years as it has provided crucial support to President Bashar Assad.
The elections were the first since war broke out in Syria in 2011, sending more than 1 million refugees fleeing into Lebanon, a small country with a population estimated at around 4.5 million. The war has divided Lebanon, pitting parties supporting Hezbollah's intervention in Syria against Saudi-aligned parties opposed to it. The divide reflects the region-wide rivalry between Saudi Arabia and Iran.
Iran welcomed the initial election results, with Foreign Ministry spokesman Bahram Ghasemi saying that his country will "support and cooperate" with any government that is elected by a majority.
The results indicated Sunni voters were losing faith in Hariri's party amid a declining Saudi role in Lebanon, a deteriorating economy and general exasperation over the civil war in Syria, which has further strained the economy to the breaking point. They also point to a Sunni constituency that is frustrated by what they see as weakness and compromises offered to the Hezbollah camp.
Hezbollah leader Hassan Nasrallah said his party's gains would give "protection" to the group and declared "mission accomplished" after weeks of campaigning.
Hezbollah is considered a terrorist group by the U.S., but its political wing has long held seats in Lebanon's parliament and was part of Lebanon's outgoing coalition government.
Nasrallah did not say how many seats his group and its allies won, but the official results showed they took at least 43 of the legislature's 128 seats, giving them the power to veto laws. Hezbollah maintained its bloc of 12 members, like in the previous parliament. Other pro-Syrian factions made their strongest showing since Damascus ended a nearly three-decade military presence in Lebanon in 2005.
"There is a major political, parliamentarian and moral victory for the choice of the resistance," Nasrallah said in a televised speech.
The daily al-Akhbar newspaper, which leans toward Hezbollah, described the election as a "slap" for Hariri on its front page.
Hezbollah supporters road through the streets of Beirut on scooters, honking their horns and waving the militant group's signature yellow flag as some shouted sectarian slogans. Some were attacked with clubs and sticks when they entered a predominantly Sunni district Monday night.
On Sunday evening, a group of men raised the Hezbollah flag over a statue of the late prime minister, Rafik Hariri, the incumbent premier's father, who was assassinated by a truck bombing in 2005. A U.N.-backed tribunal has indicted five Hezbollah members for the killing.
The next Cabinet, like the outgoing one, will likely be a unity government that includes Hezbollah. The two sides can hardly govern effectively without each other, something Hariri alluded to at his news conference.
Asked whether he would give up co-existing with the group in a unity government, Hariri countered that the alternative would mean complete paralysis. "We tried that in the past," he said.
"The country needs stability. ... Lebanon needs jobs, development, tourism and electricity," he said.
The election, the first in nine years, was marked by a low turnout, especially in the capital, Beirut, reflecting voter frustration over endemic corruption and a political establishment that fails to deliver on basic services, such as waste management and electricity. Machnouk, the interior minister, put national turnout at 49 percent, compared to 54 percent in 2009. In Beirut precincts, the turnout was between 32 percent and 42 percent.
The drop came despite a reformulated electoral law designed to encourage voting through proportional representation. But many, including Machnouk, blamed the new, complex law for the tepid turnout, particularly in Beirut.
Official results showed one candidate from a grassroots movement of activists, journalist Paula Yaacoubian, won a seat in the capital, an area traditionally monopolized by establishment political parties.
Some of Hariri's Sunni supporters saw him as being too soft on Hezbollah, and the billionaire businessman also faced criticism after sacking dozens of employees from his companies in Lebanon and Saudi Arabia, largely due to Saudi spending cuts.
The new election law also allowed Sunni rivals to contest the elections.
"Clearly, the Future Movement no longer monopolizes the Sunni votes," said political analyst Ibrahim Bayram. He said that while Hariri is still likely to form the next government, he is now weaker and new conditions are likely to be imposed on him.
Another big winner was the right-wing Christian Lebanese Forces, which almost doubled its number of seats to 15. The group has vowed to combat the country's rampant corruption.