Aussie central bank cuts interest rate to record low 0.1 pct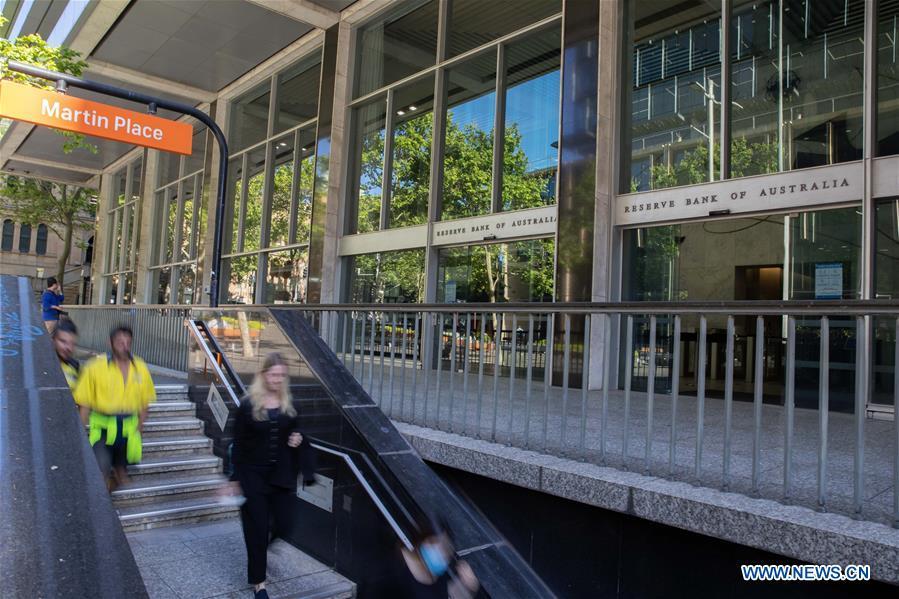 SYDNEY, Nov. 3 (Xinhua) -- The Reserve Bank of Australia (RBA) slashed the country's official interest rate from 0.25 percent to a fresh record low of 0.1 percent at its monthly meeting on Tuesday.
The move was widely expected after being flagged by RBA officials last month, with the rate previously remaining on hold since being cut at an emergency meeting in March, in response to the COVID-19 pandemic.
RBA Governor Philip Lowe said in a post-meeting statement that despite the Australian economy showing signs of recovery -- with positive GDP growth expected for the September quarter -- the return to pre-pandemic levels of output would take time.
"In the central scenario, GDP growth is expected to be around 6 percent over the year to June 2021 and 4 percent in 2022," Lowe said.
Also announced Tuesday was an RBA program to purchase 100 billion Australian dollars (70.3 billion U.S. dollars) worth of local government bonds, of five to 10 year maturities.
"The bank remains prepared to purchase bonds in whatever quantity is required to achieve the three-year yield target. Any bonds purchased to support this target would be in addition to the 100-billion bond purchase program," he said.
Among the RBA's main focuses, inflation was forecast to be 1 percent in 2021 and 1.5 percent in 2022, with Lowe stating that the board would not raise the interest rate until it reached a target range of 2-3 percent.
Associate Professor Rebecca Cassells, deputy director of the Bankwest Curtin Economics Center, told Xinhua that while small, the move to a record low interest rate demonstrated the RBA's willingness to take action to support the economy.
"I think the RBA at the moment is really indicating to the economy broadly, they're prepared to take as much action as possible to stimulate and kickstart the economy again," Cassells said.
"And this is why they've dropped interest rates even lower to make sure that there's absolutely no barriers to investment and borrowing for businesses and households."
While the RBA has previously downplayed the possibility of a negative interest rate, Cassells said that in the current circumstances it would be unwise to rule anything out.
"Earlier this year, Governor Lowe said that quantitative easing was ruled out, but then it was ruled in, so I think nothing is impossible in these circumstances," she said.