S. Korea, DPRK, UN Command hold 2nd consultation on disarming JSA in border area
SEOUL, Oct. 22 (Xinhua) - South Korea, the Democratic People's Republic of Korea (DPRK) and the United Nations Command held the second consultation Monday on disarming the Joint Security Area (JSA) in the inter-Korean border area, Seoul's defense ministry said.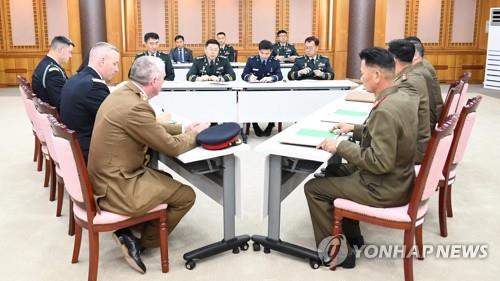 Military officials from the two Koreas and the U.N. Command hold talks over dismarming the Joint Security Area in the Demilitarized Zone at the truce village of Panmunjom on Oct. 16, 2018, in this photo provided by Seoul's defense ministry. (Yonhap)
The closed-door consultation started at 10 a.m. local time (0100 GMT) in the Freedom House, a building controlled by South Korea in the border village of Panmunjom inside the Demilitarized Zone (DMZ).
The first one was held on Oct. 16.
The consultation was made to discuss the disarmament of the JSA, which was agreed upon by defense chiefs of the two Koreas during the Pyongyang summit in September between South Korean President Moon Jae-in and top DPRK leader Kim Jong Un.
Soldiers from the two Koreas conducted a 20-day operation to remove landmines inside the JSA from Oct. 1. The JSA was set up right after the 1950-53 Korean War ended with an armistice.
The two Koreas planned to withdraw troops, firearms and guard posts from the JSA.
After the disarmament, South Korea and the DPRK would station a patrol of 35 soldiers each, including five officers, with no weapon inside the JSA.