Putin frees US-Israeli woman in boost for Netanyahu
A woman with dual US and Israeli citizenship who had been jailed in Russia on drug charges was freed on Thursday after President Vladimir Putin granted her a pardon.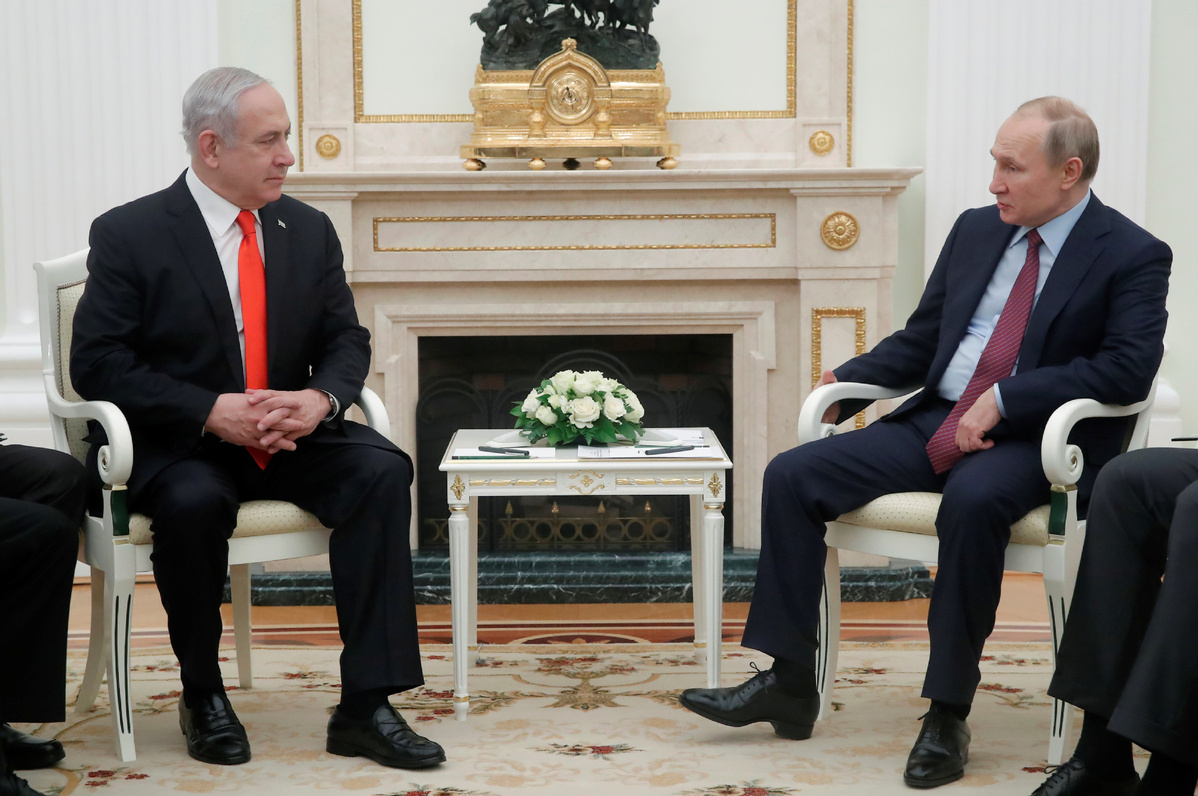 Russian President Vladimir Putin meets with Israeli Prime Minister Benjamin Netanyahu in Moscow, Russia, January 30, 2020. (Photo: Agencies)
Naama Issachar, 26, was arrested in Moscow in April 2019 after more than nine grams of marijuana were found in her luggage. She was later sentenced to more than seven years in prison.
She denied allegations that she had sought to smuggle the drug, pointing out that she had not tried to enter Russia during the stopover on her way to Israel from India, and that she had no access to her luggage during her brief stay at the Russian airport.
Putin issued the pardon on Wednesday. In a statement, the Kremlin said the presidential decree pardoning her on "humanitarian principles" was effective immediately.
Issachar was released ahead of talks in Moscow between Putin and Israeli Prime Minister Benjamin Netanyahu, who had flown in from Washington DC to discuss the details of a US peace plan proposed for the Middle East.
Netanyahu thanked his "friend" Putin for what he said was a "swift" decision to pardon Issachar. The prime minister later met Issachar in Moscow. Footage showed them hugging.
Netanyahu later posted a video on social media of his meeting with Issachar, with the message: "Naama, we're going home". They then left for Israel on the prime minister's plane.
"We're excited to see you," he told Issachar, according to a statement from Netanyahu's office.
"Finally, thank God, thanks to everyone," said her mother Yaffa Issachar, who had met Putin in Jerusalem last week.
Issachar arrived in Israel on Thursday evening, and was surrounded by reporters when she got off the prime minister's plane."I just want to say thank you to everyone,"Issachar told them upon landing at Ben Gurion International Airport, before being whisked away to her home.
"I'm still in shock because of the whole situation. Thank you for everything."
Israeli public broadcaster Kan aired a photo of a smiling Issachar with her family and friends toasting her return.
The Times of Israel newspaper said that Netanyahu, by securing Issachar's release, could gain a boost in popularity ahead of national elections on March 2. The polls are the third in less than a year for Israelis after the prime minister failed to form a government in the previous two rounds of voting.
Issachar's release came hours after Netanyahu was formally charged with bribery, fraud and breach of trust, in relation to three corruption cases, CNN reported. Netanyahu has consistently denied wrongdoing.