State capitols around US also saw protests
chinadaily.com.cn
1610099820000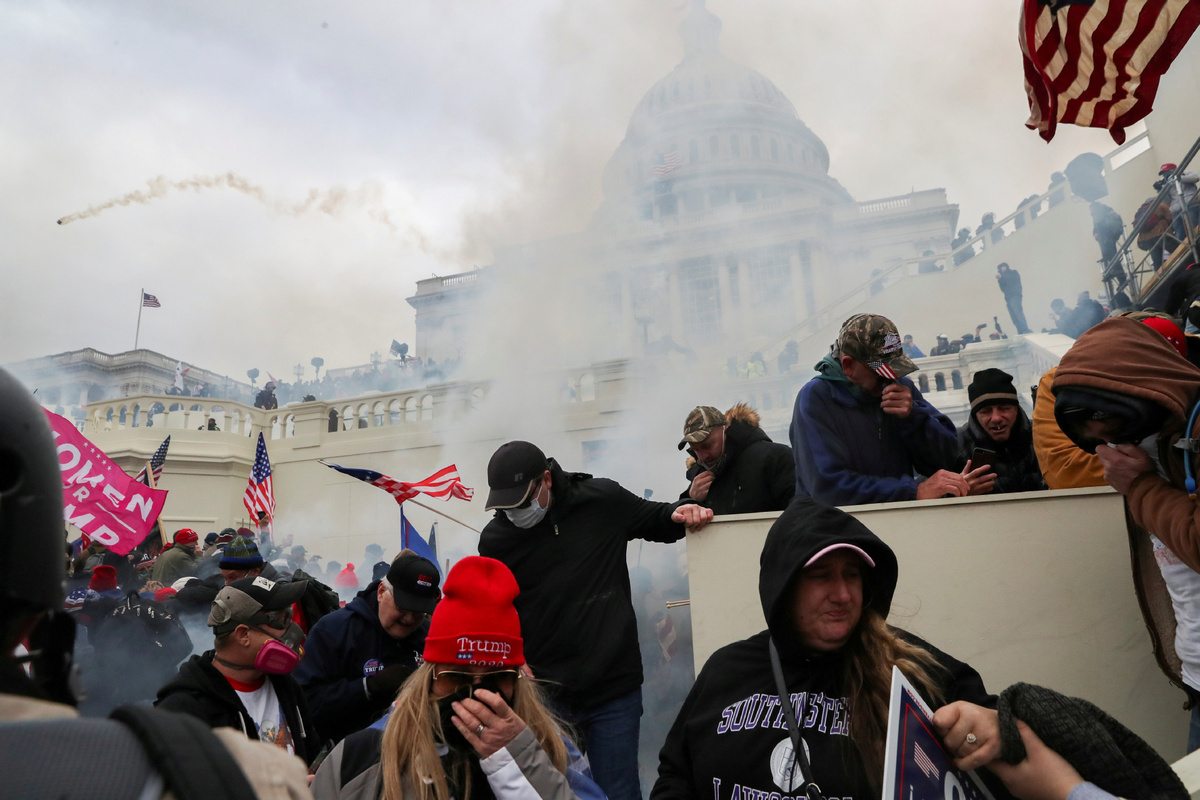 While supporters of President Donald Trump were breaching the Capitol building in Washington, other Trump supporters across the country gathered at state capitols, prompting the mobilizing of law enforcement.
Rallies were reported in Idaho, Oregon, Georgia, Michigan and California. While police reported some skirmishes, most gatherings were peaceful.
Some legislatures closed public access to their capitols as a precaution. That happened in Georgia on Wednesday afternoon when armed protesters gathered outside.
Law enforcement officers escorted Secretary of State Brad Raffensperger out of the capitol as a few dozen Trump supporters outside the building rallied to protest the recent election results. Raffensperger was pressured by Trump to overturn the state's presidential election results.
Chris Hill, the leader of a right-wing militia, said he called some of his "troops" to the statehouse to protest, repeating the president's claim that the election was "rigged". Hill said he believed the nation was headed toward a civil war.
In Kansas, protesters briefly occupied the capitol building, but authorities said they had a permit to be there.
In Salem, Oregon, right-wing "Proud Boys" clashed with left-wing protesters using smoke bombs and a rapid-fire paint ball rifle.
State police declared an "unlawful assembly". Police there have been dealing with repeated clashes between right- and left-wing protesters in recent weeks.
Trump supporters also burned an effigy of Oregon Governor Kate Brown outside the capitol in Salem.
In Portland, Oregon, dozens of left-wing demonstrators gathered late Wednesday for a "Stop the fascist coup" event. Police said the group broke windows at multiple businesses in downtown.
More than 500 people gathered in Lansing, Michigan, praying and carrying a mix of flags and guns.
"We have a restored voice in Michigan," said Rick Warzywak, one of the organizers of the rally. "No matter what happens today in DC, do not be discouraged. We're going to be in a consistent battle for weeks to come, and we're not going to give up."
In Washington state, Trump supporters, some armed, breached the fence surrounding the governor's residence and approached the building before state troopers mobilized to keep them away.
Noting that protesters have had grievances about his handling of the coronavirus pandemic, Governor Jay Inslee said in a video statement that political leaders wouldn't be swayed by the protests.
"Those acts of intimidation will not succeed," said Inslee, a Democrat. No arrests were made.
Outside the grounds of the California state Capitol in Sacramento, which had been cordoned off with barriers and was being patrolled heavily by the police, a few hundred Trump supporters faced off with opposing protesters for a few hours, waving flags and listening to the president's address.
Sacramento police reported "physical altercations" between the groups and counter protesters and 11 arrests for possession of pepper spray.
The department didn't specify which groups the arrested individuals were with. Both groups were dispersed by a cold afternoon rainstorm.