Use of troops to quell unrest vexes Pentagon
People's Daily
1591260879000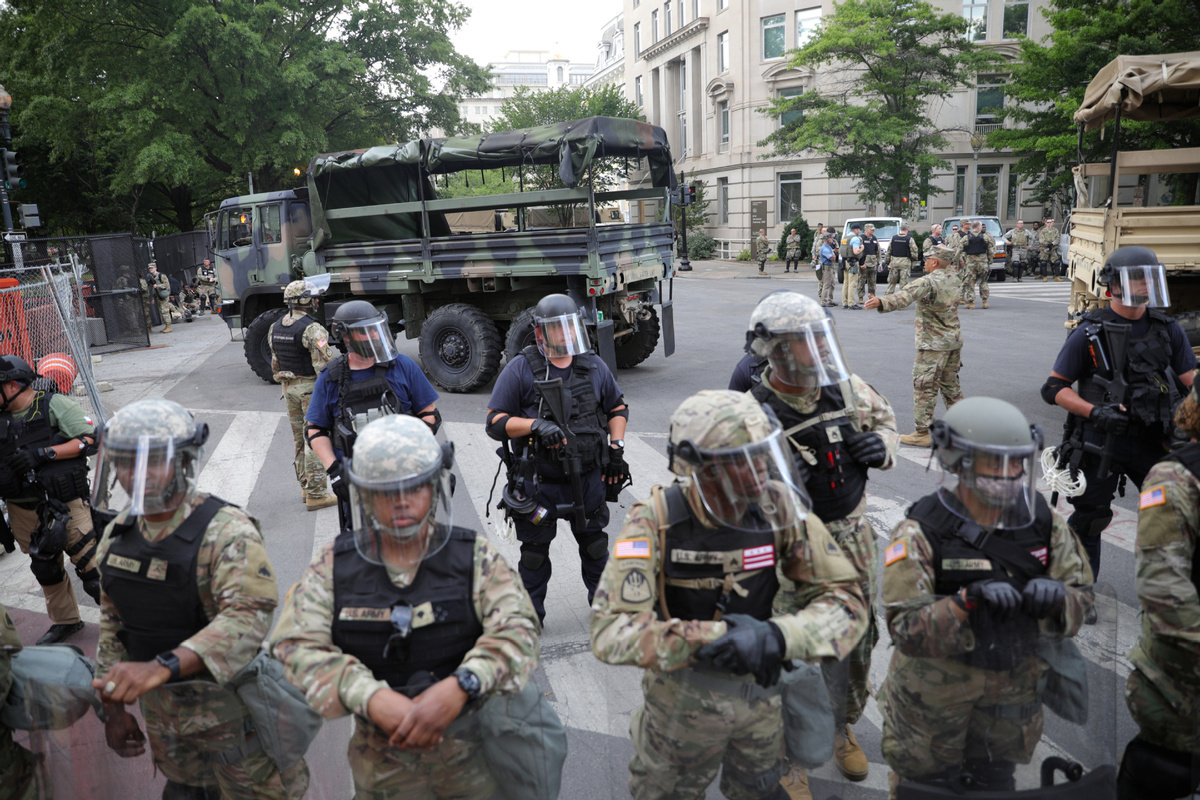 A military vehicle passes behind law enforcement personnel as protesters rally against the death in Minneapolis police custody of George Floyd, near the White House in Washington, US, June 3, 2020. (Photo: Agencies)
Defense secretary, at odds with Trump, calls it 'last resort'; Mattis also criticizes approach
The issue of using the US military to quell urban protests escalated on Wednesday when Defense Secretary Mark Esper said he opposed the move and his predecessor criticized a military response to the crisis.
"The option to use active duty forces in a law enforcement role should only be used as a matter of last resort and only in the most urgent and dire of situations. We are not in one of those situations now," Esper said at a briefing. "I do not support invoking the Insurrection Act."
But later in the day, the Pentagon reversed course on a move to send active-duty troops home from the Washington DC region. The military has pre-positioned 1,600 active duty forces on the outskirts of the capital, to deploy if needed, Reuters reported.
A US official said that the Army on Wednesday had been told of a decision to send some of the troops back to their home bases, but Esper reversed course following a meeting at the White House and discussions at the Pentagon, according to the report.
Wednesday was the ninth day of protests, which saw tens of thousands of demonstrators defying nighttime curfews in several US cities, including Washington, to voice their anger over the death of George Floyd, an unarmed black man who died in police custody on May 25 in Minneapolis, Minnesota, after a white police officer knelt on his neck.
That officer was fired and charged with second-degree murder and manslaughter, and three other former officers who responded to the incident were arrested on Wednesday.
Also on Wednesday, President Donald Trump's first defense secretary, James Mattis, issued a rare statement in which he said the president was the first in his lifetime "who does not try to unite the American people — does not even pretend to try. Instead he tries to divide us."
In the statement posted on The Atlantic magazine website, Mattis also criticized the use of the word "battlespace" by Esper.
"We must reject any thinking of our cities as a 'battlespace' that our uniformed military is called upon to 'dominate'," Mattis said.
Esper's words marked a break with Trump, who raised the possibility of invoking the rarely used 1807 insurrection law to deploy the military on US soil for law enforcement purposes, according to US media reports.
In a Rose Garden speech Monday, Trump threatened to "deploy the United States military and quickly solve the problem" if governors do not "dominate" the demonstrators and stop the rioting and looting.
Senate Majority Whip John Thune of South Dakota lent his support behind Esper.
"I think that these tasks ought to be relegated as much as possible to the state and local authorities, the law enforcement and police," the Republican told reporters Wednesday, adding that "the goal always is to de-escalate, not escalate".
The GOP lawmaker said he believes "the Defense Department by and large ought to stay out of the political fray. They've got a job to do, and we count on them heavily to do it."
Still, White House Press Secretary Kayleigh McEnany said that the president was still willing to deploy federal troops despite Esper's comments.
"The Insurrection Act is a tool available. The president has the sole authority. And if needed, he will use it," she said.
Asked if the president still had confidence in his Pentagon chief, who took office 11 months ago, McEnany said, "As of right now, Secretary Esper is still Secretary Esper, and should the president lose faith, we will all learn about that in the future."
Esper has come under fire for having walked with Trump and others, including chairman of the Joint Chiefs of Staff Mark Milley, for a photo in front of St. John's Episcopal Church in Washington on Monday evening.
Police forcefully dispersed mostly peaceful crowds of protesters to clear a path for the officials.
"I was not aware a photo op was happening," Esper said. He also said he regretted using the term "battlespace" this week to describe areas gripped by protests.
Cal Jillson, a political scientist and historian at Southern Methodist University in Dallas, Texas, said that both Esper and Milley were "embarrassed" by the criticism they received from peers within the national security and defense establishment, so they have been seeking "former ground".
"Most of the recent demonstrations have been legitimate expressions of dismay over historic and current police violence against black Americans," Jillson told China Daily.
"As former president Bush said recently, this is a time to listen to protesters rather than trying to force them off the streets," he said.
In a statement on Wednesday, former president Jimmy Carter recalled that in his 1971 inaugural address as Georgia's governor, he said: "The time for racial discrimination is over," but "with great sorrow and disappointment, I repeat those words today, nearly five decades later."
The 95-year-old former president called for peaceful protest and systemic change.
"As a white male of the South, I know all too well the impact of segregation and injustice to African-Americans," he wrote. "We need a government as good as its people, and we are better than this."