Trump's campaign mode revives fiery immigration talk
SCOTTSDALE, Ariz. (AP) — Donald Trump fueled his 2016 campaign with fiery immigration rhetoric, visions of hordes flowing across the border to assault Americans and steal their jobs. Now, in the final weeks before midterm elections, he's back at it as he looks to stave off Democratic gains in Congress.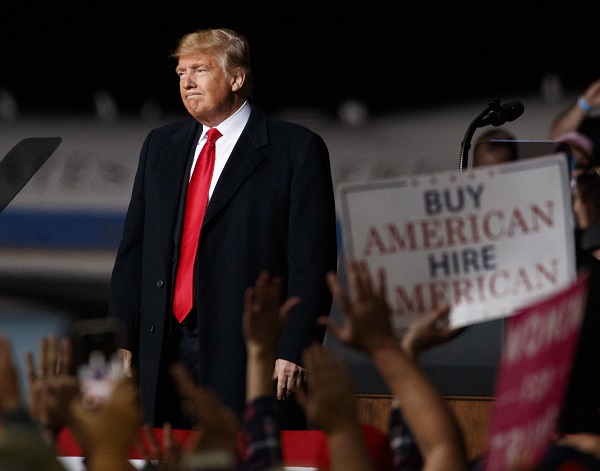 President Donald Trump looks the the cheering audience as he leaves a campaign rally at Minuteman Aviation Hangar, Thursday, Oct. 18, 2018, in Missoula, Mont. (Photos: AP)
It's an approach that offers both risks and rewards. He could energize Democratic foes as well as the Republicans he wants to rouse to the polls.
But for the president, the potential gains clearly win out. In campaign stops and on Twitter in recent days, he has seized on a huge caravan of Central American migrants trying to reach the United States through Mexico as fresh evidence that his tough immigration prescriptions are needed.
He tweeted that the caravan was an "assault on our country at our Southern Border." Then, Thursday night in Montana, he told cheering supporters, "This will be an election of Kavanaugh, the caravan, law and order and common sense. ... Remember it's gonna be an election of the caravan."
His assertions got a visual boost Friday when some members of the caravan broke through a Guatemalan border barrier with Mexico. A few then got through to Mexican territory, but most were repelled by police with riot shields and pepper spray.
Trump signaled Friday he thought the strategy was working, telling reporters in Scottsdale, Arizona, that immigration was "a great issue for the Republicans."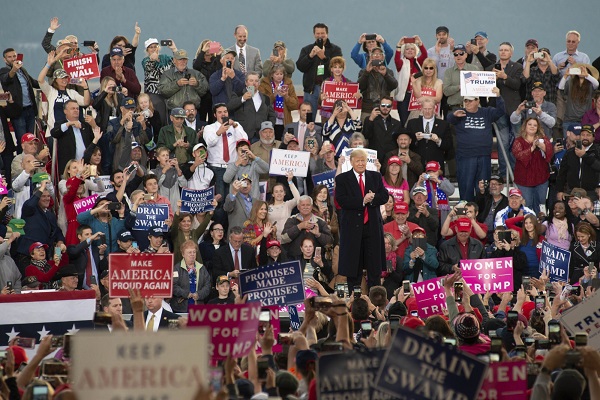 President Donald Trump speaks during a campaign rally at Minuteman Aviation Hangar in Missoula, Mont., Thursday Oct. 18, 2018. Trump is in Missoula to rally support for Senate candidate Matt Rosendale.
On an aggressive campaign blitz, Trump has sought to cast the midterms as a referendum on his presidency, believing that he must insert himself into the national conversation in order to bring Republicans out to vote. Perhaps no issue was more identified with his last campaign than immigration, particularly his much-vaunted — and still-unfulfilled — promise to quickly build a U.S.-Mexico border wall. To Trump, his pledges are still rallying cries.
"I think it's a big contrast point. All the Democrats are refusing to build the wall. It's a good contrast," said former Trump campaign aide Barry Bennett, who said the caravan was "perfectly timed" for Trump's midterm pitch.
But some warn that as Trump seeks to pump up his base, he could energize opposition. Matt Barreto, co-founder of the research firm Latino Decision, said an elevated immigration message could hurt Trump, too.
"I think you run the risk of angering minority voters across the board, Latino, black and Asian-Americans and also alienating and distancing from whites, including conservatives and moderates, now that they see what's happening with the family separations," said Barreto, a professor at the University of California, Los Angeles.
Thursday night, the migrant caravan of at least 3,000, many waving Honduran flags and chanting slogans, arrived at the Guatemalan border with Mexico. On Friday, they broke down Guatemalan gates and streamed toward a bridge to Mexico. Most were repelled by Mexican police, but about 50 got through.
Mexico's dispatching of additional police to its southern border seemed to please Trump. On Thursday night, he retweeted a BuzzFeed journalist's tweet of a video clip showing the police deployment, adding his own comment: "Thank you Mexico, we look forward to working with you!"
Earlier in the day, Trump railed against the caravan on Twitter and declared it was "Democrats fault for weak laws!" He also threatened to deploy the military to the border if Mexico did not stop the migrants and appeared to threaten a revamped trade deal with Canada and Mexico.
Until days ago, immigration appeared to be unlikely to repeat its central role of 2016, as Trump heeded congressional Republican requests to avoid a government shutdown over funding for the border wall ahead of the midterms. And an internal GOP poll presented to the White House last month found that other issues — particularly opposing the "Medicare for All" policy of some Democrats — would better resonate with voters.
While Trump did focus for a time on some Democrats calling for the abolition of the Immigration and Customs Enforcement agency, he largely discussed it as a warning against Democratic control of Washington. But the renewed embrace of the polarizing issue reflects a consensus view in both parties that control of Congress will be determined more by turning-out party loyalists than winning over centrist voters.
A vigorous immigration push will likely be well-received in many of the deep-red areas where Trump is campaigning, like his stop in Montana Thursday night. Republicans acknowledge it could play differently in other parts of the country — and might even harm GOP candidates in some selected districts — but they are wagering that as in 2016 it is still a net-win issue for the president's party.
Trump campaigns Friday night in Arizona, an increasingly competitive state where the message could have a mixed result. He won Arizona by 3.5 percentage points two years ago, compared with Republican Mitt Romney's 9-point margin in 2012.
Ahead of the midterms, polls continue to show that voters consider immigration among the most important issues, though generally falling behind the economy and health care.
However, Republican and Democratic voters have distinctly different views of immigration as a problem facing the country. A recent Pew Research Center survey found a majority of Democratic voters — 57 percent — think the treatment of immigrants in the country illegally is a very big problem in the U.S., compared with just 15 percent of Republican voters who say the same. By contrast, three-quarters of Republican voters call illegal immigration a very big problem, ranking the highest for Republicans among the long list on Pew's survey, while just 19 percent of Democratic voters say the same.
Recently, surveys from CNN and The Washington Post/ABC News found voters were slightly more likely to think the Democratic Party would do a better job handling immigration than the Republican Party.