4 in New Jersey mansion fire killed by 'homicidal violence'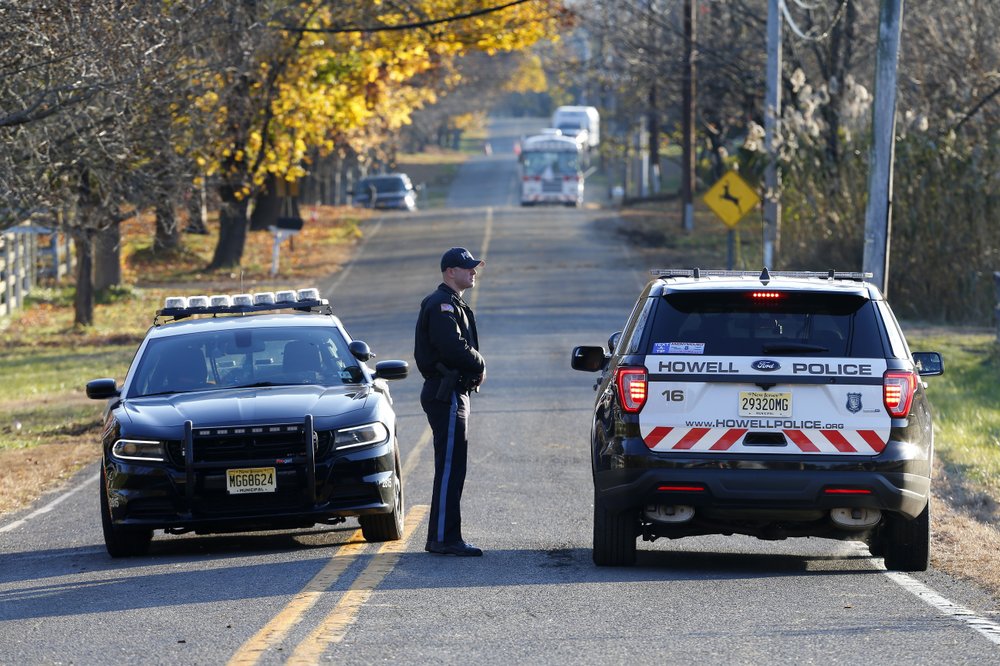 Colts Neck and Howell police officers block the road Wednesday, Nov. 21, 2018, in Colts Neck, N.J., leading to the scene of a fatal fire that killed two children and two adults. (Photo: AP)
A homeowner who died along with his wife and two children as their luxury home went up in flames suffered a gunshot wound and all four are considered to be homicide victims, prosecutors in New Jersey said Wednesday.
The announcement came hours after authorities charged the man's brother, Paul Caneiro, with deliberately starting a blaze at his own home about 10 miles (16. kilometers) away. They have speculated that the two fires may be related but haven't charged Paul Caneiro in connection to the second blaze and wouldn't say Wednesday whether he was a suspect in the homicides.
The severely burned bodies of a woman and two children were found inside the mansion in Colts Neck, and a man's body was discovered outside, Monmouth County Prosecutor Chris Gramiccioni said. They were the victims of "homicidal violence before the fire was set," he said.
Property records indicate the home was owned by Keith Caneiro. He and Paul Caneiro are listed as executives at a technology firm, Square One.
Colts Neck is about 50 miles (80 kilometers) south of New York City, and the upscale enclave is home to a number of celebrities, including Bruce Springsteen. Former "Daily Show" host Jon Stewart and his wife operate an animal sanctuary there; Queen Latifah sold her mansion there in 2015.
Gramiccioni said it was possible the victims in Colts Neck were killed before the fire at Paul Caneiro's house. According to a criminal complaint, Paul Caneiro used gasoline to set his home on fire while his wife and two daughters were inside. No one was injured in that blaze.
Medical examiners are investigating a cause of death for the Colts Neck victims.
Paul Caneiro was charged with aggravated arson Wednesday. It wasn't immediately known if he had retained an attorney.
The fire burned throughout Tuesday beginning in the early afternoon. Video showed firefighters battling the blaze as smoke poured from the roof of the two-story home, which is surrounded by fields and includes a large swimming pool.
Helicopter footage showed a sheet in the middle of the yard next to the house, with police tape cordoning off the area.