Cuba to end 2018 with record high number of int'l tourists
HAVANA, Dec. 20 (Xinhua) -- Cuba will close this year with a new record in the arrival of international tourists reaching 4.75 million visitors, a senior official from the island's Ministry of Tourism (MINTUR) said on Thursday.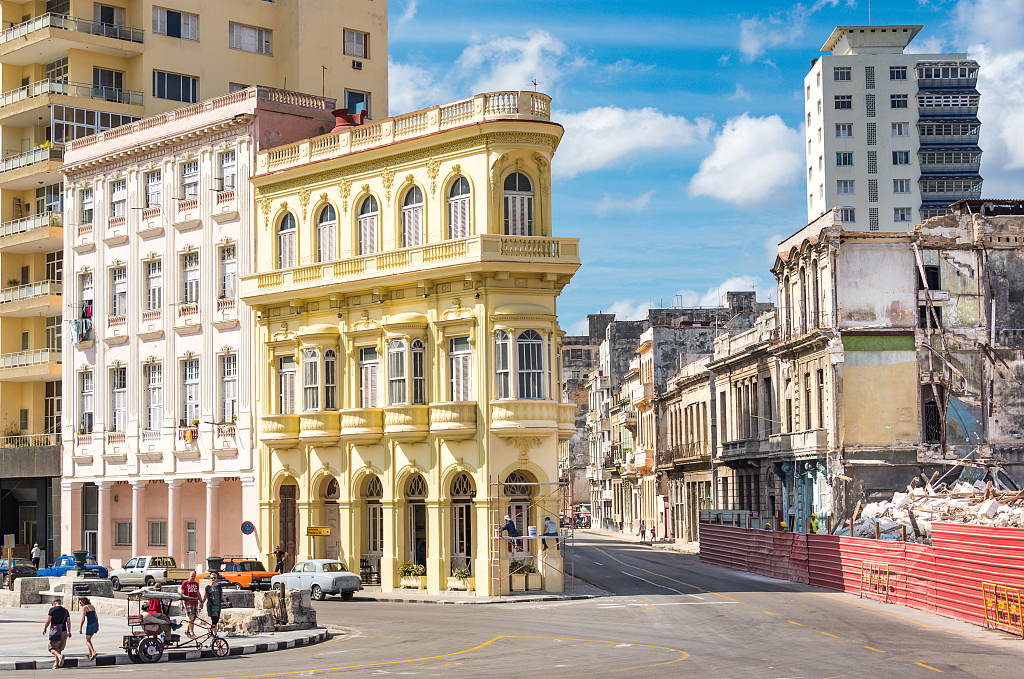 Street view in Havana, Cuba. (Photo: VCG)
"Despite US sanctions which limit its citizens to travel to Cuba and a sharp drop in the first half (of the year), we project to finish this year with a new record-high figure of international visitors," said Michel Bernal, MINTUR's development director, in a press conference.
The figure represents a 1.3-percent increase from last year, when the Caribbean island was affected by hurricane Irma which caused economic losses of 13 billion dollars, he added.
"Canada continues to be the country's first market despite a 2-percent drop in arrivals of tourists, while the US comes in second marked by the increase of cruise ships from that nation," Bernal said.
Arrivals to Cuba by air have decreased about 6 percent, while by sea they have increased 48 percent, due to new cruise companies and routes from the US.
Bernal said that, up to Dec. 13, more than 600,000 US visitors traveled to Cuba, most of them on cruise ships.
"We project to close out the year with 850,000 tourists coming in on cruises, the majority from the US," he added.
Traditional markets like France, Germany, Spain, the UK and Italy declined in arrivals, while Russia became the most dynamic source country with a 30-percent rise in comparison to 2017.
Tourists from Mexico and Brazil grew 23 and 16 percent respectively while Chinese visitors increased 10 percent from last year, Bernal said.
Meanwhile, Jose Daniel Alonso, MINTUR's commercial director, said Cuba is projecting to receive 5.1 million visitors in 2019, a 7-percent increase from this year.
Alonso said Cuba will work to attract tourists from emerging markets like China, Turkey, Eastern Europe and other Asian nations in the coming year.
The tourism industry is now the second source of foreign currency income for Cuba, after professional services abroad.