US sanctions force Russia to delay MC-21 plane, Rostec CEO says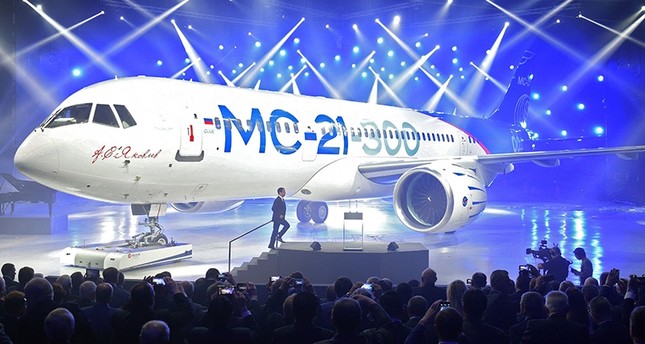 In this file photo taken on June 8, 2016, Russian Prime Minister Dmitry Medvedev arrives to give a speech in front of the new MC-21 medium-haul airliner during the roll-out ceremony at an aircraft plant in Irkutsk. (AFP Photo)
Production of the MC-21 plane, which Russia hoped could revive its civil aviation industry, has been delayed for a year due to U.S. sanctions, the head of the Rostec conglomerate said Monday.
"Due to the fact that the Americans have stopped supplying composite materials, we are switching to our own," Sergey Chemezov told Russian news agencies in Abu Dhabi.
"The date of the beginning of mass production is slightly shifting" and is now expected by the end of 2020, he said.
Russia unveiled the prototype of the MC-21 in 2016, originally announcing plans for it to come into service in late 2018.
The plane, produced by the Irkut aircraft manufacturer, was designed to challenge industry giants Airbus and Boeing.
The MC-21 can carry up to 211 passengers and is designed for the mass-market travel industry. It can fly up to 6,000 kilometers (3,700 miles), according to the makers.
The makers have promised a "new level of comfort" for passengers thanks to the largest fuselage in the plane's class and large windows.
Irkut says it has signed contracts with a number of airlines, including Russian flagship carrier Aeroflot, UTair and the Kyrgyzstan Air Company.