Russian security chief pays courtesy call to S.Korean president: Blue House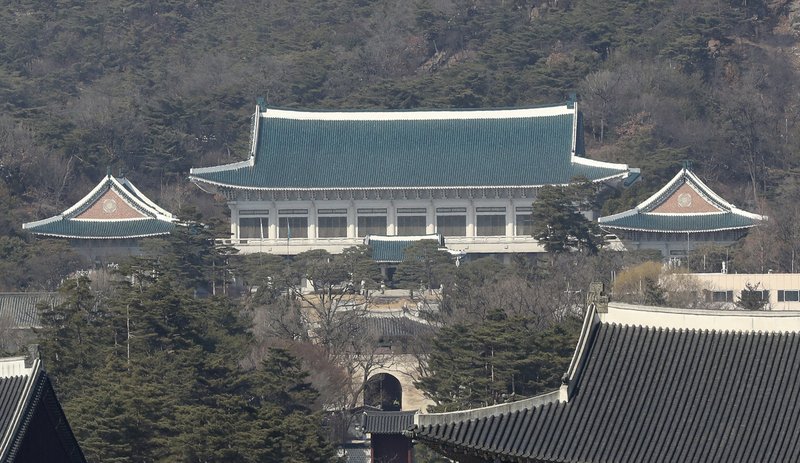 The South Korean presidential Blue House (Photo: AP)

SEOUL, April 25 (Xinhua) -- Russian Security Council Secretary Nikolai Patrushev on Thursday paid a courtesy call to South Korean President Moon Jae-in, the South Korean presidential Blue House said.
A Russian delegation, including Patrushev, visited Moon's office in Seoul to meet the South Korean president for 45 minutes from 5 p.m. Thursday local time (0800 GMT).
During the meeting, Moon said the summit between Kim Jong Un, top leader of the Democratic People's Republic of Korea (DPRK), and Russian President Vladimir Putin will make constructive contributions to the Korean Peninsula's complete denuclearization and the permanent peace settlement.
Moon said he hoped that the Kim-Putin summit would serve as the foundation for resuming the DPRK-US summit and facilitating the peninsula's denuclearization process.
Kim and Putin held their first summit talks earlier in the day in Russia's far eastern city of Vladivostok.
Moon expressed his hope to meet Putin on the sidelines of the Group of 20 (G20) summit, scheduled for late June in Osaka, Japan, saying he wished that the Russian president can visit South Korea at an earliest possible date.
Patrushev said Russia and South Korea shared a goal of the complete denuclearization of and the peace settlement in the peninsula, vowing to inform the South Korean side through diplomatic channels of the outcome of the DPRK-Russia summit as early as possible, according to the Blue House.
Before meeting with Moon, Patrushev held talks with his South Korean counterpart Chung Eui-yong for three and a half hours to discuss issues on the Korean Peninsula, situations in Northeast Asia and bilateral relations.
During the meeting with Chung, the Russian security chief said his country completely supported the peace-building of the peninsula, calling for South Korea to play a role in making the DPRK-US negotiations successful in order to achieve the ultimate goal of the peninsula's complete denuclearization.
Chung and Patrushev shared the view that it would be significant for countries concerned to cooperate in keeping the current dialogue momentum alive.
China's Foreign Ministry spokesperson Geng Shuang said at a press briefing Wednesday that the meeting between Kim and Putin will contribute to the further development of the DPRK-Russia relations as well as peace and stability on the Korean Peninsula and in the region.