Calls to NYC mental health hotlines surge
People's Daily
1590975205000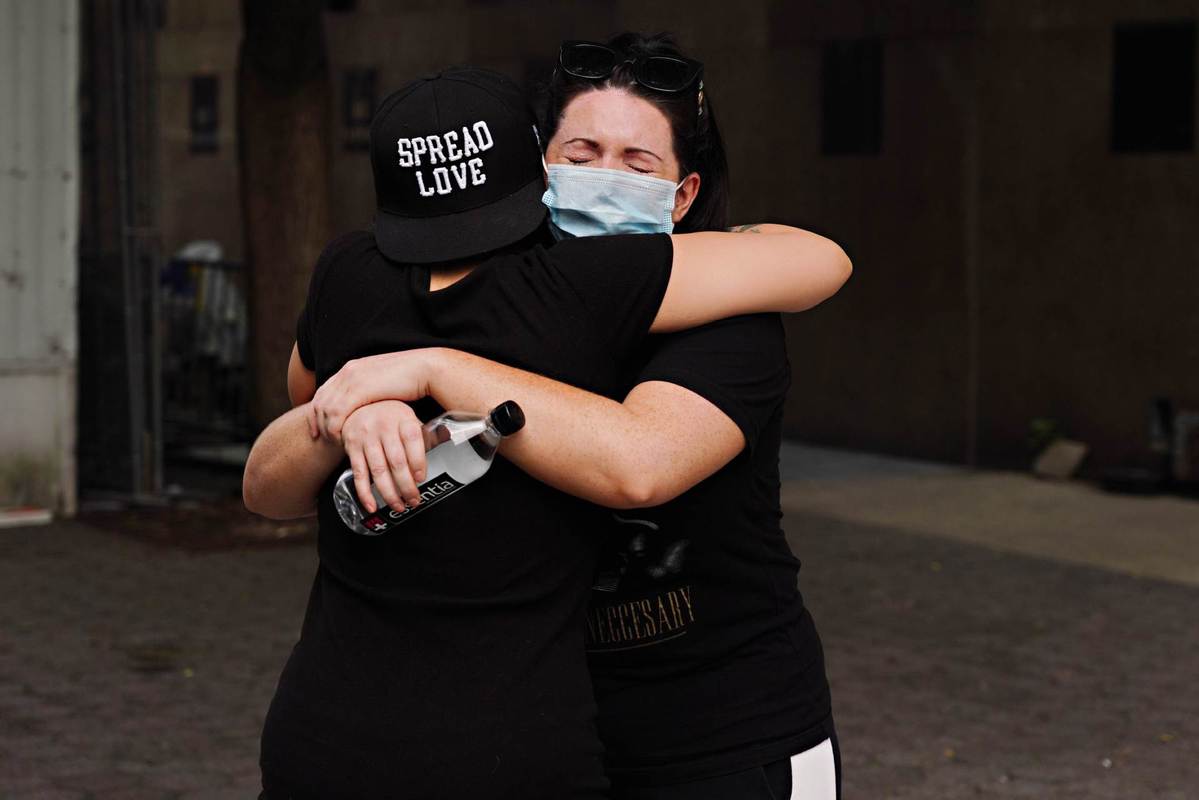 People embrace during the coronavirus pandemic in New York City on May 29, 2020. (Photo: Agencies)
Mental health hotlines in New York City and nationwide have seen a surge in calls from people battling anxiety and depression during the novel coronavirus pandemic.
The National Alliance on Mental Illness of New York City said it has seen a 60 percent increase in the number of calls to its crisis helpline since mid-March.
"We expect that the number of New Yorkers who seek our aid will exponentially grow in the coming months due to COVID-19," Matt Kudish, executive director at NAMINYC Metro, said in a statement. "With the uncertainty and social isolation of this global pandemic, our number one priority is ensuring that anyone who requires help, information or support, receives it."
Mental Health America, a national nonprofit that addresses the needs of those living with mental illness, said it had seen a 20 percent increase in the number of people who have taken a free screening test for anxiety between mid-February and March compared with earlier this year.
"Just as individuals with preexisting physical illness are more likely to get physically ill from the coronavirus, people whose mental health is compromised are at greater risk of experiencing worsening mental illness as a result of the coronavirus-no matter what their mental illness may be," the MHA said on its website.
Serious challenge
"Don't underestimate the trauma that this has created for people," New York Governor Andrew Cuomo said at his May 17 news briefing in regard to the strain COVID-19 has had on people's mental health.
"It has been incredibly anxiety producing, traumatic, disturbing and we've felt and seen all along evidence that this is creating a significant mental health challenge for people."
New York state launched the COVID-19 Emotional Support Hotline in March with 6,000 mental health professionals. It received more than 8,000 calls in just five days.
The increase in calls to mental health hotlines comes as data from the United States Census Bureau released recently showed that a third of Americans have signs of clinical anxiety and depression amid COVID-19.
The survey of 40,000 people in mid-May asked respondents questions such as "How often have you been bothered by feeling down, depressed, or hopeless?"
It found 34.4 percent of adults who responded had symptoms of anxiety or depression from May 7 to 12.
The survey also revealed that COVID-19 was affecting people's mental health differently based on their race, gender, age, salary and location.
Black and Hispanic people surveyed were more likely to feel anxious or depressed compared with whites or Asians.
More women affected
Feelings of depression were also higher among women, young adults and those with low education levels. While 47.4 percent of adults aged 18 to 29 years old showed signs of anxiety or depression, just 9.8 percent of adults who were in their 70s felt the same.
Another question asked by the survey was, "Over the last seven days, how often have you been bothered by not being able to control or stop worrying?"
At least 60 percent of those making $150,000 or more weren't struggling with worry. But only 32 percent of people on salaries of $25,000 or less said the same.
People's mental health woes varied by their location. In Mississippi, nearly half of all the adults surveyed showed signs of anxiety. In Washington, Illinois, New Jersey, Missouri, New Mexico and Louisiana, it was 40 percent. In New York, it was 37 percent.
As states gradually begin to reopen, allowing people to leave their homes and even get back to work, the findings are set to be a part of a wider study to help inform federal and state agencies on the overall impact of COVID-19.
The Census Bureau and Centers for Disease Control and Prevention said this was to "expedite post-pandemic recovery".
Bradley Klontz, an associate professor of financial psychology and behavioral finance at Creighton University's Heider College of Business in Omaha, Nebraska, said that the economic toll on Americans would likely be detrimental the longer the pandemic lasts. But he said there were ways to cope.
"One of the things that will prevent you from having negative, longer-term mental health issues is taking action around things you can control," Klontz said.
"People end up with post-traumatic stress disorder when they freeze because they can't take action to protect themselves. That's what leads to PTSD. It's not just trauma that causes that," he said. "So you've got to find those things you can control and take action. Get a therapist if you're feeling depressed and it's affecting your mood."